The translation of the
Rundschau
system shown here derives from Zuschnitt XVI dating from circa 1959. The
Rundschau
system has evolved significantly since that time, and those who wish to use the modern version will need to purchase it from
the Müller and Sons website
. If you found this draft to be useful, it is strongly recommended that you subscribe to
Rundschau
as it is the last classic tailoring journal still in print. This thread should help you follow most
Rundschau
drafts even if you do not read German well.
Information on subscribing to
Rundschau
can be found here:
http://www.cutterand...p?showtopic=541
You can also purchase their books and DVDs on cutting and tailoring from their online store:
http://www.muellerso...en/shop/shop,1/
The current book on cutting men's coats can be purchased here:
http://www.muellerso...truktionen,782/
It is only available in German. No English translation is available. However, if you absorb the content of this thread fully, you should be able to follow it without being able to read the text. These books tend to be available only for a limited time. A second companion to this first volume is expected at any time.
They also have a CAD version of their modern system, although this is more for industry cutters. Unfortunately, none of the men's cutting books are in English, although they do offer an English version of their women's cutting book. However, once you are familiar with their system you may be able to follow the drafts without being able to read German. For a thread on how to read
Rundschau
drafts without by just looking at the diagrams
please see this detailed thread.
You will be able to apply this to the latest patterns printed in the journal.
Those of you interested in the 1960s version of the ladies' Rundschau system should
see this thread.
This thread also contains detailed information on how to take a whole series of supplementary measures and how to use them as check measures alongside the calculated proportionate measures.
A list of abbreviations and variations of them you find:
Kg (or Kh) = height
Ow (or Bu) = chest
Tw (or Tu) = waist
Gw (or Hu) = hip or seat girth
Hs (sometimes Sp, RSB or RS) = back neck
At = depth of scye at back
Rl = waist length
Gt (or Ht) = depth of hip/seat
Lg (sometimes L) = length
Bt = Depth of chest or front depth of scye, sometimes called the "front shoulder measure" in English
Rb = width of back
Ad = armscye width or diameter
Bb (or B) = width of chest/bust
Bau (sometimes Lv, or U) = front width of waist
Äu = sleeve crown circumference
Äh = sleeve crown height
h. = half ("halb" in German) eg "h. Kg" means "1/2 the height"

fertige Nahte/Nähte = finished seam ie drafted nett, with no seam allowances and not to be enlarged by a seam allowance when sewing

Back Panel

1. Start by drafting a vertical line down from point W.
2. Mark Rh, T , G and L (depth of scye, waist length, depth of seat, and total length)
3. m is ½ from W to Rh.
4. G is 1/8 of Kg down from T.
5. Draw perpendicular lines to the left from each of the above points
6. h to W is your back neck measure.
7. Go up vertically 2.5cm to find point H

8. g to G1 is 4cm.
9. Draw line from m to G1, marking R on the scye line and t on the waist line.
10. t to T1 is 1cm.
11. From R measure Rb (width of back) to the left.
12. Square up perpendicularly from Rb to b to the neck line.
13. Divide Rb to b into quarters. Mark the first ¼ as s.

14. The distance of b to a1 is 2cm
15. Draw line from H through a1, and extend another 2cm to a2
16. G1 to G2 is your back width – 2cm.
17. Draw line connecting a2 and G2, creating S and t1.

18. t1 to T2 is 1,5cm.
19. Connect S with T2,G2 and L2 (on the line from L in the back).
20. Place the L-square connecting G1 and L2, creating a right angle at L1.
21. Draw curved line to the point 3/4 cm inwards from S.
The back panel is now complete.
Front Panel and Side Panel
1. Extend the lines from the back further to the left, leaving an amount of space between them (around 7.5-10cm).
2. Square down from point D to find the points t2 and G4.
3. Measure Ad (armscye width) +2cm to find point At.
4. Square up and down from At creating points Ad (back scye depth +2cm), H and G3.
5. At to B is your front chest width
6. H to U is ¼ of Uw
7. Square down from U down to find G5
8. e is ½ At
9. f is ½ way from U to H
10. e1 is found 0.5cm to the right of e
11. Draw line f through e1
12. Square out to the left of Ad to find point H1.
13. H1 to H2 is the width of back neck (Hs)
14. Square out to the right H2 a distance of Hs + 2cm to find point H3
15. Connect H3, B, U and G5 to get your centre front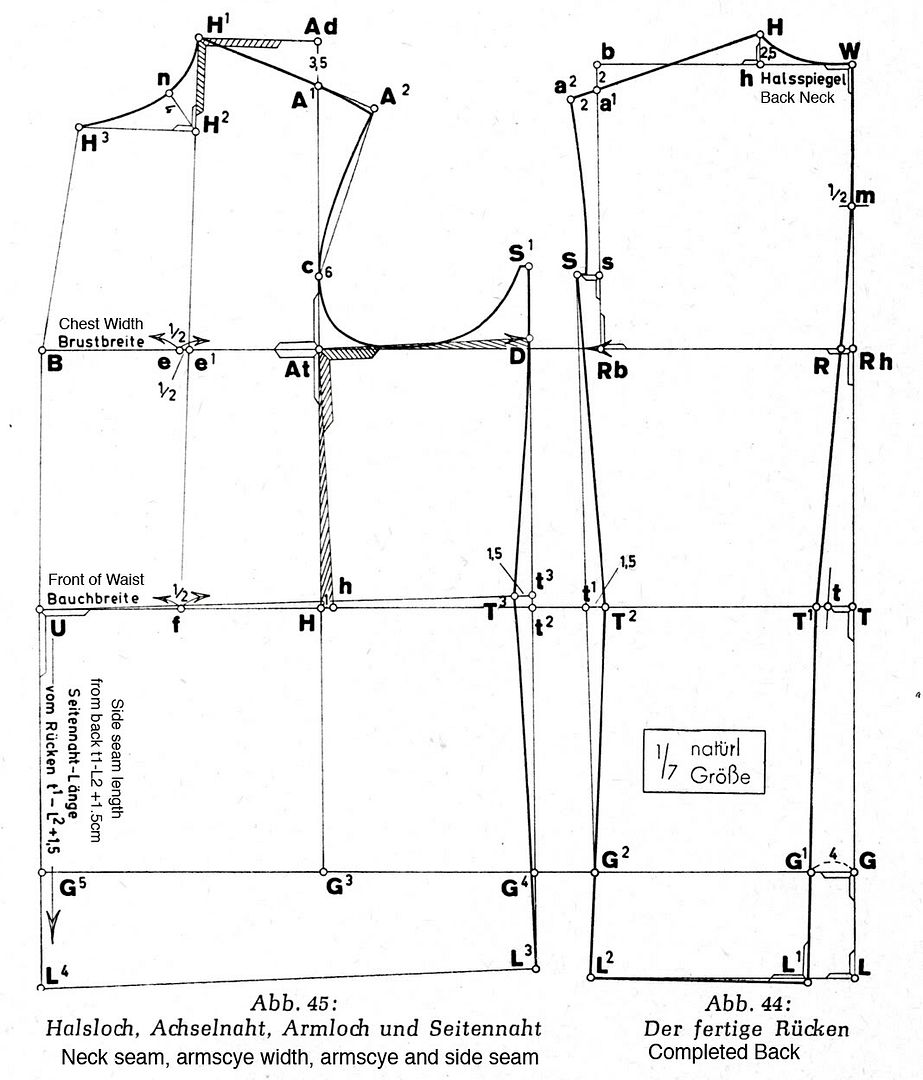 16. Ad to A1 is 3.5cm
17. At to c is 6cm
18. H1 to A2 is equal to H –a2 minus 1cm
19. Connect A2 and c.
20. H to h is 1cm
21. Square down from At to h and then from At up along the line up to D.
22. Measure length of Rb to s on the back, and add that length to point D to create S1
23. From S1 go 0.75cm (seam allowance) to the left
24. Shape the armhole connecting A2, c and S1
25. t2 to t3 is 1cm
26. t3 to U is your waistline.
27. T3 to t3 is 1,5cm
28. T3 to L3 is equal to T2 to L2. Apply that length plus 1.5cm from U to L4. Connect L4 and L3.
29. H to Ta is 7.5cm for the depth of the side pocket. From there 6cm towards the back to find point b. From b it is 18cm towards the front, with the pocket line being 8.5cm below f.
30. At to a is 3,5cm
31. Ta to b is 3,5cm
32. a to a1 is 2cm
33. Connect a with b, and continue the line down to the hemline.
34. Draw line from a1 to find a point 6-7cm below the pocket. From this point add waist suppression by measuring in 1/2cm from each line inwards of the waistline (see diagram 47). Then shape the side seam by connecting a and a1 with those points, and from there slight curve down to the point below the pocket.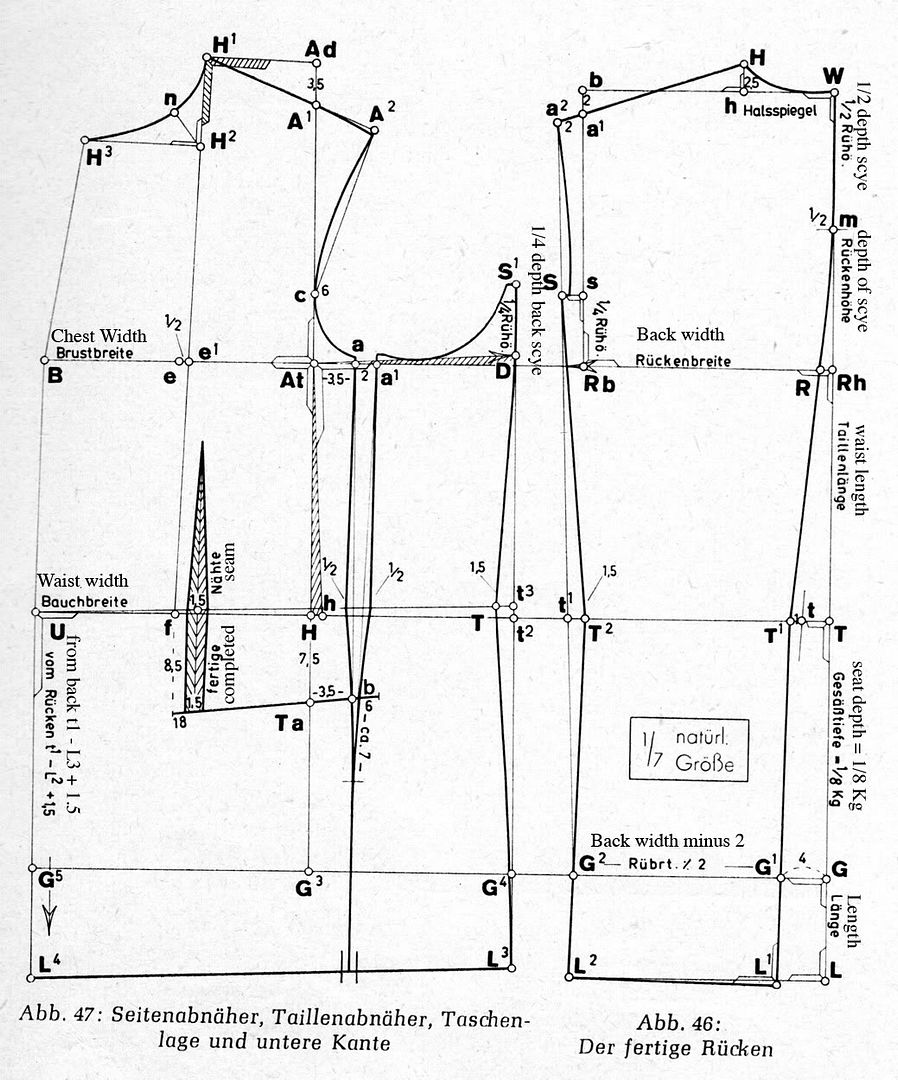 35. Centre of front dart is 2cm from f, depth is 1.5cm. Shape as shown.
36. At to F is ¼ scye width minus 0.5cm.
37. Add 1.5cm to the centre front seam edge for the overlap
38. Chest welt pocket is on a line 3cm below B to At.
39. Remove 1.5cm(front dart depth) on line from b to Ta, curve from that new point down.
A seam allowance of 0.75cm is allowed for throughout, except on the front edge, centre back, neck hole, front dart and hem.
One issue I have noticed with the
Rundschau
system of this era is that the shoulder seam is a tiny bit slanted backwards on the bias. This is likely a relic from older version of the system, in which the seam was even more on the bias. I find it best to complete the pattern according to the above system, and then advance the back shoulder seam forward by 1.5-2cm or until it runs down the middle of the shoulder. The back neck will also have to be widened by 1-1.5cm (and the collar seam of foreparts reduced by the corresponding amount).
As it stands the above Rundschau draft will give you an approximately 7.8cm back neck, which is similar to the 3" back neck found in Edwardian era
Cutter's Practical Guide
systems. The modern back neck is typically wider than the narrower back neck of the 1950-60s, and results in a cleaner shoulder, as well as more forward pitch of the shoulder-armscye.
The Rundschau system from circa 1960 for cutting collars can be found in this thread.

The corresponding Rundschau sleeve system from this era can be found pinned in this forum.
Those interested in the Rundschau System for body coats see this thread

It contains information on cutting morning coats, dress coats and frock coats.
BTW I would also like to say thank you to Schneidergott, on whose translation I based the above translation of the lounge coat system!