If this should be put in the "warp & Woof" forum, my apologies. Please feel free to move it there.

I would like to commission a three piece suit in a black/white or grey/white herringbone. I would like the herringbone to be fairly visible, achieving a sort of "salt and pepper" effect, perhaps. I have looked with the help of my tailor (Messrs. Brian Lewis and Brian Jones, at Meyer & Mortimer, who were both

very

patient and helpful) and such a cloth does not seem to exist in worsted. It will have to be tweed, unless one of you can point me to a source I have missed, but I want to stay away from brown or green because I do not want anything too "rural". Sure, there are worsted herringbones, but they are of a discreet grey on grey variety. I am looking for something bolder.
I would like a hard wearing cloth, with a dry hand, no lighter than 13 oz.
I have found two examples on the web (I am certain there are more at my tailor's shop. The first one is a 17 -17 ½ oz. from the Alsport book (John G. Hardy):
The second one is a 13 oz. from Dugdale, in their "tweed and twill" book ("Caldonaire White Rose Collection", unless I am mistaken):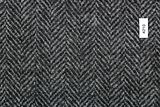 Can you think of other choices? Anything you would recommend? Of the two I have found, and any others, which one would be better, in terms of hand, longevity, appearance when made up, etc..?

There is also a blackand white dogtooth: Dugdale 9463, which is a 14 oz. worsted, in their English Classic Collection, but I find it hard to visualize as a suit: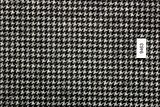 Many thanks for your advice.