This is a re-post from Sator  
Posted 20 September 2009 - 09:46 PM
"Note the emphasis placed on manipulation (ie with the iron).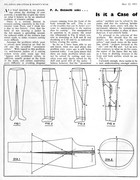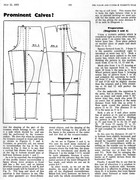 There were two replies:
Terri
Posted 21 July 2013 - 11:26 PM
Revisiting this, and wondering if anyone has tried the manipulations here and had success?
I was just struggling with getting a pair of trousers happy on a figure with a flat seat and forward hips stance, bow leg and somewhat hyperextended calves due to the stance. Trousers also had narrow legs.
I am going to try this next time.
greger
Posted 28 July 2013 - 11:15 AM
Looking at another method It showed shortening the fork and gougeing out the seat seam and from the side seam pushing the top and dart into the seat seam allowance, also droping the top of the seat seam, along with adding 1/2 inch to the outseam at calf level on out seam. This is all on the back and nothing on the front.
Other publications have other ideas.