One of the common things that gets asked is the question about the choice of single breasted (SB) lounge jacket vs a double breasted (DB) jacket. The traditional name for the DB jacket is a reefer jacket, because of its nautical origins. It used to be considered sportier because of this, and the SB lounge dressier.
However, times and fashions change. These days, many regard the SB lounge to be a simpler and less ostentatious garment that is more in keeping with the modern preference for plainness. The DB reefer jacket, on the other hand, has always tended to go in and out of fashion.
Contrary to popular opinion there is no real difference in the way a SB and DB jacket are drafted. It is actually extremely easy for your tailor to take the pattern for your SB coat and turn it into a DB jacket. This is actually something that only takes a few minutes to do. The foundation of a good DB coat is a good SB coat. So if your tailor has previously made you a nice SB lounge jacket, you may want to consider ordering a DB jacket. You may never want to go back.
When you order your DB jacket there are a few styling options which are very easy to adjust during a fitting.
The lapels of a DB jacket are known variously as DB lapels, pointed lapels, winged lapels or even peaked lapels: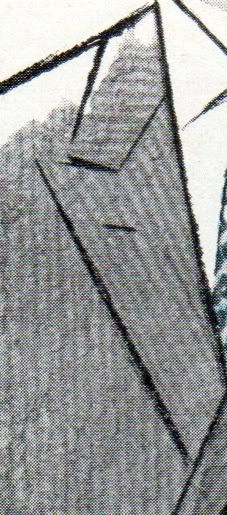 The width of these lapels are fairly narrow. The width of the lapels changes according to fashion. At the moment we are back in a period with narrow lapels like the 1960s, probably in part due to the
Mad Men
influence. This can be worn by most figures to produce a slimming effect. However, those with a wider face are better served with a somewhat slightly wider lapel to make the face look narrow by comparison.
At other periods, a wider lapel shape is preferred such as on this 1938 example: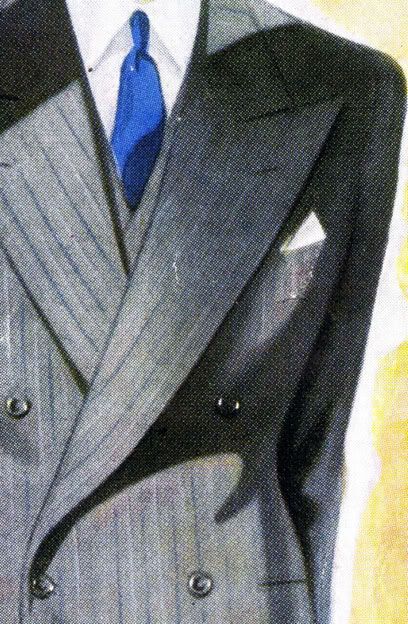 Notice the way the lapel curves outwards. The lapel is then described as a having "belly".
DB jackets are described as button-one, button-two or button-three coats depending on how many buttons can be actually be fastened. There is also a row of "show buttons". These cannot be buttoned up and are just there for "show". If a coat closes with two buttonholes and there is a vertical row of three show buttons, it is called a "button-two show-three" coat:

Today, this has become the most common button configuration for reefers. If you prefer the most conservative and most neutral styling for your coat, then this is what you should ask for. Notice the way that the top two buttons are set further apart. The most conservative modern configuration is to have a moderate lapel width, with a touch of belly on the lapels.
One factor you should keep in mind is that a DB coat can run a touch warmer but the choice of cloth is more important, and you can still wear a DB coat in the summer. Conservative cloth choices for a suit that will get a lot of wear include a plain dark to charcoal grey worsted, however navy can project a slightly more youthful image.
If you only want a touch of subtle surface interest a type of weave known as a pick and pick may be a good choice. This example comes from the Dugdale Bros English Classics book: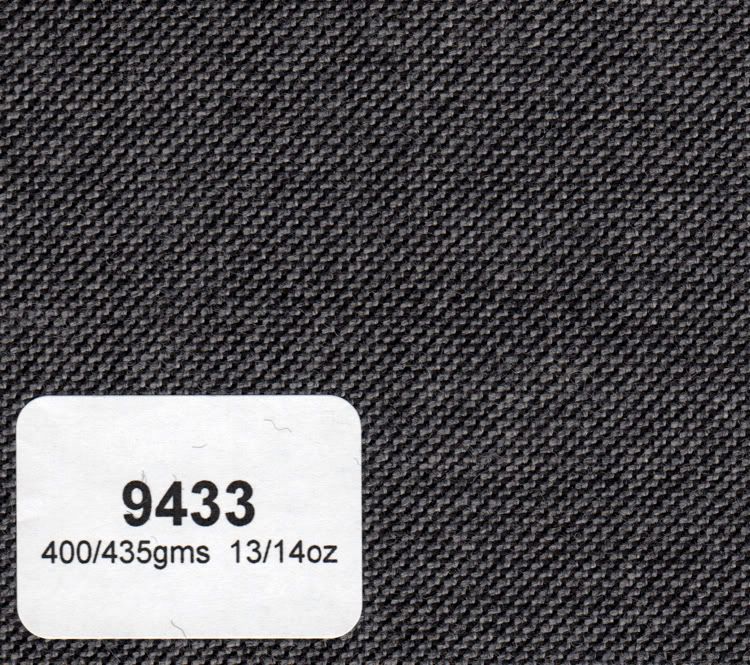 The salt-and-pepper effect is only noticeable from close up.
Alternatively, a herringbone design adds understated surface interest: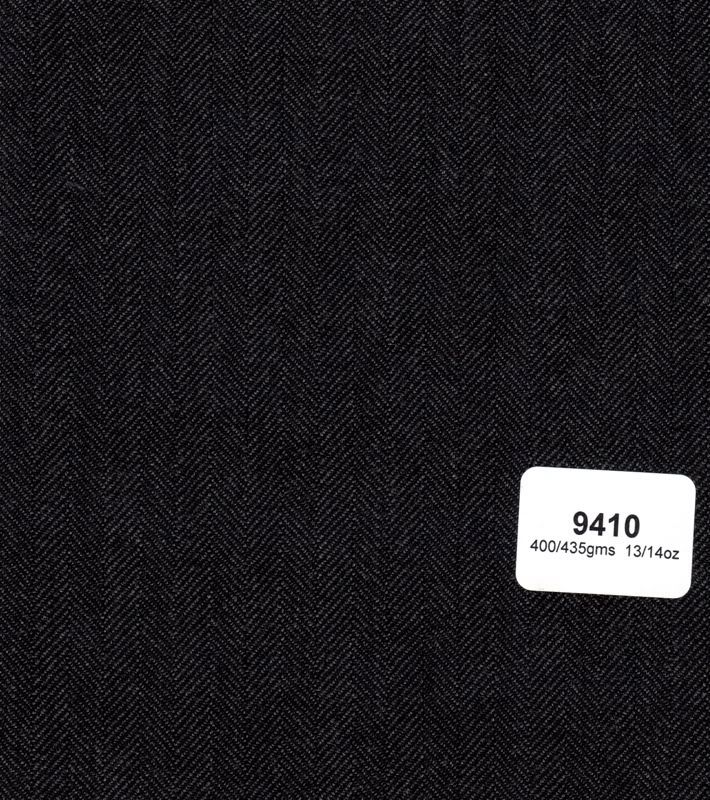 However, if you are wearing it to work, you may want to consider stripes. Those who prefer a conservative look may want to choose a design with narrow cream stripes that are about 1.5-2 cm apart or so. This example from Dugdale English Classics is a classical pin stripe: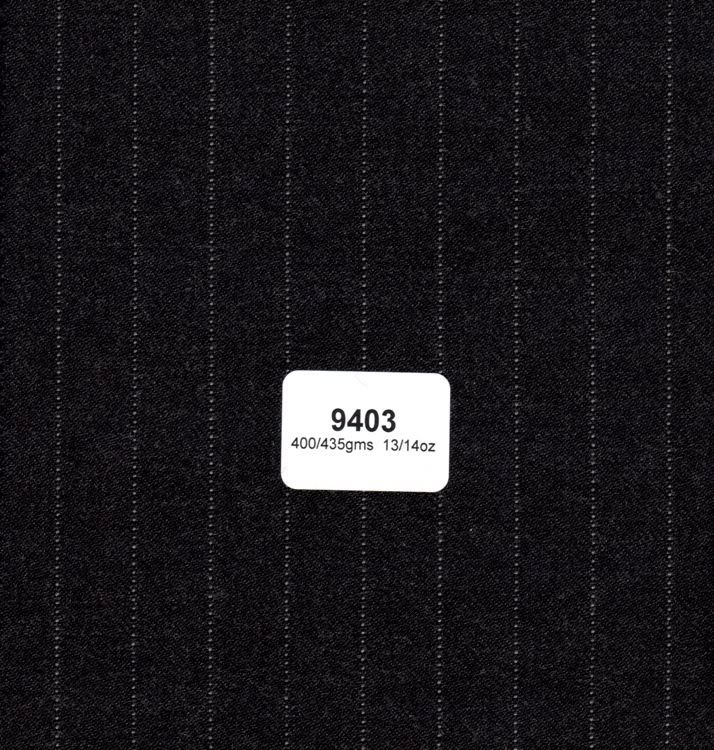 Rope stripes like this example are also very classical: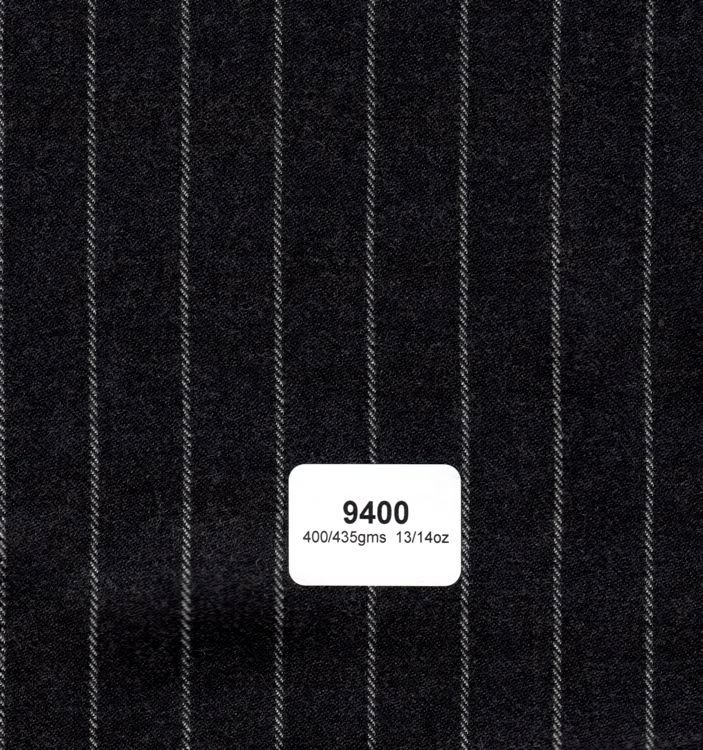 The more conservative striped designs may get you comments about looking like a stock broker, and some feel that it can look too business like to wear to social functions. However, you can also get slightly fancier stripes like this:
For winter wear chalk stripes (with the fuzzy, indistinct stripes) are very stylish: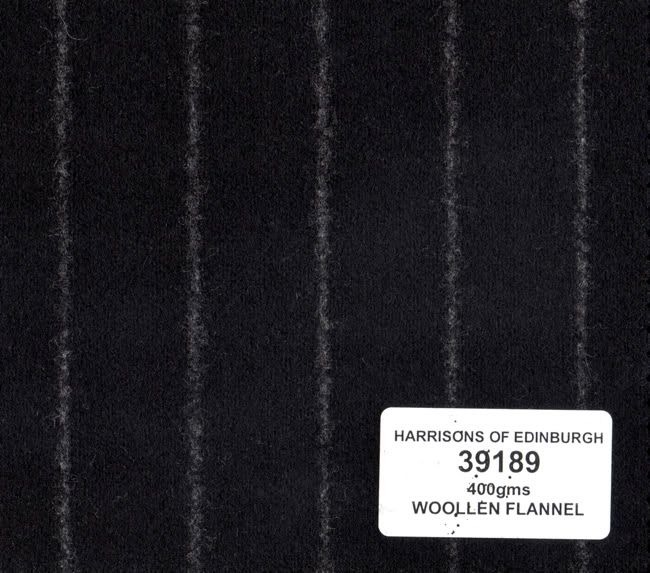 Fanciers stripes add a touch of fun to even the most conservative cuts. The cloth choice is entirely up to your taste and personality, and you should feel free to choose accord to your personal preferences.