The whole idea behind ready made garments is that the shape of the body conforms to scientifically predictable proportions. In reality, you can rarely accurately predict the fundamental anatomical measures just from a chest measure, any more than you can predict the shape of the bust from the chest measure. So you find these predictions fail routinely. The end result is that ready made garments end up fitting only the Mythical Ms Average ie nobody. It doesn't fit YOU!!!
Here is a good example of this on a local newsreader, Samantha Armytage. It always bugs me the way her coats do not fit her bust shape correctly. The end result are these unacceptable drags at the armhole pointing to the bust, which naturally annoys the heck out of me.
These sorts of drags (see arrows) are classical on a figure with a more prominent bust (Samantha has a very attractively curvaceous UK 12/US 14 figure):
The pattern needs to be adjusted to allow for her bust shape and to remove these drags. You can see how you also get these cross shaped horizontal drag lines across the bust: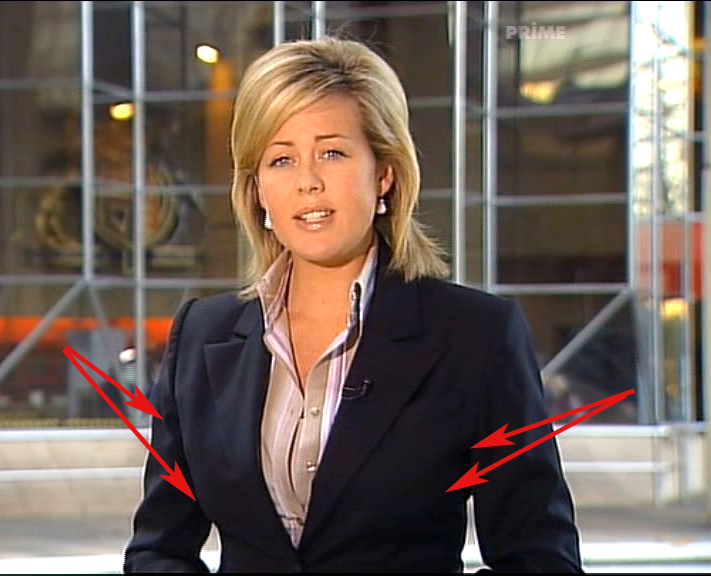 You can see in this photo how the curved panel seams (going into the armhole of the sleeve) actually helps to get a slight cleaner fit: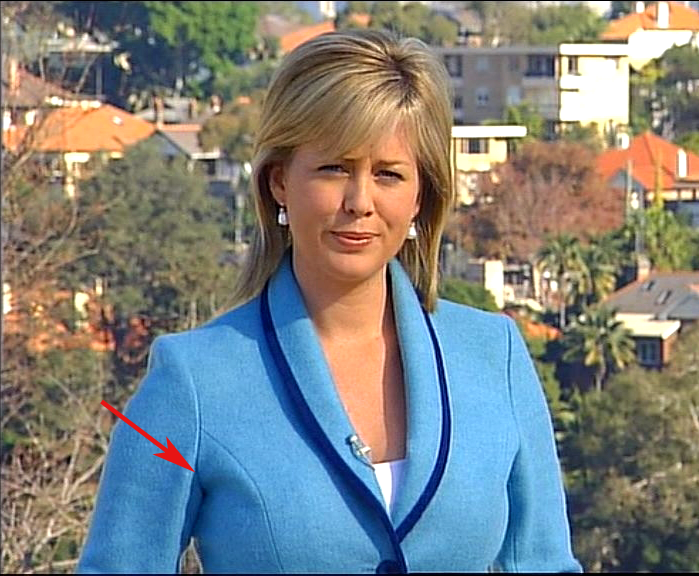 However, even then the pattern has not been adjusted for HER figure in particular, and although better, the problem remains. Nor can alterations tailors adequately deal with this complex fitting issue.
Part of the problem is that hourglass figures are not fashionable, and makers want their clothes to be seen worn more by modern boyish skinny figure. A bespoke garment that follows every curve would allow an hourglass to show off her figure to full effect, thus bypassing the way the modern garment manufacturing industry has largely shunned them.
This is why women need bespoke tailoring today more they ever did. With more and more women entering public office, or climbing their way up in the corporate world, the need for high end tailoring for women is more acute than ever in the past, and it is precisely now that women who need to cultivate their professional image should be turning more to bespoke tailoring. Yet, in reality, the opposite seems to be happening without a reversal of the trend anywhere near in sight.