The text comes from the 1960s
Der Zuschnitt
XVIth edition from
Rundschau
. As usual, please keep in mind that this version of the
Rundschau
cutting system is now 40 to 50 years old and that it has evolved in the subsequent time period. If you found this version of the
Rundschau
system useful then you will probably want to purchase the latest modern version directly from
the Müller & Sons website
. Unfortunately, it is available only in German.
The newer system will be presented to the reader differently, and where possible should be read as being complementary to the 1960s system presented here.
It is also strongly recommended that you also support
Rundschau
by subscribing to their journal (both the ladies' as well as the gentlemen's editions), as it is the last remaining classic tailoring journal still in print anywhere in the world. Information on how to subscribe
can be found in this thread.
They even have
CAD programs
based on the
Rundschau
cutting system, although this is more for industry cutters.
One of the most sophisticated sleeve cutting systems published is the
Rundschau
system. It is a little more complex than some other ones, but very logical and easy to follow.
First of all you need to measure the dimensions of the armscye.
A. Height of Armscye
1. First measure the front height of scye from A2 to At
without
the seam allowance: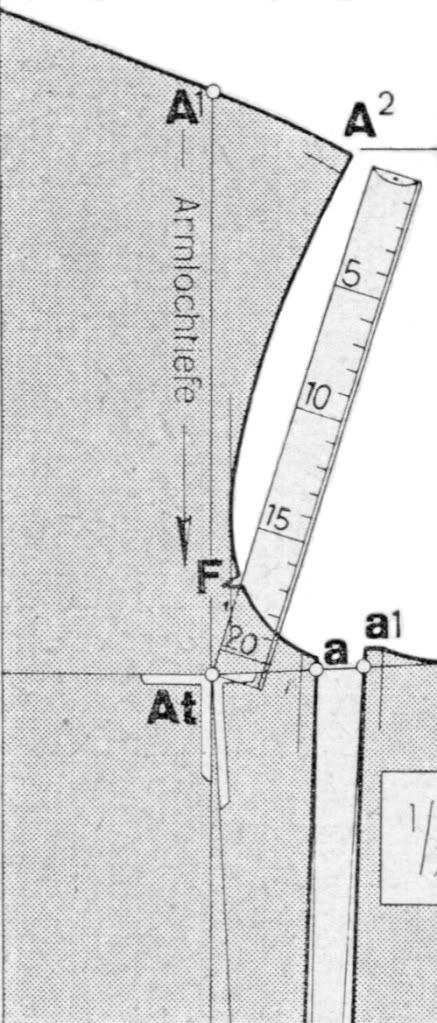 2. Next measure the back height of scye from a2 to Rb also
without
including the seam allowance:
3. To find the armscye height for sleeve draft take the average of the above two measurements.
4. Subtract 1/10 of the armscye width + 1cm (width of scye is measured horizontally across the scye)
Example
Front + Back Scye Height = 42cm
The average of the two = 21cm
1/10 scye width. + 1cm = 2.6cm
Armscye Height = 18.4cm
B. Armscye Breadth
For our purposes this means the breadth of scye from points F to B on the sleeve draft: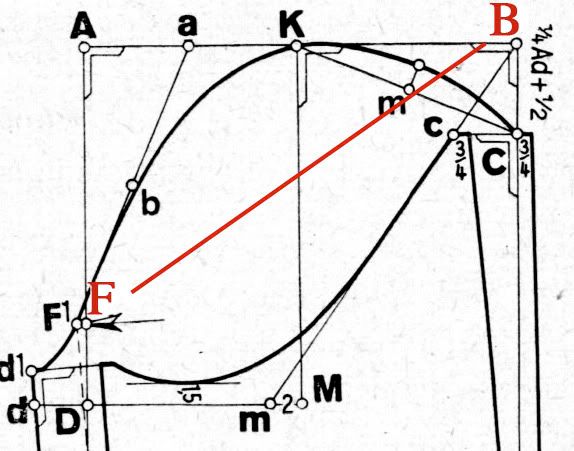 1. First measure around the circumference of armscye - again without the seam allowance.
2. The armscye breadth = 1/2 armscye circumference + 1cm
Example
Armscye Circumference = 50cm
1/2 circum. = 25cm
Add ease = 1cm
Armscye Breadth =26cm
Foundations of Draft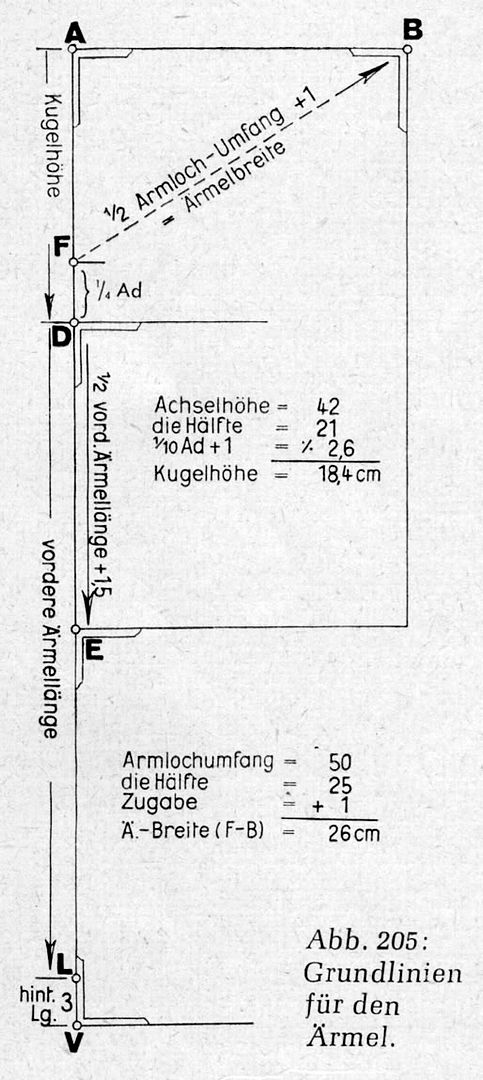 A/B/V basic foundation
A-D armscye height (18.4cm in our above example)
D-L front sleeve length
D-E elbow height = 1/2 front sleeve length minus 1.5cm
L-V back length = 3cm
D/E/V square down
D-F 1/4 of armscye width
F-B place armscye breadth here
B- square downwards
Crown, Centre Front, and Length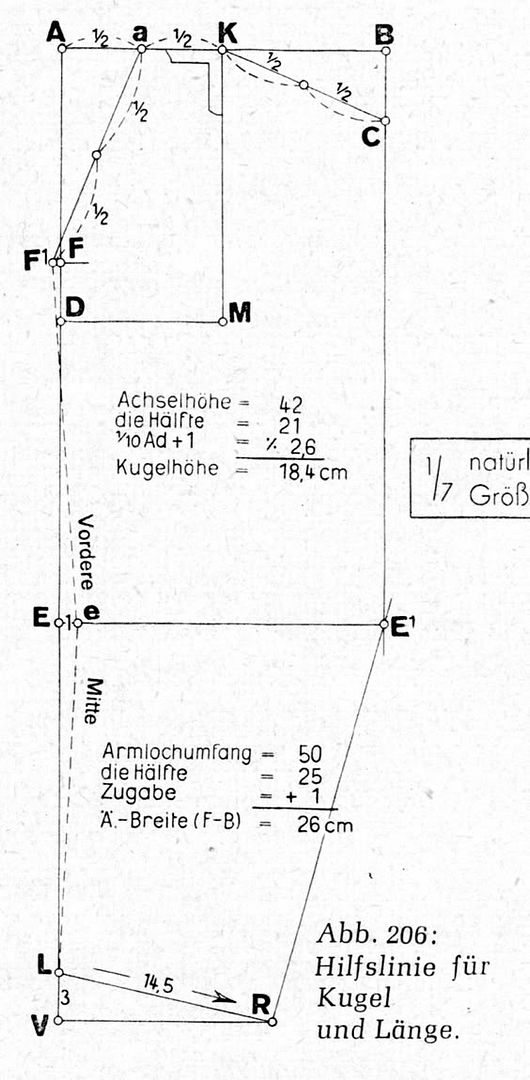 K- half of A-B
a- half of A-K
K- square downwards
B-C 1/4 armscye width + 1/2cm
C-K draw construction line, and halve the line
F-F1 advance forwards 1/2cm
F1-a draw construction line and halve the line
E-e centre front =1cm
F1/e/L add in centre line
L-R hand width circa. 14.5cm
R-E1 complete line
The Completed Top Sleeve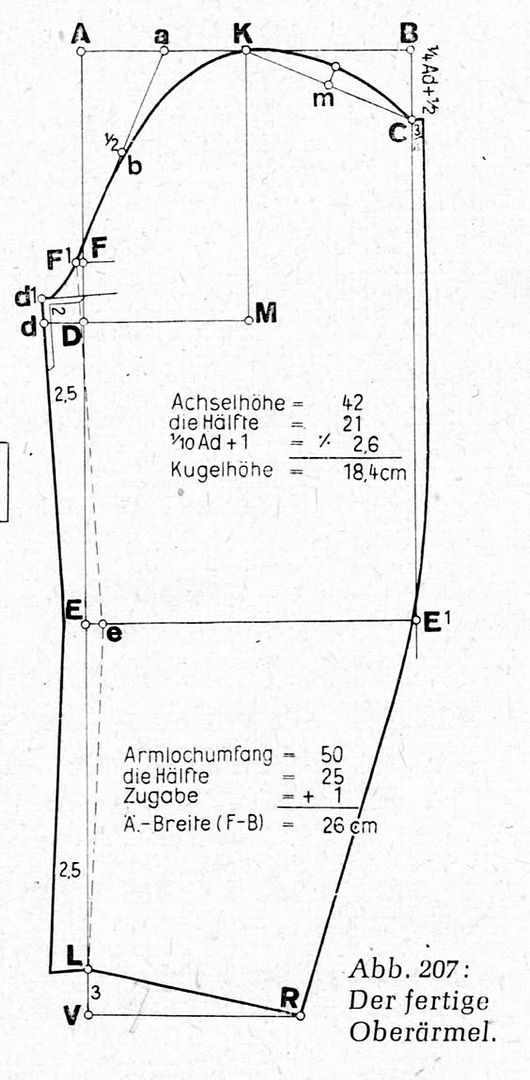 F1/e/L front seam is 2.5cm forward of the centre line
d-d1 move upward by 2cm
m- = arc of curve passes 1.5cm above
C/K/d1 line of sleeve crown
C- seam allowance of 3/4cm
C/E1/R elbow seam for the top sleeve
L-R complete front edge
The top sleeve is now complete
The Under Sleeve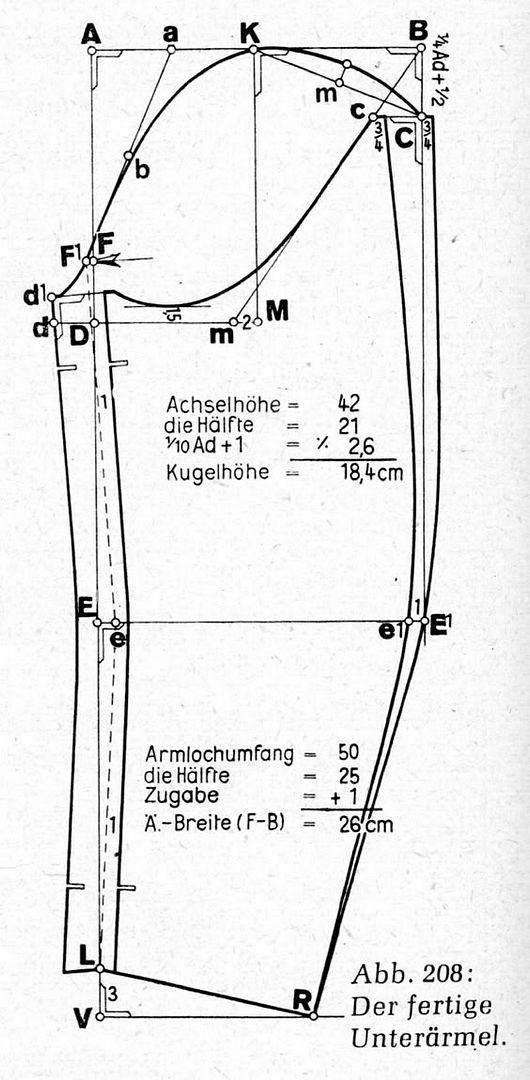 D/e/L front seam of under sleeve is 1cm behind this line
D-M displace upwards 1.5cm for comfort
M-m displace 2cm
C- square out horizontally
m-B draw construction line to find point c
c-F1 underarm seam is completed
E1-e1 elbow seam in by 1cm
c- add seam allowance of 3/4cm
c/e1/R elbow seam for the under sleeve.
The under sleeve is now complete. All seams (3/4cm) have been allowed for.