Wedding Attire
I thought it is about time to write my own views on correct and elegant wedding attire.
The most important determinant of how a man should dress is the overall level of formality of the wedding, which will either be formal or informal. The thing that sets the tone of the formality will generally be what the bride chooses to wear, as she is likely to have the strongest views on the matter.
Part I: Formal Wedding Daywear
This usually means that the bride is wearing a formal bridal dress. This will usually have a full-length skirt. It may have a train or even a bustle, which are very old fashioned but highly formal features on a dress.
A potential bride or groom must understand that the only masculine garment that can match such a gown in formality is a coat with tails. Tails are the equivalent of a train or bustle on a dress. That is to say lounge suits ("business suit" in American English) are the equivalent of an informal fashion dress and to wear it alongside a formal wedding gown is an odd mismatch that should be avoided. In most cases this means that the groom should wear formal morning dress, which is worn for all daytime ceremonies. The cut-off time after which morning dress should be replaced by evening dress is dependent on time of year. In summer, where it remains bright longer, it may be worn until a little later. In winter the "evening" arrives a little earlier.
If the guests are to be in formal morning dress as well, this should be clearly stated on the invitation: "formal morning dress".
For evening festivities after a daytime ceremony the groom must change into evening dress. Only if a daytime reception happens to spill over into the evening hours is it permissible to remain in daywear.
Traditional Formal Festive Morning Dress
Modern formal festive morning dress consists of a morning coat, waistcoat and striped trousers.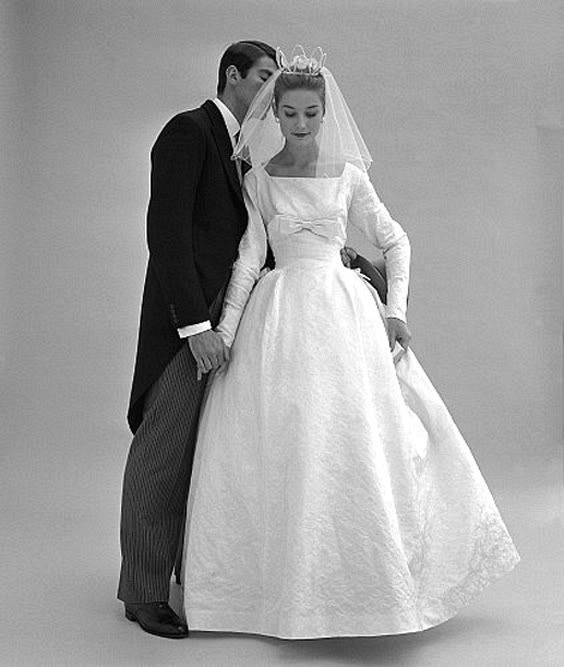 The following fashion illustration from 1969 shows a much more ideal fit of a body coat, and matching waistcoat:

The waistcoat peeks out only subtly above and below the coat. The morning coat finishes well above the knees. The coat closely follows the figure of the wearer.
The Coat
The main features of the typical modern formal morning coat are that it closes with only one button, and the lapels are pointed (double breasted or in American English "peaked"). The cloth is made of worsted cloth in either black or dark grey. The cloth may have a subtle self-pattern in it to give it interest such as a fine herringbone pattern, as you can see in the above example. Oxford grey is a particularly beautiful choice. This is very dark mixture of black and white to give a fine salt-and-pepper finish seen from up close. From a distance it may look black.
A morning coat should ideally be bespoke (custom made in American English). Tailors call coats of this type, "body coats", and they are less suitable to be made up as a ready to wear garment because they need to be fitted much more carefully. They are designed to be fitted cleanly to the "body" of the wearer, so as to show off his figure. Younger men with good figures tend to look the best in body coats. Here is what a body coat looks like from front and back: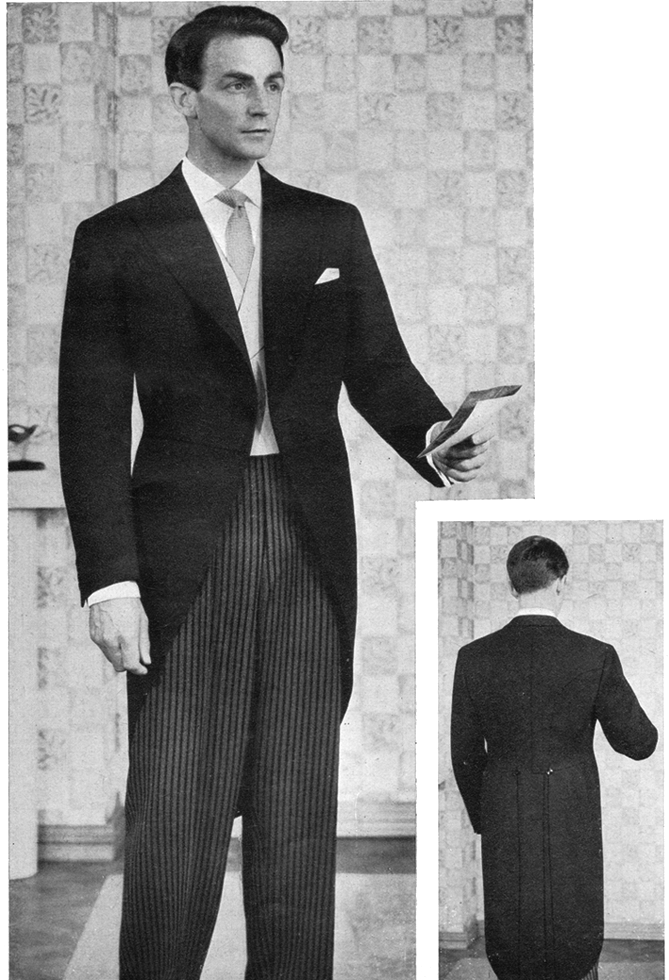 The coat should cleanly follow the line of the hollow of the back and waist. The way the seams fall on a body coat is designed to allow the tailor to shape a beautifully sculpted back. A body coat is a work of art, and only the finest tailors are able to make them. It is traditionally regarded as the ultimate test of a tailor's ability. When executed well, it can look very stylish and contemporary, as David Beckham shows: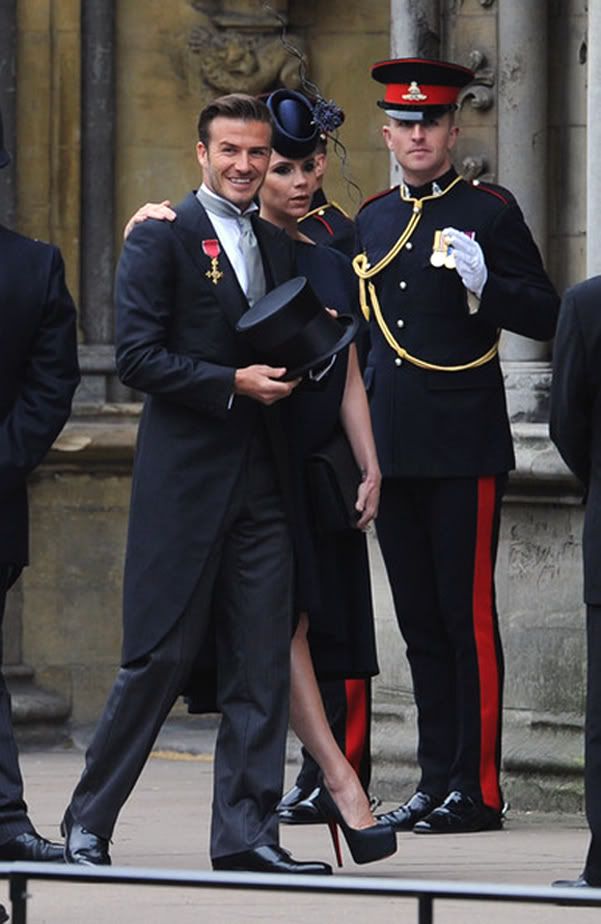 While the modern morning coat is usually a single button pointed lapel model, there are other variants that are permissible.
The most important variant worth mentioning is the grey morning suit. The next suit (exhibited at a tailoring conference in Japan during the 1960s) is made up with a pearl grey coat with matching waistcoat and trousers: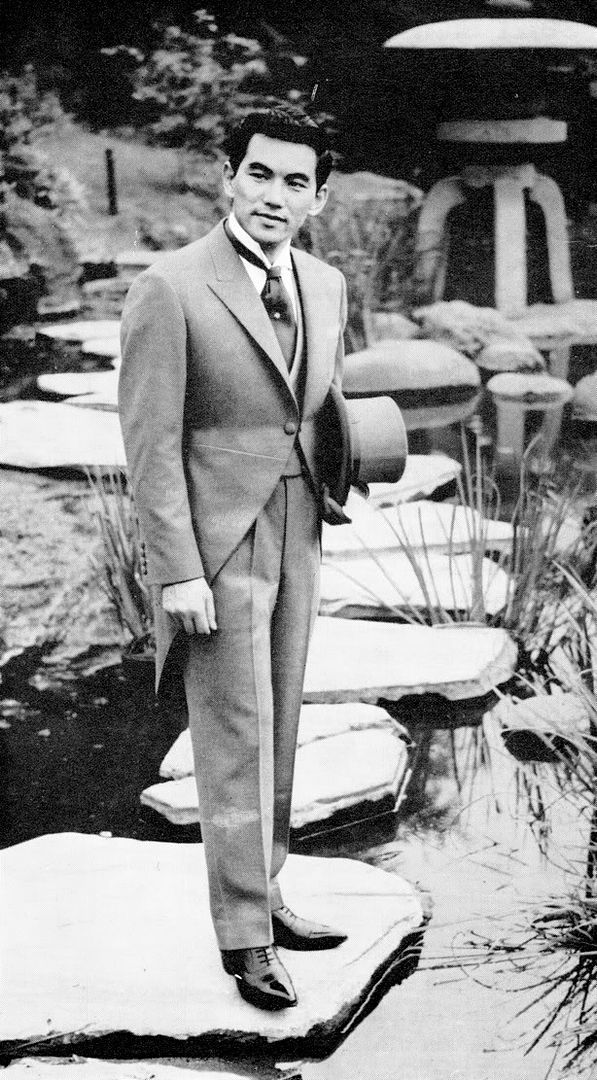 This is worn on festive occasions only, especially in warmer weather. If the groom wears a light grey morning suit, other men should wear dark coloured morning coats. Notice how on the above example the coat is a bit shorter and the lapels narrower - both typical 1960's
Mad Men
era style features that are also seen on lounge coats of this period.
One interesting tradition is that morning coats do not traditionally take silk faced revers. However, it is traditional for a morning coat to be made up with silk braiding around the edges: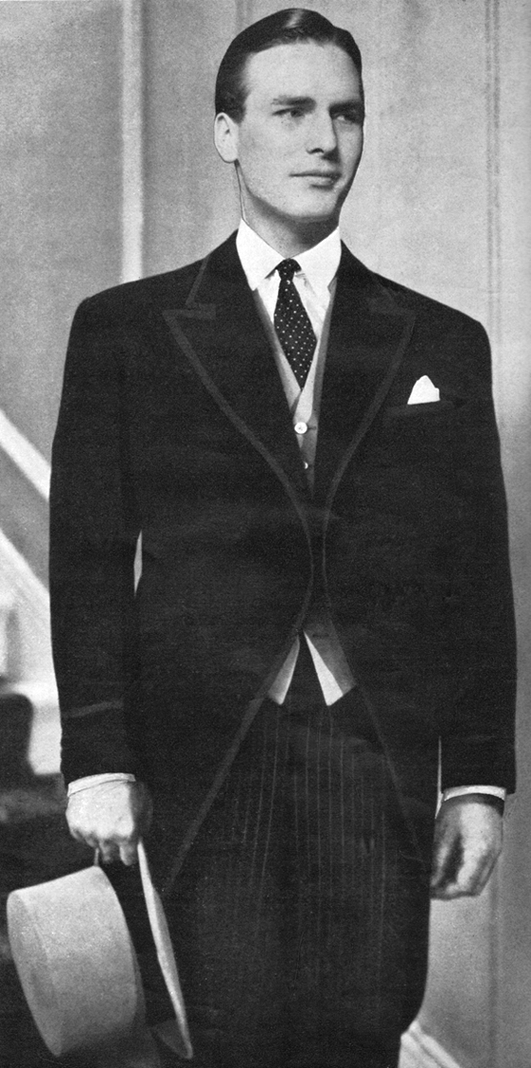 Note the single button closure with links rather than a button. Prince Charles had his coat made up this way with braiding (but without the link closure) for his wedding: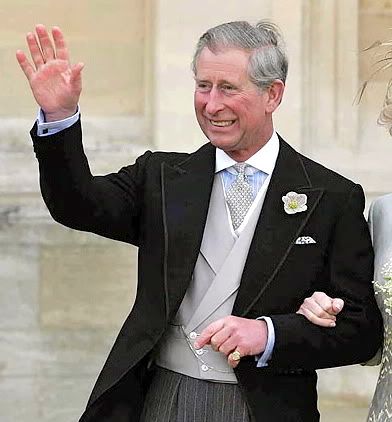 Most other variants are somewhat less common these days. The following fashion plate shows some fine examples of such variants:
The figure on the right wears a morning coat with a step lapel (single breasted, or in American English "notched" lapels). The figure on the left wears a button-two model with pointed lapels. Of particular note on this coat is that the length of these two coats is absolutely ideal, and all three figures wear waistcoats that only show subtly above or below their coats. A morning coat also looks more elegant when it is shorter and can be as much as 2-3 inches above the knees. It looks more youthful and dashing to have a morning coat a bit too short than too long. If you also look closely at the figure on the right, he also has his coat specially cut so that it closes with links rather than with a button. Links are made with two cloth-covered buttons joined by a chain: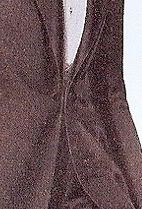 The figure in the middle is wear an old-fashioned type of formal coat for morning wear called a frock coat, also called a Prince Albert after the consort to Queen Victoria. It is double breasted and has a silk facing to the revers, which you can clearly see on this example from the film
Kind Hearts and Coronets
: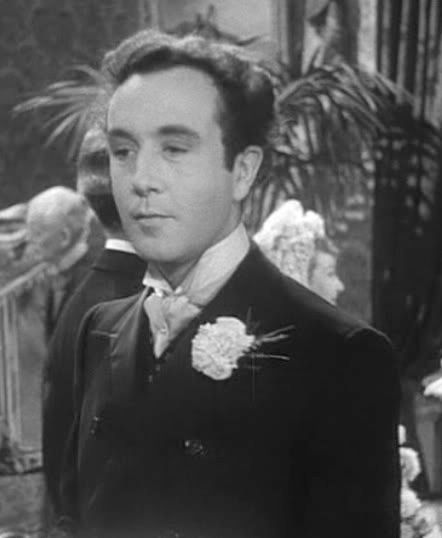 It is a rather stately coat that went out of fashion in the art deco period, although Tommy Nutter made a good attempt at reviving it back in the 1970s - in this case as a dove grey frock suit:
Other attempts to revive the frock coat were made in the 1950s: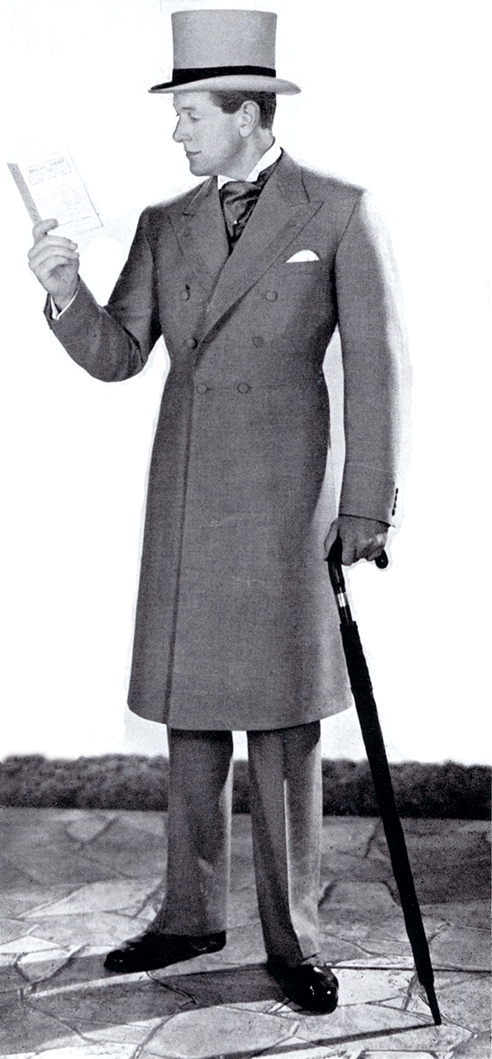 Avoid modern variants that purport to be "frock coats", but are really just shapeless variants better suited for the costume rental store. Like an overcoat, these usually lack the horizontal seam that runs around the waist, and usually fit more like an overcoat too. The classic frock coat was a closely fitted bespoke garment that could not be mistaken for an overcoat. With these strange overcoat-like modern mutants there is the danger that people may innocently offer to hold your "overcoat" because it is not raining!
Finally, for those unable to bespeak a morning coat, a ready-to-wear coat can only be altered to fit with some difficulty. Altering a morning coat is a much more complex affair compared to lounge coats (business suit jacket in American English). A proper alteration may be quite expensive, and only a very good tailor should be entrusted with the work. It is by far preferable to order a bespoke morning coat from a tailor.
Morning Dress in America
The traditional American English word for a morning coat is a "cutaway coat". This is what the words in the Irving Berlin song "Puttin' On the Ritz" refer to:
Different types who wear a daycoat, pants with stripes
And cutaway coat, perfect fits
It is actually perfectly traditional in North America to wear morning dress at weddings. The following fine examples are all American.
John F. Kennedy and Jacqueline Bouvier: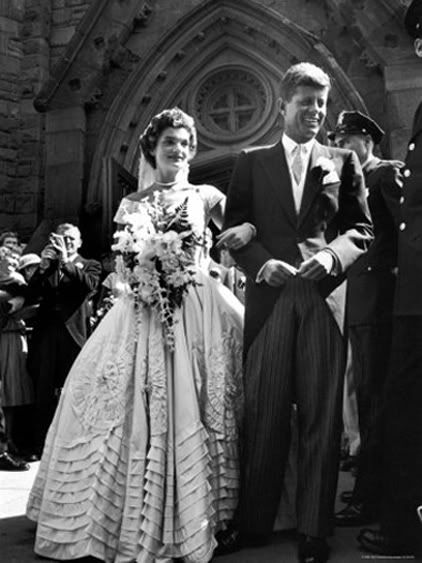 Unidentified couple from the 1960s: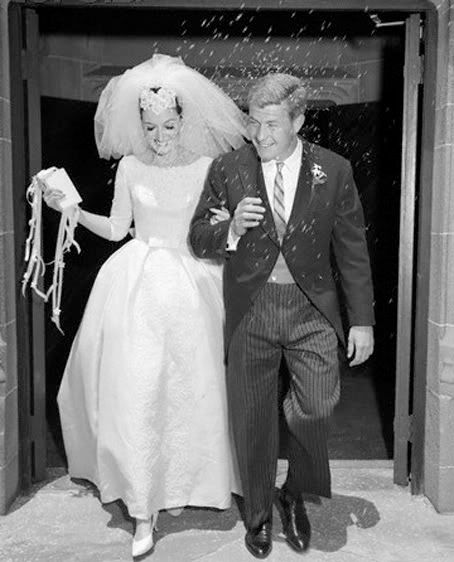 Babe Paley and Stanley Mortimer in 1940: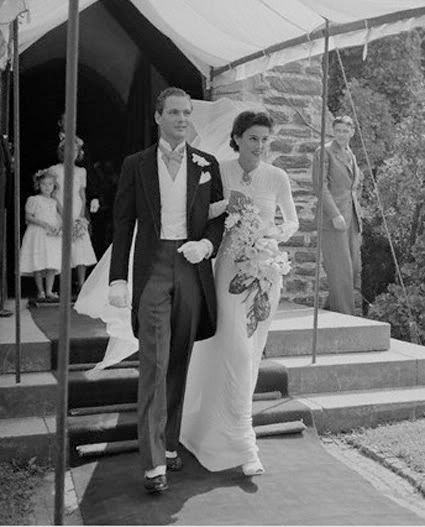 These are just a few examples, and they all help to make total nonsense of the erroneous idea that it is somehow "traditional" in America to wear dinner dress (dinner jackets or tuxedos). Traditional American guides (such as Bacharach, 1955) to dressing for a wedding make it clear that a "cutaway coat" was always considered the correct thing to wear to a formal daytime wedding - which is why Berlin also calls the morning coat a "daycoat".
The Waistcoat
It is actually very difficult to correctly coordinate the waistcoat to the coat. The only way to get this absolutely right is have them both made up together by a bespoke tailor (custom tailor in American English). A great deal of freedom is permitted with waistcoats for morning wear. It can be single breasted, or double breasted of a cloth matching the coat, of light cashmere, worsted, silk, or washing fabric (linen or cotton) in cream, white, dove grey, lavender, biscuit, or buff.
One recent British fashion trend at weddings is a silk waistcoat made of brilliant colours and patterns of the sort you would normally see today on ties. Some may raise their eyebrows at this, or attempt to dismiss it as a passing modern fad inappropriate to the sobriety of morning dress, but in fact this is actually the revival of an old Victorian fashion. The following beautiful example from
the Victoria and Albert Museum
collection dating from around 1850 was almost certainly a family heirloom piece that was originally commissioned for a wedding. This is why the touchingly Romantic design has highly symbolic roses and forget-me-nots on it:
Although rather faded by time, you can imagine how brilliant it must have been when worn on the wedding day. The flowers change colour according to which angle they are viewed from, being at one time emerald and at another time blueish tinged.
Provided the design of the silk is tasteful, there is no reason this Romantic trend in waistcoat designs should not be adopted more widely outside of the British Isles. One thing that should be born in mind is that to avoid designs competing, the tie or cravatte must be kept extremely plain: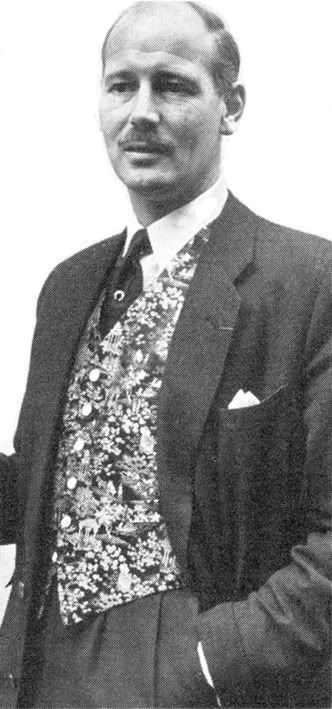 Most importantly, fancy waistcoats with brilliant silk designs should be avoided by those with already generous waistlines. The explosion of colour only draws even more attention to the waistline. A plain waistcoat is much more slimming.
Great care should be taken to match the length of a single-breasted waistcoat to that of the coat front. Prince Philip's tailor has got this absolutely perfect here:
Notice that the double points on the waistcoat peak out a little below the coat. If the waistcoat has a single point at the front, take care that it does not protrude out too much at the bottom. Waistcoats that are cut perfectly horizontally at the bottom can look bland, as though it were a ready-to-wear garment, but this is more a matter of taste than of proscribed "correctness".
The waistcoat should also only show a little above the buttoned up coat. A waistcoat that protrudes excessively above and below the coat looks harmonises poorly with the coat, and it is a dead give away that the wearer's morning dress is a haphazard collection of ready-to-wear separates.
Some say that a single-breasted day-wear city waistcoat should be lapelless but some thought needs to occurs as to how rigidly such a rule should be followed, as it was not always universally followed in the past. Here, the great dandy Count D'Orsay wears a single-breasted waistcoat with the morning dress of his day. It has roll collars and a bottom with a single point to elongate the figure:
Double-breasted waistcoats can also look elegant. These can be made with either a single or double point at the bottom. A semi-U shaped lapel can look particularly elegant on either a single or double-breasted waistcoat. All of these variants are entirely a matter of individual preference, and a certain amount of tasteful fantasy gives the waistcoat a sense of individuality that sets it apart from rental and ready to wear garments: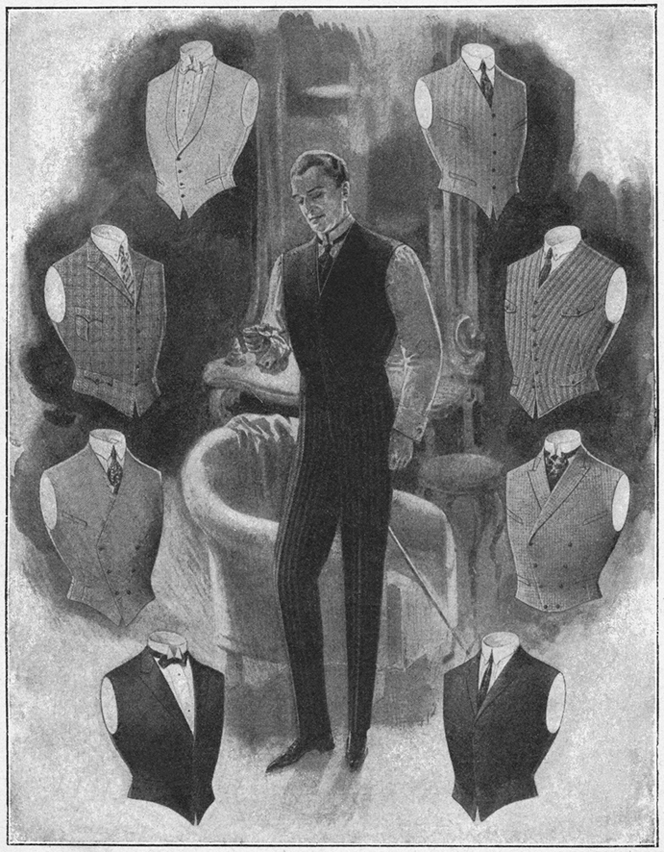 The above centre figure wears a slipped waistcoat with striped trousers for morning wear. Apart from the waistcoats shown at 7, 10 and 11 o'clock, all styles are suitable with morning dress.
The slipped waistcoat. If you look carefully at this close up of the Prince Charles you will clearly see what looks like a second waistcoat underneath it peaking out from under it:
This is known as a slipped waistcoat. The slip is a piece of cloth that is attached underneath, at the top of waistcoat. It is thought to be remnant of the Regency era practice of wearing an underwaistcoat beneath the waistcoat.
Trousers
The trousers must also coordinate in their fit and cut with the rest of the ensemble. The cloth design for festive occasions is a striped or checked cashmere design. "Cashmere" refers to the design of the pattern rather than the fibres in the cloth. The designs are of a strong black-and-white design, and any old pinstriped trousers in the wardrobe will not do. Alternatives include other black-and-white dress trousering such as cheviots, houndstooth, herringbone, shepherd's check and other similar designs. However, other than houndstooth and herringbone some of the other classical checked dressing trousering designs are as rare these days as hen's teeth. However, H Lesser, Harrison's of Edinburgh, Zegna, Dugdale Bros, and Holland & Sherry all offer a classical striped dress trousering.
This is what striped trousering in a cashmere design looks like up close:
Matching black trousers are best kept reserved in case of a funeral. A suit with matching black morning coat, waistcoat and trousers is traditionally called a "mo
u
rning suit" - and is probably not something you would want to wear to a festive occasion!
The most classical trouser fit to match a beautifully fitted body coat is arguably a pair with a slim cut. Rather baggy trousers became a fashionable from about the 1930s to the 1950s, and you can see that Prince Philip is wearing a rather full cut on those trousers in the above picture. He has recently had his old trousers re-cut by his tailor to slim them down to make them looking less dated. A slim-fitting pair of trousers is a better balanced match for the sharply fitted look of a body coat. The trousers need not be as tightly fitted as those worn by Count D'Orsay, but enough to provide a clean silhouette from top to bottom. If trousers were baggy mid-20th century, then in the mid-1800s, in the Count's day, trousers were excessively tight fitting, but in between these periods trousers were modestly slim fitting like this: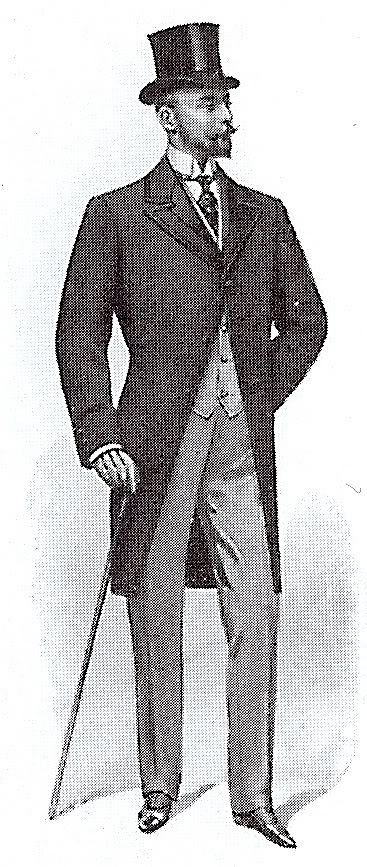 This particularly looks both unexaggeratedly classical, as well as fashionable on younger men with good figures. The trousers can be flat fronted, as in the above Edwardian example, or pleated according to taste. Pleated trousers (single or double, forward or reverse) came in around the 1930s when a baggier cut become fashionable, as the pleats tend to add fullness. Full pleats (especially double pleats) tend to poke out from under the cut away fronts of a morning coat, whereas lounge coats better hide them. However, these styling suggestions are perhaps matters of personal taste rather than being some sort of rigid Rule that has to be followed for pain of Death.
Trousers are best made up as brace trousers. The main reason for this is to allow the trousers to be cut with a higher rise to avoid the trouser waistband from peaking out from underneath the waistcoat bottoms. The waistcoat can then be finished shorter to give the illusion of a longer leg line. The braces (suspenders in American English) also pull on the trouser leg line, holding them straight and erect, further lengthening the leg line to add to the illusion of height. This long legged effect is particularly striking when you combine it with the very strong stripes found on dress trousers. It really does make you look taller. This is what the back of brace trousers look like: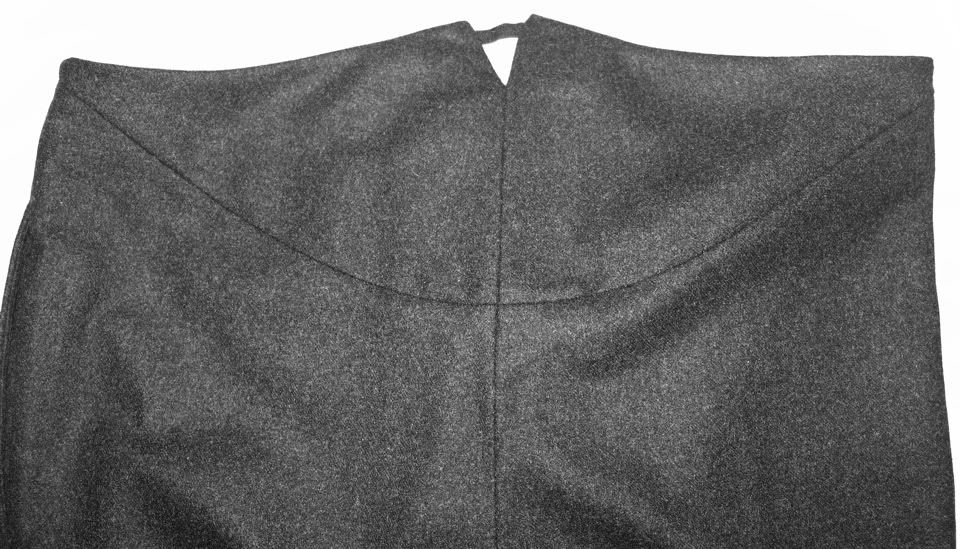 Alligator styled clip on braces damage trousers and should be avoided at all cost.
Belt trousers tend to sag and wrinkle more, no matter how uncomfortably tightly you do up the belt. This, when combined with the lower rise of belt trousers will make your legs shorter. If you absolutely must wear belt trousers, make absolutely sure that the belt and waistband do not protrude underneath the waistcoat.
The commonest objection to braces is that they look old fashioned. This is a pretty moot point when you cannot see them and it is perfectly modern and fashionable to look sharper and taller.
Trouser hems should be finished plain without turn ups (cuffs in American English).
The Shirt
The shirt should ideally be plain white or white with self-stripes. Coloured shirts are sometimes seen today, often with contrasting white collars. Those who find a plain white to be too harsh for their complexions in daylight should consider ecru to soften things out. Otherwise, an understated grey striped shirt or a pale blue shirt is considered acceptable.
The collar is traditionally a detachable stiffly starched collar. These days, a good quality shirt with an attached collar is also considered a fine alternative. The tunic shirt should not have a bib such as those found on evening shirts, nor should it show studs. However, it should close with cufflinks. Currently, it is most usual to wear a turn down cutaway collar. Although rather old fashioned today, stand up collars, whether winged or imperial, may also be worn, provided they are detachable. The height of the collar should be proportionate to the neck of the wearer. Men with thicker, shorter necks should stick to turn down collars.
The shirt should a plain front and without a "bib" of the sort found on evening shirts (which are starched and made of either plain or piqué).
Neckwear
The tie is usually a four in hand (although some will prefer a Prince Albert or even semi-Windsor, the ungainly full Windsor should be strictly avoided), especially with a turn down collar. However, a four in hand may be correctly worn with a stand up collar, though this again is old fashioned. The tie should be grey or a strong black-and-white design, either in a small pattern or stripes.
An old fashioned, though still elegant alternative is the Ascot tie. However, proper Ascot ties are as rare as hen's teeth these days, and they are made like ordinary ties, only wider. Because day cravats are incorrectly called "Ascots" in American English, most of the time something is purported to be an "Ascot" it turns out to be nothing more than a day cravat, which is often made of lighter silks and without any interlining to give it formal structure.
This is an Ascot tie: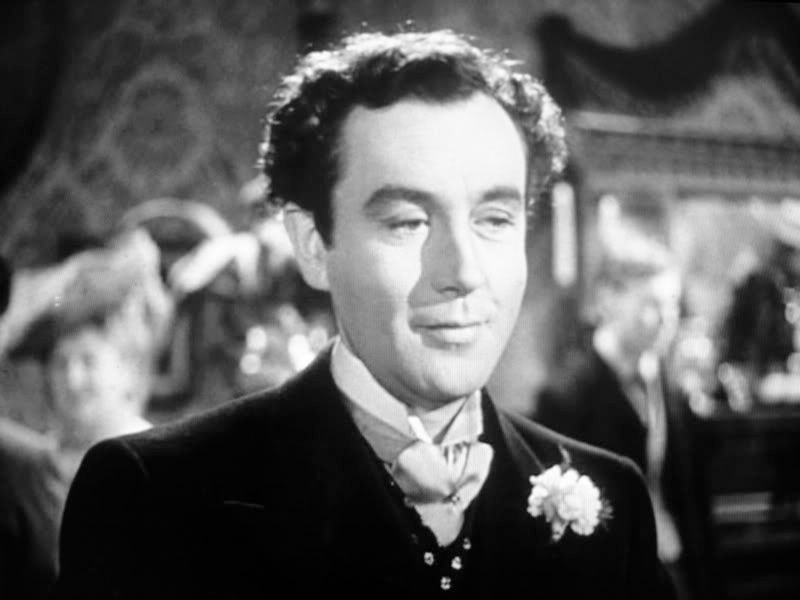 This is a day cravat:
These are two totally different garments. Please don't get them confused. Pre-tied rental Ascot ties should be strictly avoided. The only way to get hold of a proper Ascot tie is to bespeak one of a good maker. Ascot ties are often worn with a stand up collar, and finished off with a cravat pin. This is how they are tied:
Here is Sir Anthony Eden getting married wearing an Ascot tie and a winged collar: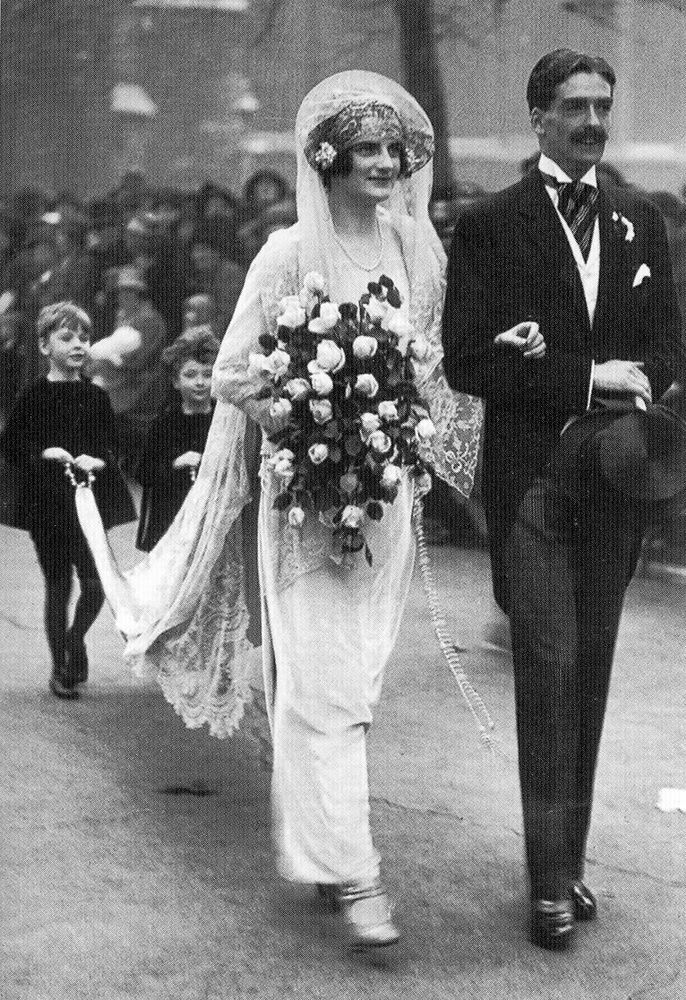 Notice the step lapels on his coat.
Bow ties are another old-fashioned alternative. For those who like them they make a good alternative. The designs should again be grey or a black-and-white small design or stripes.
If colours and patterns are introduced to the waistcoat, the neckwear should become plainer by way of balance. If colour is to be introduced, it should be done so very discretely. Busy and colourful silk designs tend to ruin the understated masculine elegance of morning dress.
Footwear
There are two types of Oxford shoes that are classically worn. These are plain black calf skin Oxford shoes with a plain toe cap, or punch caps (a single row of punching across the caps).
Plain cap toe Oxfords: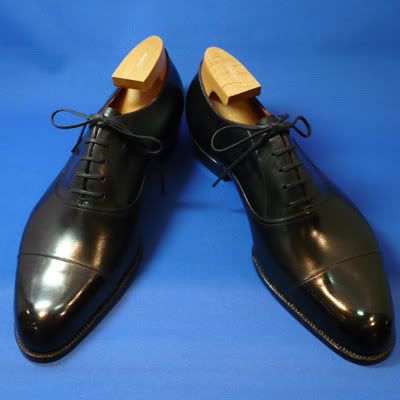 Punch caps: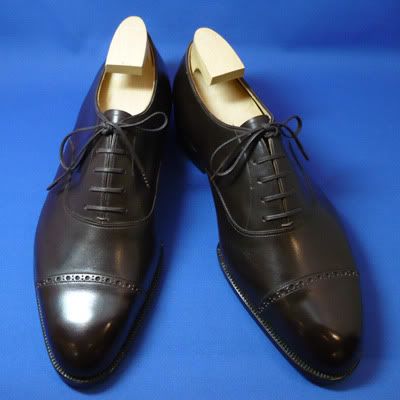 However, a number of small variations are permissible. The following are a couple of such examples.
This is a plain toed Oxford (there is no toe cap) with a medallion:
Next, is a type of Oxford known as an Adelaide, with the typical U shaped row of punching around the laces:
All of the above Oxford shoes are bespoke shoes made by
Koji Suzuki
.
Alternatively, dress boots with contrasting tops (cloth is traditional and more comfortable) such as button boots and Oxford boots are also very traditional, if old fashioned. The uppers are traditionally made of grey or tan cloth.
"Galosh" lace up Oxford boots:
Button boots from Parisian bootmaker
Dimitri Gomez
:
A more modern dress boot would be something like a Chukka boot on a very sleek and elegant last such as these from
Gaziano & Girling
(from the
Leffot
website):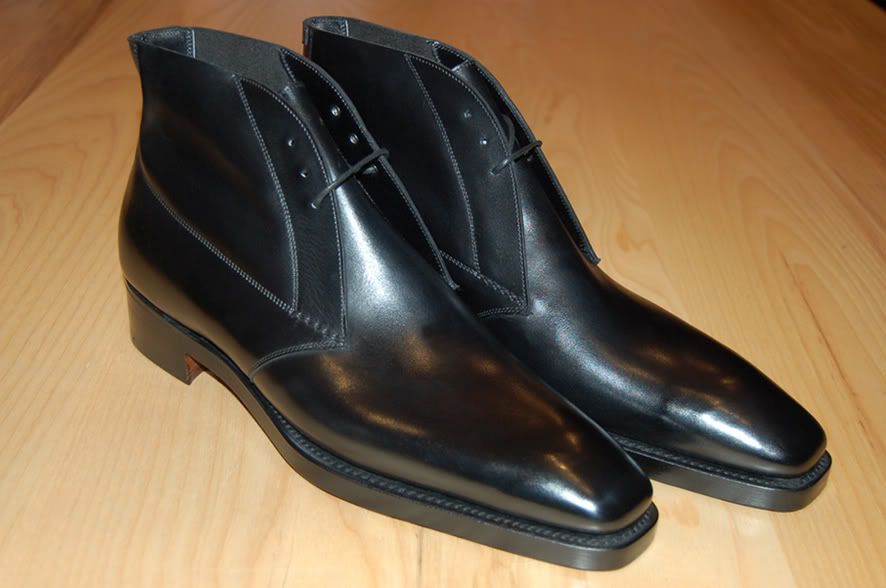 In general spats should be avoided, as they look to much like period costume. Spats were only fashionable for a limited period of time. They represent a fleeting fashion, and were often thought affected. Galosh Oxfords with light coloured contrasting uppers also tend to look like spats. The disadvantage is that they all disrupt the continuity from trouser hem to shoe and make the legs looks a little shorter. This should be kept in mind when ordering such contrast top boots.
Hose
Silk or cashmere is traditional. However, many modern ultrafine cotton, or even wool socks can be just as elegant. The colour should be black, or dark grey with a subtle self-pattern. If cloth topped boots are worn, the socks should match the colour of the uppers. The socks should preferably be knee length.
Hat
Black silk top hat is at least carried, if not worn: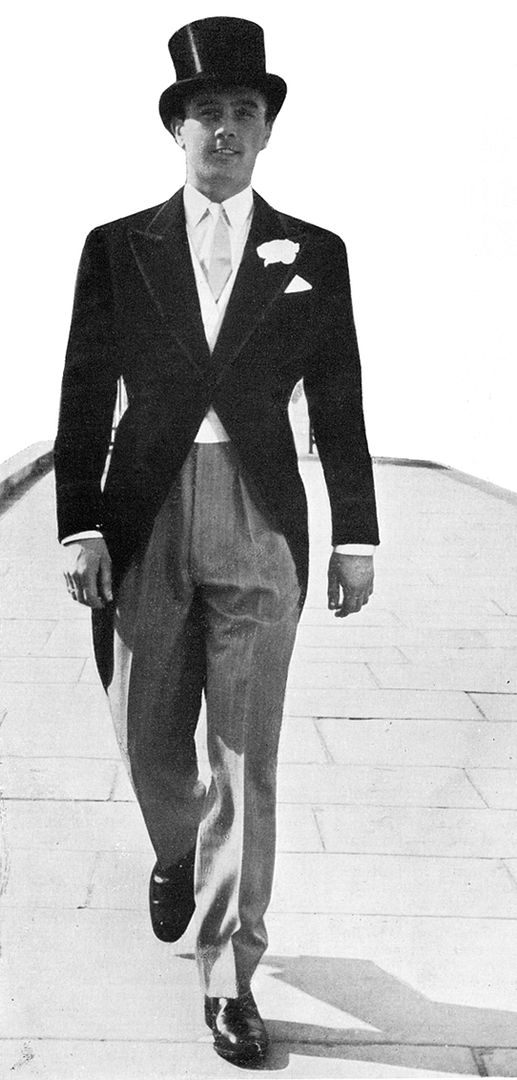 A light grey Ascot shaped topper may be worn in summer with a light grey morning suit.
The top hat should be non-collapsible. Collapsible toppers (called a
chapeau claque
in Europe) are for evening dress only. The silk used for top hats is not longer made and the looms were destroyed. If a proper vintage silk topper is unavailable (restored vintage ones can be expensive) then a well made felt top hat is acceptable.
The hat need not be worn and can be carried - if necessary by the best man.
Gloves
Should match other accessories. Usual colours include white, pale yellow, biscuit, or shades of grey suede. The Count D'Orsay is described as wearing lemon chamois gloves and these can still be purchased from Pickett in Burlington Arcade, London. Gloves should be bespoke so as to fit smartly and discretely rather than being baggy like workman's safety gloves. Black gloves should be avoided.
Gloves are not fashionable these days, but accessories can add to the sense of occasion, even when they are just carried rather than worn. However, if you think that they are fussy and old fashioned rest assured that nobody these days will gasp or faint when they see you have chosen to omit them.
Boutonnière
A discrete white flower should be chosen. The flower should be passed through the button hole of the lapel. Better coats also have a boutonnière loop behind them so as to hold the flower secure: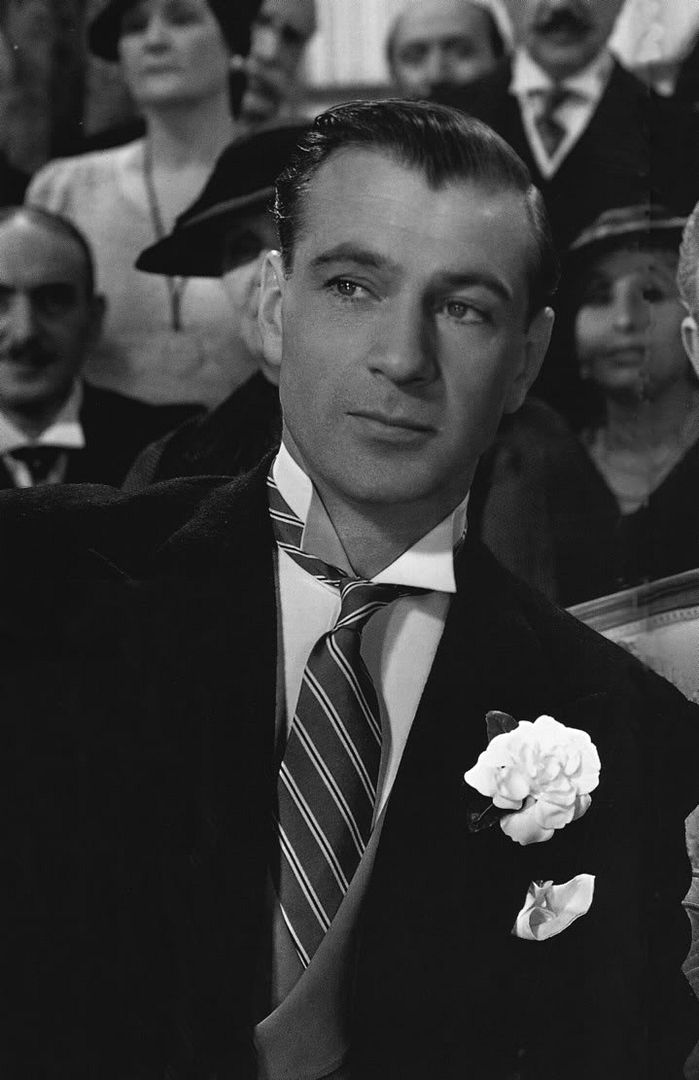 If a flower (or worse still a whole garish bouquet with complete with stems, leaves etc) is
pinned
onto the coat, it loudly announces that the coat is a cheap rental garment, where the coat has a sham lapel buttonhole that will not permit a flower to be passed through it. It is your solemn duty to avoid being seen dead with such monstrosities.
Handkerchief (Pochette)
A coat with a chest pocket should be finished with a white handkerchief of linen.
Watch
If you choose to wear your wristwatch then make sure it is a dress watch and not a sports watch (eg diver's watch, chronograph etc). Dress watches classically have a white face with plain indices or Roman numerals, and are discrete in size rather than the busy oversized monsters currently fashionable. The complications should be kept to a minimum and sporty designs avoided. It is classical for a dress watch to have a small seconds (petite seconde), but not a large second's hand. The band should be black leather to match the shoes and not brown or metal. The colour of the metal should preferably match that of the watch chain and cuff links. Here are some examples of classical dress watches: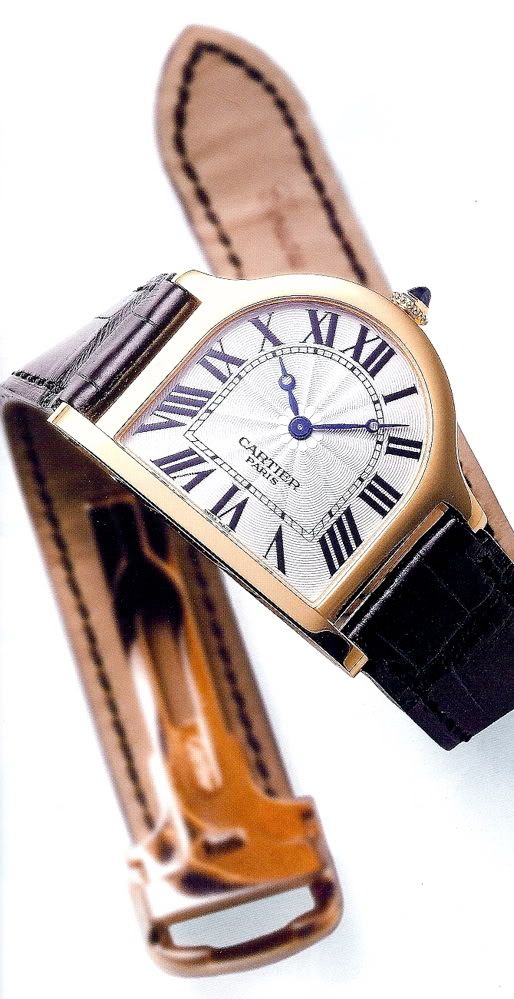 However, the more important things is that a watch look dressy rather than following some supposed rigid "rules" about what constitutes a dress watch. This Glashütte Original watch departs from some of the classical definitions of a dress watch yet looks perfectly dressy: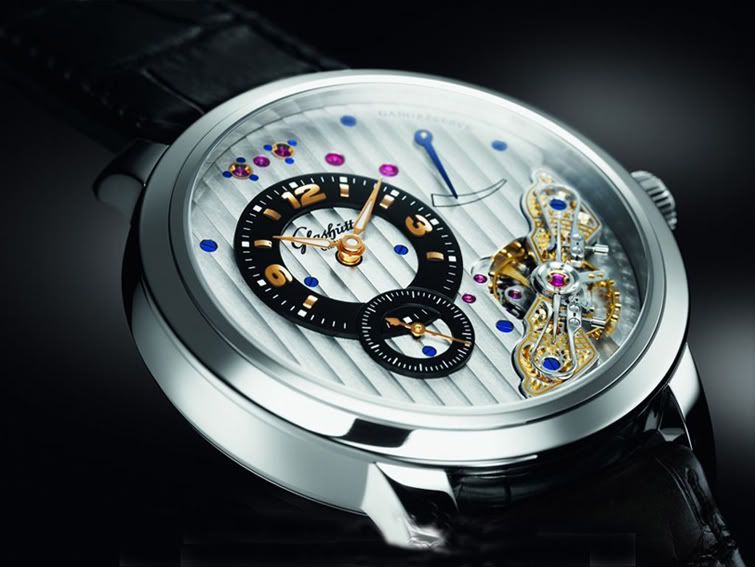 The most traditional, if rather old fashioned, option is to sport a watch chain of gold or silver and a pocket watch - preferably heirloom or vintage: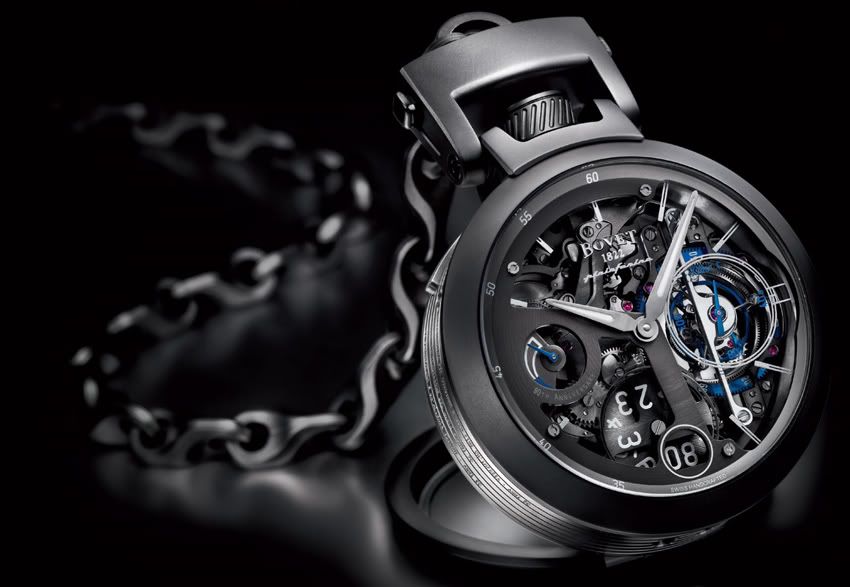 Count D'Orsay is said to have worn "yards and yards" of gold chain. The best type of chain is a double-ended Albert chain. One end takes the watch, and the other end takes a fob. The two ends are placed in the pockets to the left and right of the waistcoat. The waistcoat may have a special fob hole designed to take a fob chain.
On a double-breasted waistcoat it may be worn like this if the tailor has provided you the proper fob hole in the middle: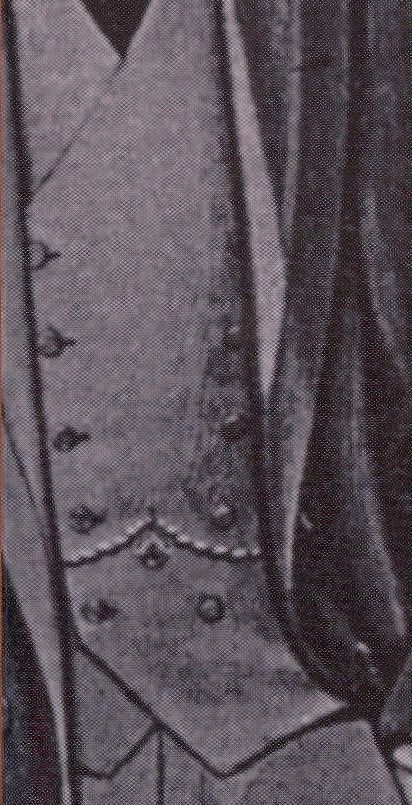 Notice the extra shield shaped fob in the middle of the Albert chain.
However, the modern fashion is for greater simplicity and watch chains can start to look rather affected.
Overcoat
If worn, this should be a Chesterfield overcoat in navy, dark grey or black. A Chesterfield may be single breasted with concealed buttonholes or double breasted, like this example:

For more on the Chesterfield see this thread:
http://www.cutterand...hp?showtopic=61
A rather fancy alternative for retrophiles is the Albert top frock. For more on this garment see this thread:
http://www.cutterand...hp?showtopic=47
Being Different
Because formal morning dress is traditional, the modern desire is to try to be different and modern. Arch conservatives frown on this, but if you are the groom, and you do feel the need to add your own personal touch, this should be considered a good thing. The guidance of an imaginative bespoke tailor is of utmost importance here.
However, if you randomly flaunt convention, it can quickly look like you just have no idea of how to dress, or that you are wearing a cheap rental costume. There is also a tendency to throw in quite bizarre and ill conceived features, which are passed off as being "fashion" or as being "modern", in the same way some artists try to pass off a toilet seat as "modern art". Before you go off jettisoning all the traditional guidelines, you should be aware of what they are, and when you depart from them you should do so thoughtfully and tastefully. In many cases, you will find that what is tried and true is there because it looks best. Most cheap tricks like wearing ripped jeans or a t-shirt with morning dress have already been done in the 1970s or 80s so that they look pretty tired and boring.
Here are a few suggestions to make morning dress look more fashionable and elegantly modern without looking like you are trying too hard or screaming for attention:
1. Fancy cut of waistcoat
2. Double breasted morning coats - these haven't been seen in a long time and would add a touch of novelty
3. Gauntlet cuffs on the sleeve
4. A Tommy Nutter styled frock suit in dove grey
5. Romantic waistcoat in a brightly coloured silk design
6. A fancy lining either in a self pattern or discrete monochromatic design eg ribbed cream silk, monochromatic floral or paisley design
There are many ways an imaginative cutter and tailor can help you make morning dress look more modern, striking and fashionable - without looking like you are wearing some bizarre fashion designer's catwalk costume or something from the local fancy dress hire store. Remember that whenever you choose something that looks a bit unorthodox it becomes even more important to ensure that the fit and execution are perfect. Otherwise, if the fit is even a little bit off, it tends to make the overall effect look clownish, rather than novel, and you will be embarrassed to show off your wedding photos in years to come. Your bespoke tailor should help guide you make the correct choices.
Whatever you do avoid overloading things with novelties and fancy designs. Keep things simple, and only have one, or two things in the overall design that are of interest, so that there are no competing interests.
Bibliography
Bacharach, Bert: Right Dress, New York, 1955
Devereaux: Etiquette for Men, London, 1929
Barney, S: Clothes and the Man, London, 1951
Storey, Nicholas: History of Men's Fashion, Barnsley, 2008
Whife (ed) The Modern Tailor Outfitter and Clothier, London, 1949