When fusible interfacing was first invented the more progressive end of the tailoring community embraced it. Tailor & Cutter journals from the 1960s onwards are heavily laden with advertisements for both synthetic cloths and fusibles. These are usually presented so as to push their innovative "space age" value. In one issue of T&C I counted 19 ads for Dormeuil "Cosak" Terylene cloth. Even the cover is an oversize fold out ad for Cosak cloth in cosmonaut silver advertising the "3-2-1-0 countdown for success".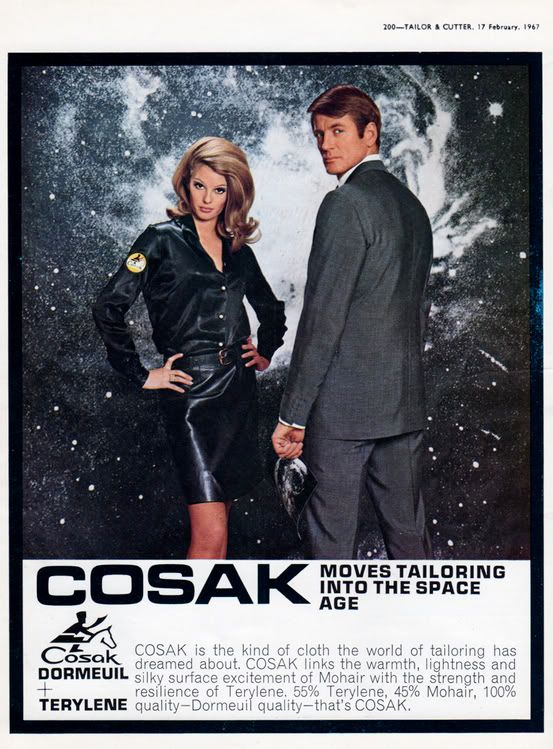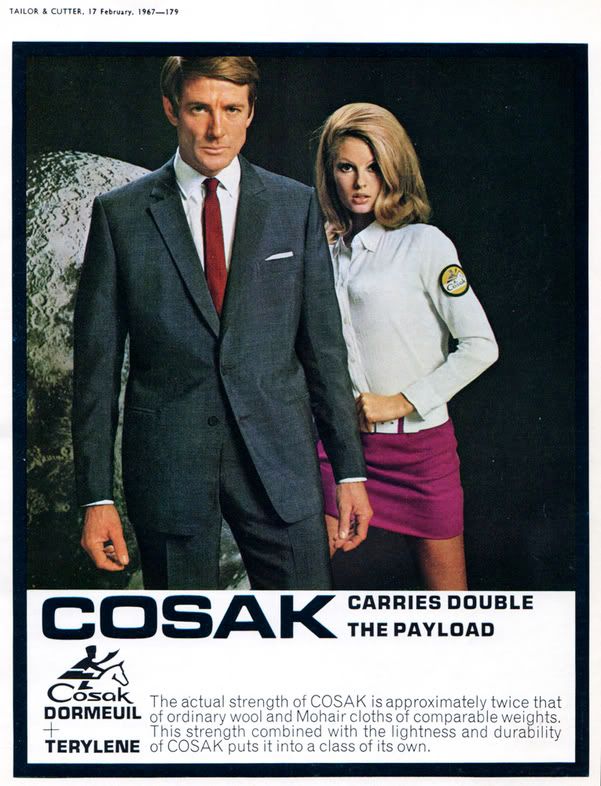 Notice the slogan about taking tailoring into the "space age". Equally important to notice is the weight of the cloth: 8-9 Oz. For this period this was extremely light. At the time, no pure natural fibre cloth could come near to it in lightness. Another ad pushes its water resistance and lack of shrinkage:

The trouble was finding sewn-in canvas that was suitable to be matched with the light cloth. There was however one possibility in the form of the equally space aged innovation of fusible interfacing. This comes from the 7th January 1966 edition of T&C:
The sample attached to the card is extremely light, much more so than wool-hair or even linen canvasses of the time. Notice the way the ads states that it is "ideal for synthetics".
Henry Poole was one of the companies to lead the way on Savile Row using fusing in their coats. However, as you can read in
this 1971 discussion
involving Angus Cundy of Henry Poole along with Colin Hammick, director of Hunstman, both firms were using lightweight synthetic blends by this stage. Hammick states that Hunstman had been using them for ten years. Cundey states that synthetics were a way of making tailored garments lighter and more comfortable. By combining synthetics cloths and fusible, the results were much lighter than what could be achieved using all natural fibres materials. It was progress.
Things have since moved on. The main thing is that the space aged novelty of synthetics have diminished. We live in a new age facing global warming and potentially diminishing oil reserves. These things reduce the sex appeal of petroleum based synthetics. We live in an age in which living with and harnessing the power of natural renewable resources has far more consumer appeal. Wool, for example, is much more resilient, more flame resistant, both breaths better as well as having insulating properties compared to synthetics. Horse hair too has more spring than any synthetic fibre yet to be invented. So far from synthetics replacing naturals, in fact the trend is probably in the other direction, especially as far as the tailoring trade is concerned.
Furthermore, progress in weaving technology has meant that pure natural fibres can now be used to weave very light cloth and canvas - which breath better than their "space aged" synthetic rivals. Fusible interfacing breathes poorly compared to a modern featherweight natural canvas. The one main advantage of lightness once enjoyed by synthetics has been lost.
In fact, synthetics have developed a very bad reputation amongst consumers for being cheap and nasty. They are likened to wearing sweaty plastic bags that cannot breath. Fusing too is something that has developed an equally bad reputation amongst more savvy consumers for being a mass production technique for rapidly churning out low grade glue-jobs. The negative reputation is probably a bit exaggerated but it is certainly true that fusing does not allow for as much shaping of the garment as does pad stitching. However, it is much too late to combat perceptions as the tailoring connoisseur won't so much as touch any cloth tinged with the stigma of synthetics or fusing. Not only that, tailors prefer working with all natural lightweights much more than with synthetic lightweights.
As a consequence of it all manufacturers now prefer using all natural fibres and machine pad stitching the canvas. In fact there is an argument to be made to the effect that machine padding is scarcely inferior to hand padding. That means that if you are being forced to use fusible it means that you can't afford to buy yourself a decent pad stitching machine such as this one from Strobel
used by Jeffreyd: