Origins of the Term Bespoke
The term
bespoke
arose when in the old days, a customer would choose a bolt of cloth in a tailor's shop, whereupon the tailor would mark it as being "bespoken for". It has come to mean a traditional form of tailoring in which a uniquely individualised pattern is drafted for each client, and the optimal traditional tailoring technique is used to realise the shape of the final garment.
The first question about bespoke tailored clothing is this: do you need it? The two main reasons for going bespoke are as follows:
1. Difficulty attaining a good fit from ready-to-wear garments
2. Access to a wider range of styles and cloth designs
Naturally, others just want the finest traditional craftsmanship that money can buy.
If you have a very proportionate figure, then you may not absolutely need it. Ready-to-wear garments are made for a proportionate figure, but are cut on tried and true blocks. The best ready to wear firms only hire the most skilful cutters, many of whom have extensive training and experience in bespoke tailoring. Patterns are cut to the precision of a millimetre or less (1/32-1/64"). At the top end of the market garments are often extremely well made up. The trouble is that everyone has some sort of disproportion, so that even the best proportionate pattern only takes a guess at what your figure is really like. A skilful tailor will find a whole host of disproportions that you probably never even knew existed. Then there is the fact that ready-to-wear always offers an extremely limited choice of styles and colours or cloth designs in your size.
Another way of getting a better fit and access to a wider range of choice is by using a made-to-order programme. This involves making a standard set of basic adjustments to a tried and true ready-to-wear pattern. The range of adjustments that it is possible to make to a pattern is fewer and less fundamental to its basic architecture than in bespoke pattern making. There is usually no try on, or fitting phase, (although some will allow you this option, at extra cost). To start with you will be asked to try on a finished garment in your nearest size. The alterations necessary to achieve a good fit are noted and these come already incorporated into the finished garment. The person who notes these alterations is frequently a salesperson rather than a tailor, but some firms may have a tailor of various degrees of skill to do this task. The big advantages of this approach are that the work is based on tried and true patterns and that it is more economical.
The term bespoke is strictly reserved for instances where a cutter will draft your unique pattern taking into account the specific features of your body along with matters of fashion and personal taste. Fittings are always required. The number of these will depend on the tailor and how difficult a fitting challenge your body presents.
There are a couple of downsides to bespoke tailoring. The first of these is that it takes a very skilful tailor to better the tried and true patterns from ready-to-wear and made-to-order firms. In the wrong hands, there is always the danger that it could end up worse than a ready-to-wear garment. The second downside is that there are too many choices and the client may insist on a style that is inappropriate to their physique. If you add these two downsides together it can be a formula for disaster. However, a good tailor will guide you to making the right choices in terms of style and cloth selection. This is part of the Art of the Tailor.
In the right hands, the greater freedom that bespoke offers can lead to the creation of a masterpiece – something that is peerless in both fit and style. Freedom is the freedom to create a masterpiece or a disaster. The range of styling choices is extremely wide and the choice of cloths even larger than from most made to order firms.
Lastly, there are a subset of people who have no choice but to bespeak their clothes. These are people who have sufficiently pronounced disproportions that they cannot wear ready-to-wear garments, and even made to order programmes have only a finite degree of flexibility. The most extreme cases can be described as "orthopaedic tailoring", and can present a huge challenge to a cutter.
Choosing a Bespoke Tailor
This is not always easy as the number of bespoke tailors is decreasing everywhere. However, the forum may be able to point you in the right direct direction. Please see the Tailor's Directory. You may also know of someone who can recommend you a good tailor, who usually do not advertise and rely mostly on word of mouth.
Firstly, make sure that the bespoke tailor really is a bespoke tailor. This means that a unique pattern must be drafted for you, and then the incomplete garment proofed in a fitting stage. This does not mean that you try on a completed garment to see if it fits you!
The term "bespoke" is not legally protected. This means that firms may advertise platinum even though what you really get may be silver. It should automatically arouse deep suspicions when on asking questions should you discover that by "bespoke" they mean a factory made-to-order garment. This sort of dishonesty does a firm's reputation no good, especially when there is absolutely no reason to be ashamed about offering a garment that is made-to-order. If they hide it from you by deception, by trying to pass off made-to-order as "bespoke", you can assume there is a reason for them to be ashamed of the truth.
In Europe, the term
su misura , sur mesure
or
nach Mass
can mean either bespoke or made-to-order. Many bespoke tailors in English language speaking countries will describe their garments as "made-to-measure", when what they really mean is bespoke. Often these tailors are Italian because
su misura
means "based on measures". They argue that their garments are cut based on the precise measures of your body, and that this is the true meaning of "made to measure" or "su misura". That is why some prefer the term "made-to-order" over "made-to-measure" when speaking of (usually factory made) garments based on ready-to-wear patterns that have been tweaked.
The next problem is that of reputation. Just because a firm has been around for generations does not always mean they are just as good today. Skilled cutters and tailors are getting fewer and fewer, with little guarantee of continuity within firms. Some iconic firms coast off the reputation of their past. Less iconic sounding firms may be forced to rely more on the quality of their workmanship.
The first step to choosing a tailor is to interview them. You must be able to feel comfortable with them, and sense that you have the prospect of a good long-term relationship. Ask how they would cut a garment for you and you alone, rather than asking what "house style" they would cut for just anybody.
This term "house style" has unfortunately become rather popular. It has resulted in many people going from tailor to tailor inquiring about what their "house style" is, hoping they will find one that "fits" them – much like shopping for a ready-to-wear garment that fits. A tailoring firm that admits to routinely employing the same cookie cutter house style for all and sundry body shapes should be treated with great suspicion. If that were how they cut, it would hardly be better than a ready-to-wear garment. In fact, it should come as a great reassurance to you if you are told "we have no house style" (while trying hard to smile rather than cringing). This does not mean they lack their own unique ideas on cutting and styling for you, it just means they are less rigidly doctrinaire about forcing it on everyone. Even if you elicit reassuring denials about having a "house style", any tailor will nonetheless have very personal ideas about how they would go about cutting and making up garments to suit the unique features of your body. Ask your prospective tailor how they would go about styling the garment for
you
.
The next important thing is to see an example of a tailor's work. If you have a friend, relative or colleague who goes to the tailor, this may be the first step. Check the fit of a garment on its intended wearer. Look at the fit, rather than how
glamorous its wearer may or may not be
. Here are some basic things to look out for on a coat: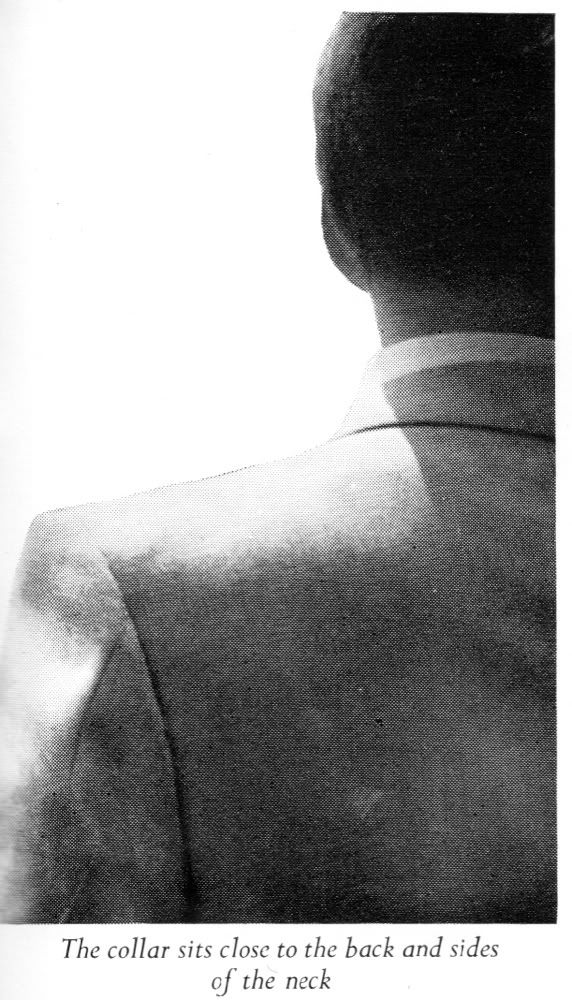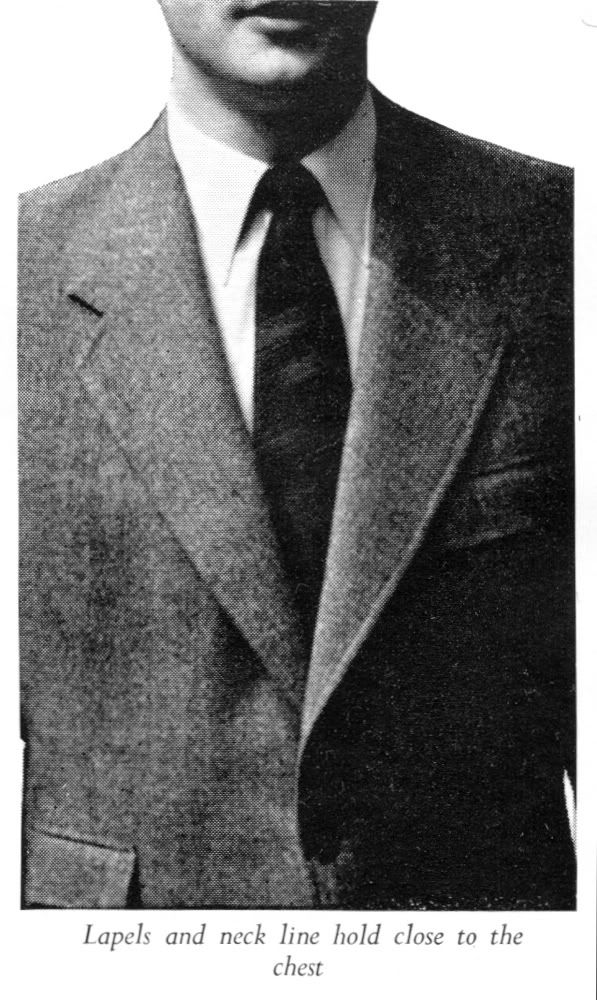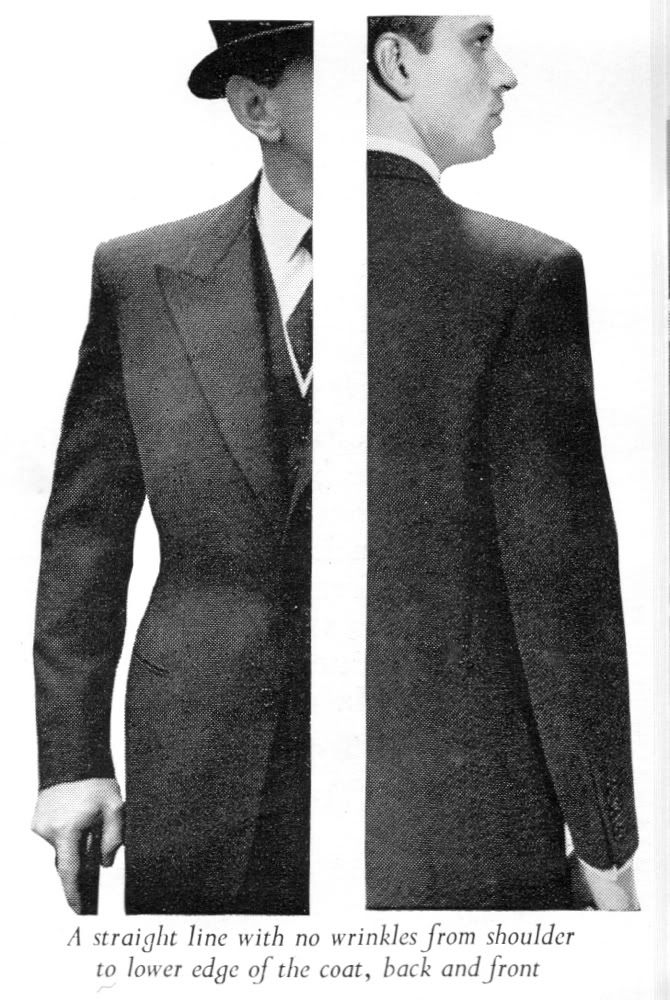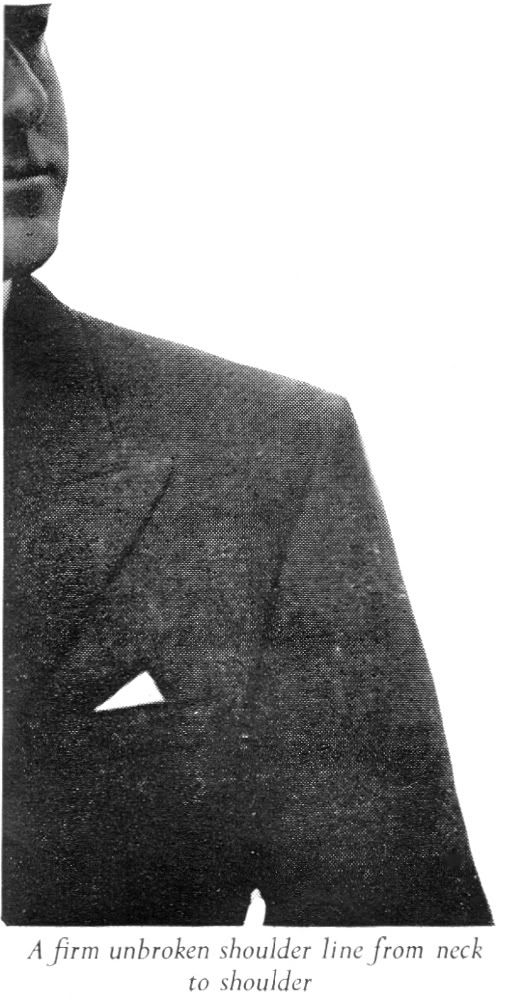 The sleeves should also have a clean, effortless fall without distortion and a gentle curve that follows the line of the arm:
The back of a coat is often gives the most information about the fit. It should present an effortlessly clean line, free of winkles, and sit neatly into even the stoutest waist: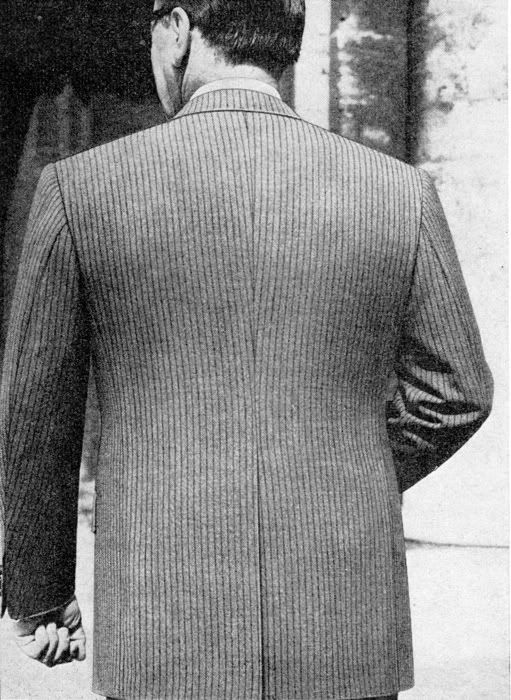 Also look to see how well made the coat is: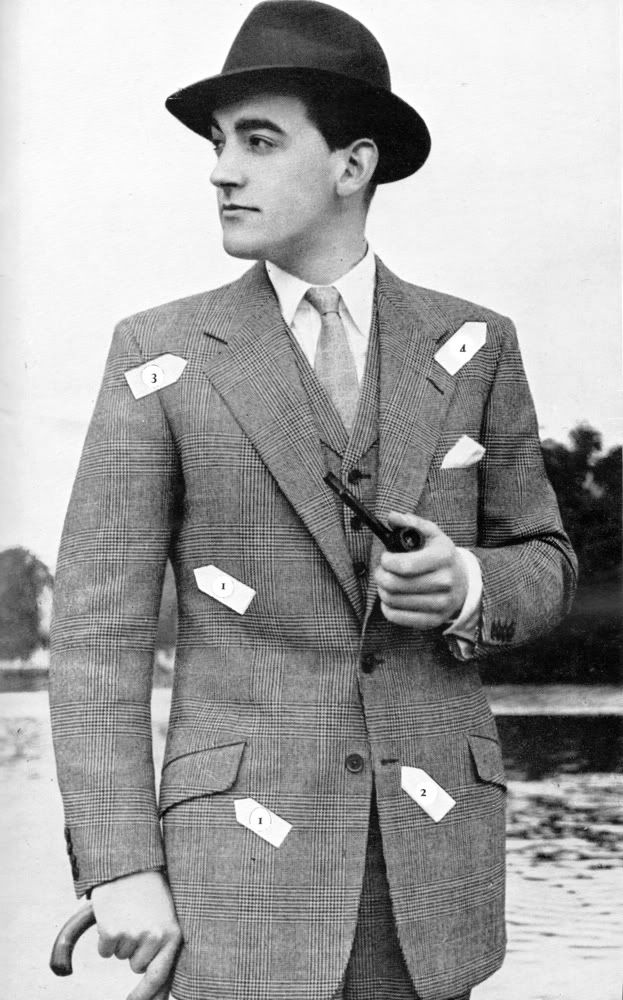 The Inner Construction
You may want to inspect "under the bonnet" just as you might when buying a car. The engine, the heart and core of a coat, is its canvas. This is what gives a coat its unique shape. When you look on the inside of the coat you should be able to see hand pad stitching in both the chest area of the canvas as well as the lapels:
The pad stitching in this example from
Jeffreyd's blog
can be seen in the form of rows of hand sewn herringbone shaped stitches in the chest. On the finished canvas the pad stitches will also extend into the lapels.
Short Cuts
A handmade canvas is still the ideal way for a canvas to be made up. It gives the tailor the chance to lovingly shape the coat according to the needs of your body shape. This is the traditional method used today by all high class tailoring firms, and the method has changed little in the last 150 years.
However, there are some short cuts that some firms take to reduce the time taken to produce a economical coat, usually to be able to provide a more competitively priced garment.
Fusing
Fusing is the most economical speed tailoring technique. If you see fusing it means that the layers of cloth are given structure by having a layer of fusing glued onto it at high temperature. If done well the results can be quite reasonable, but unfortunately this can too often be symptomatic of cheaper garment making where there there is cutting corners all round. This is what a fused front looks like: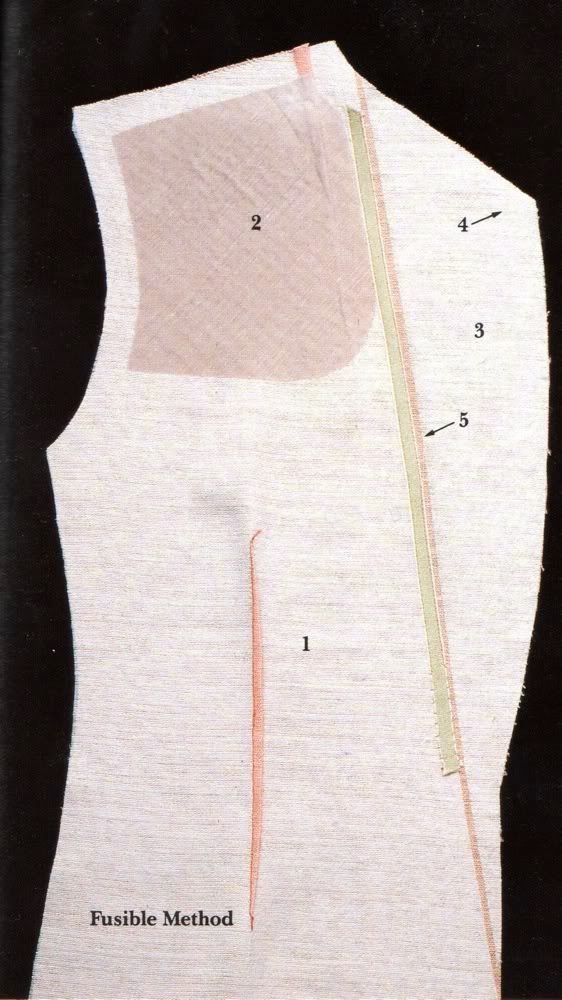 If poorly done or if the dry cleaner incorrectly handles your coat, the fusing can come unstuck causing irreparable bubbling of the fronts. If this happens the coat may have to be thrown out. The overall garments tends to flatter in shape rather than being more three dimensional and it reduces the cloth's ability to "breath".
Machine Made Canvases
In the next example, the tailor has taken another possible short cut. The lapels have been properly pad stitched by hand but the chest has been done by an ordinary sewing machine, as can be seen by the rows of plain and dead straight machine stitches in the chest: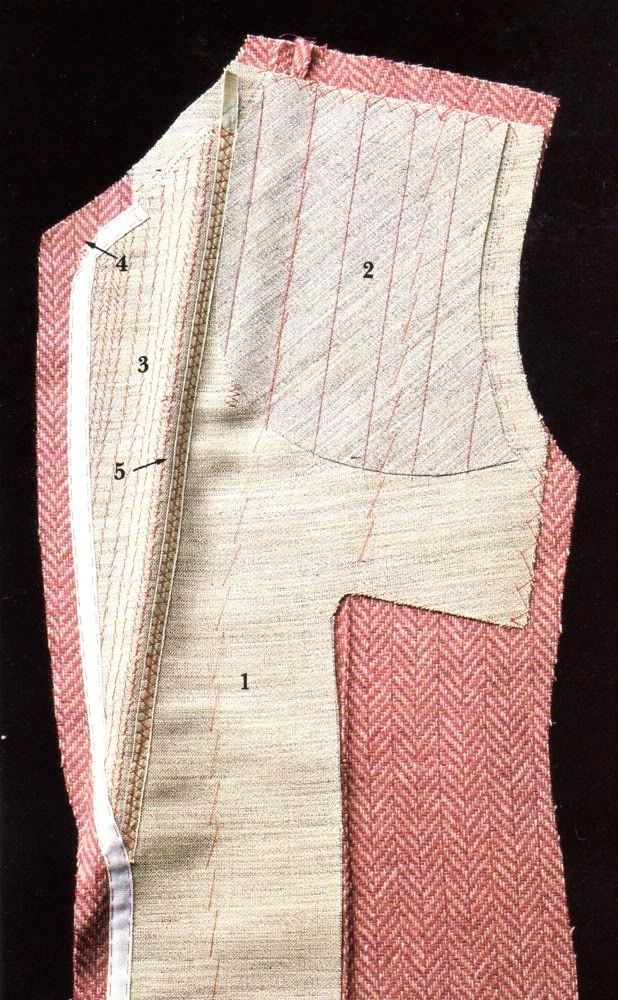 If the both the lapels and chest area of the canvas has been made up by an ordinary sewing machine this is how it might look: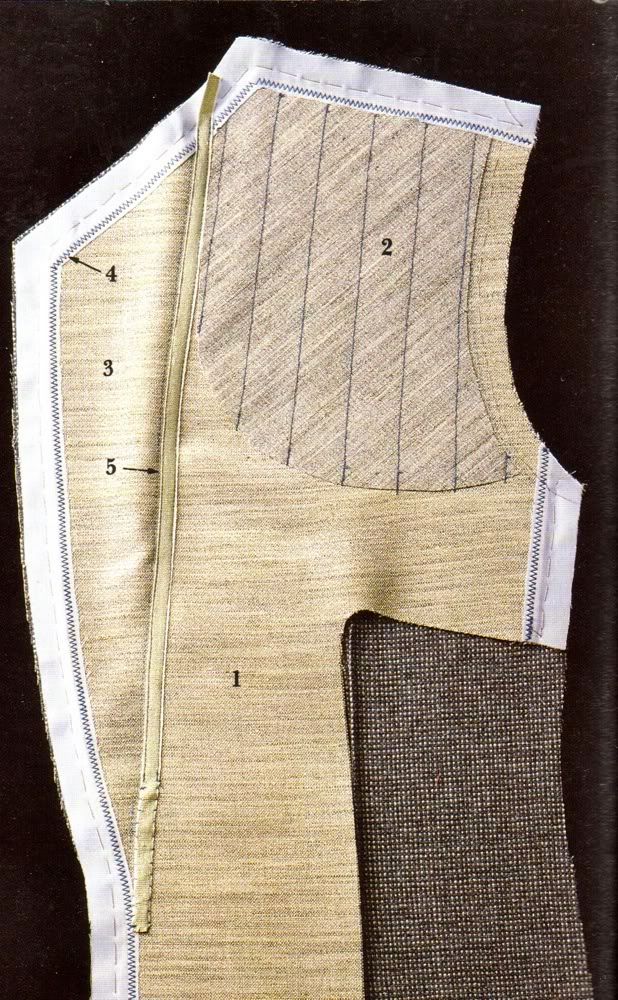 If you see these neat rows of straight machine stitching on the canvas, the tailor has taken a short cut and you should expect to pay a lower price.
Make sure that the canvas extends all the way down to the hem of the fronts. It is possible to fuse just the bottom section of a coat or even omit the canvas and still have a sewn in chest piece.
Some factories, and occasionally smaller firms, may own more fancy equipment that better tries to mimic the optimal shaping of hand work than an ordinary sewing machine or fusing. These include zig zag stitch machines: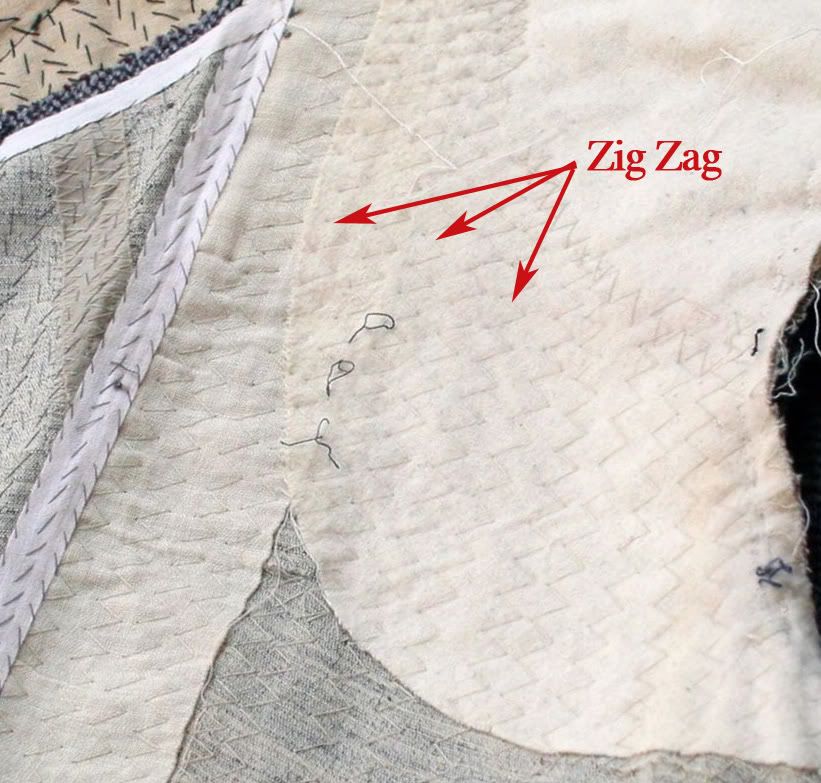 And blind stitch machines: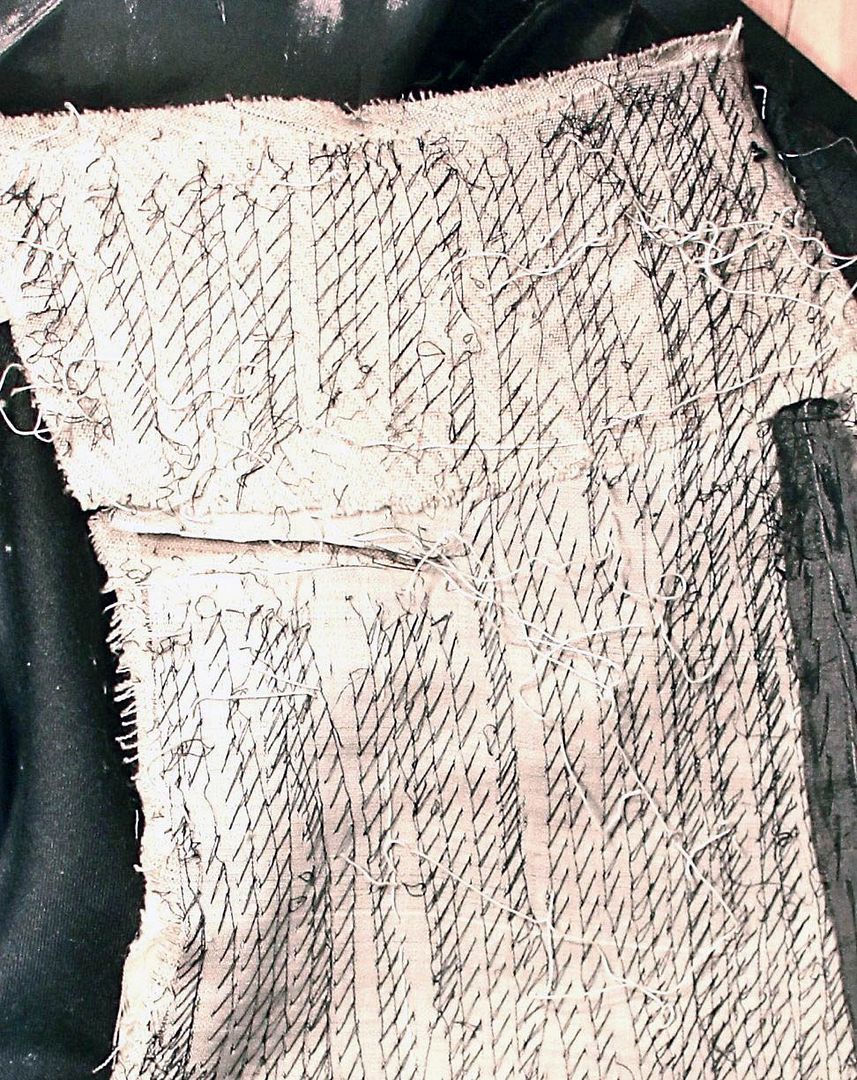 Only large factories can afford a twin needle jump stitch machine, and if you see it, it means that the coat was factory made: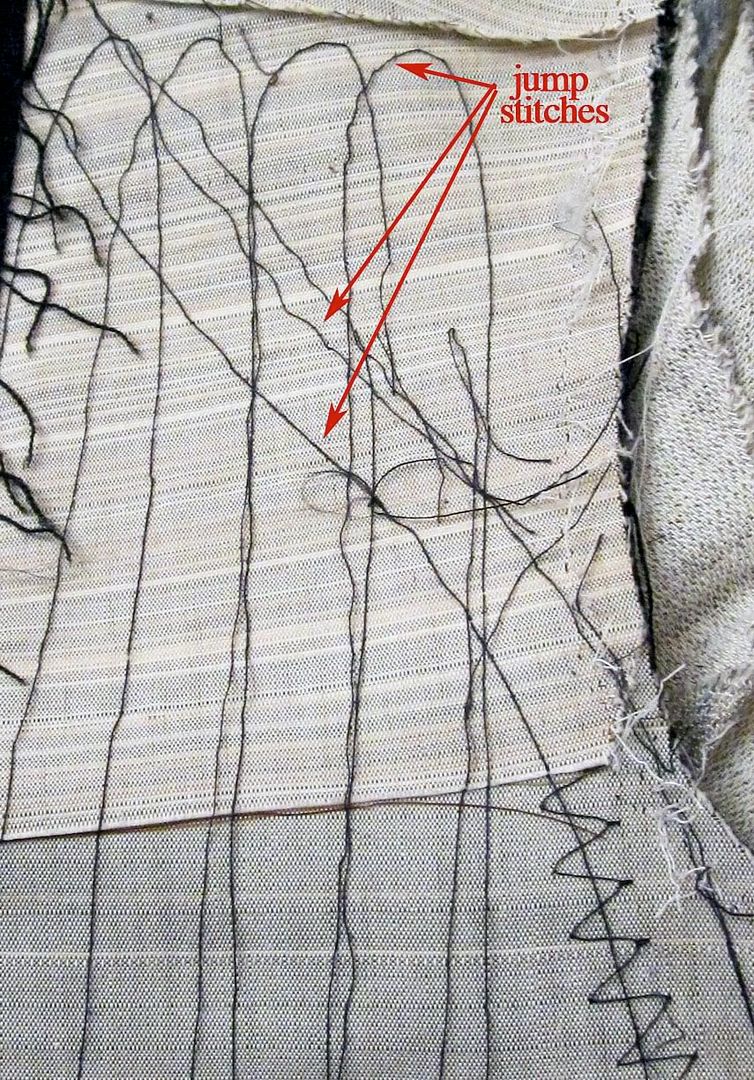 Nonetheless, despite the advent of new technology, hand padding the canvas and lapels is still the best way for a tailor to give a coat optimal control over its shape.
Trousers
The most important thing to note with the trousers is whether they have a clean and straight hang. Notice the complete absence of any wrinkling around the seat on the follow pair made by Jefferyd: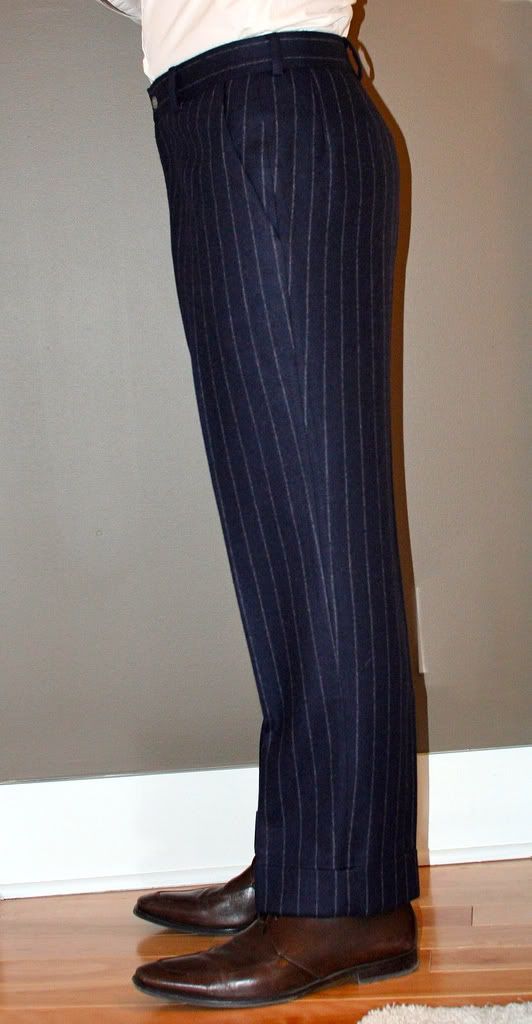 Some Commonly Discussed Subjects
1. Soft vs Structured.
The more important thing is the ability to tailor and cut, and prospective clients should look for this ability above all others. Both can be good if done well but each is suited for different purposes. The more formal the intended purpose, the more structure (
shape
might be a better word) a coat should be given so it looks clean and chiselled. A well fitting structured coat is more time consuming to produce but should still be equally comfortable and natural feeling. The heavier the cloth, the heavier the canvas will be to match it resulting in a cleaner and more shapely garment. However, a casual summer coat should be softer with less structure, and its rumples become part of its informal charm. Keep in mind that coats made up with reduced structure will lose shape more over time. For these reasons it is best to choose the heaviest cloth that you can. However, "soft" should not mean that a coat should be allowed to be sloppy and shapeless. Beware of people trying to pass off sloppy workmanship as having a rumpled "charm" or "sprezzatura" comprehensible only to the true cognoscenti.
The shoulder is described as being "high" or "low" depending on whether they are structured or soft: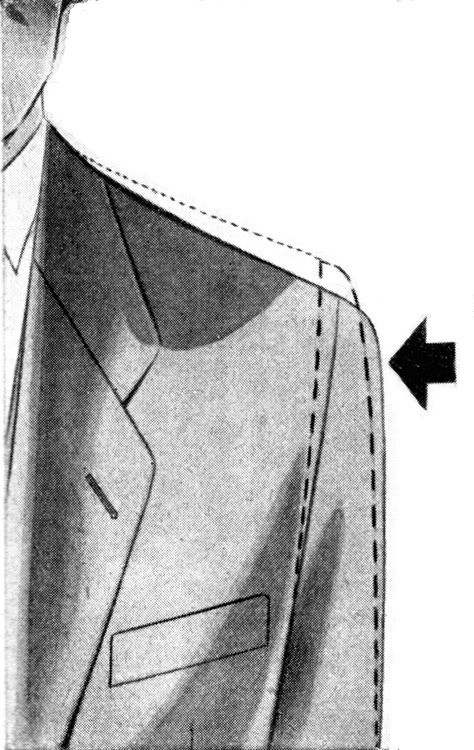 The amount of structure in the shoulder is determined by how structured the coat is overall, by how sloped the wearer's shoulders are, as well as by fashion and taste. People with square shoulders need very little support there whereas those with sloped shoulders need more. The most technically demanding type of shoulder to produce is the concave shoulder (pagoda shoulder or spalla insellata) such as on this example by
Jefferyd
: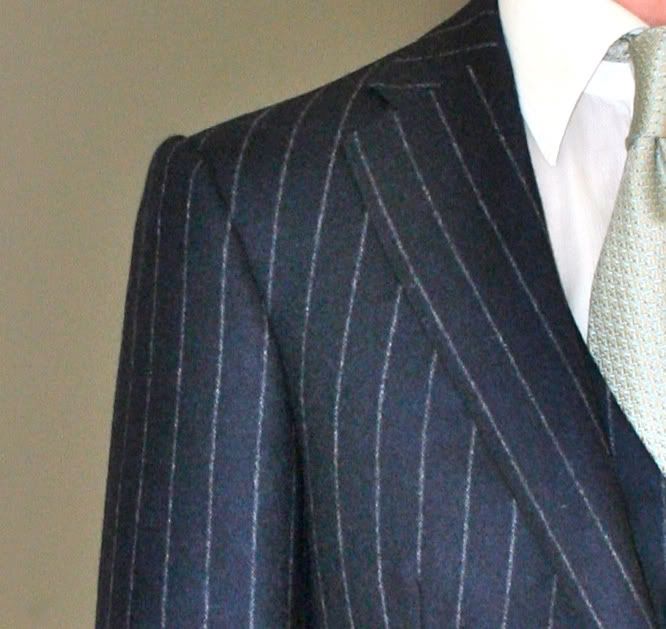 2. Fitted vs Draped.
Many people poorly understand the concept of drape. Drape refers to a way of cutting fashionable in the 1930-40s in which the chest is made bigger than it measures. The coat is cut to make the excess cloth sit as neat vertical folds at the front and back of the armholes: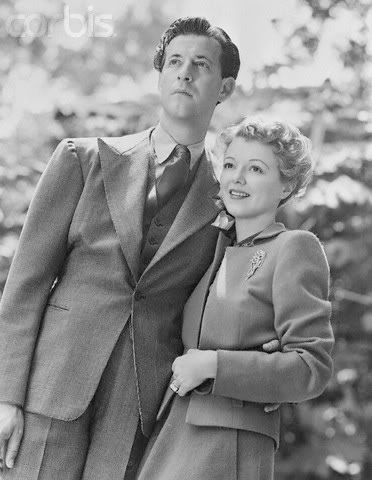 The traditional
drape cut
in its pure form is fuller all around, through chest, waist and trousers. The fullness of chest gives the wearer the appearance of a having a bigger and more athletic chest, but should not look boxy or shapeless. The overall silhouette makes the wearer look bulkier, and is best suited to those with slender figures.
The cleanly fitted cut is at once more traditional and more modern. The more fitted a garment is the more precise the cutting and fitting must be. A full traditional canvas structure will help a garment be more fitted to the wearer. That is to say, it is traditional for formal garments to be structured and fitted, and more casual garments to be a softer and loosely fitted or draped. It is also possible to add a hint of drape just to the chest of an otherwise fitted garment, but there are other ways of making a chest look more athletic without having to resort to drape. As the style is largely historical, few tailors cut with drape way any more, although some enthusiasts of Film Noir era Hollywood films like to replicate it. Regardless of what exaggerated claims some enthusiasts may make, both the fitted and draped garment should be equally comfortable if done properly.
3. Light vs Heavier Cloths.
Heavier traditional tailoring weight cloths (>13 Oz) always make up better, resulting in a cleaning and more shapely garment. Heavier cloths must be matched with heavier canvas, and the resulting increase in structure is one of the main reasons why the garment looks better, and will retain its shape longer. Some people are very heat sensitive, with a great deal of individual variation, and feel unable to tolerate anything but the lightest of cloths.
4. British, American, Italian etc "
National Silhouettes
".
Within each country you will see such a wide range of styles that these things mean relatively little. For many years the French, Germans and Neapolitans all closely emulated the British, resulting in a lot of cross-pollination. Migration of tailors across boarders has furthered this process. Things also change according to fashion. For example, some people associate unpadded shoulders with American tailoring. Yet for a long time shoulder padding was considered an American tailoring invention – so-called "American shoulders". Infinitely more important is how good a fitter a cutter and tailor is at tackling the unique challenges that your body shape presents.
If you have any further questions about what you have read here, please don't hesitate to start a thread on the subject in the
The Bespeaker's Advice Forum
or else look to see if someone has already asked the question before.
There are plans for further updates on what to look out for when judging quality. If you have any suggestions please send me a private message.