Wedding Attire Part III
Evening Dress for Receptions
In the first and second parts, we looked at men's formal and informal wedding dress. In part III of this series, we will look at evening dress for wedding receptions.

Following a daytime ceremony, there should ideally be time allotted to quickly change into evening attire. In the past, the dress obsessed Edward VII would change clothes at least six or seven times a day. He was unable to travel with any less than two valets, who were continually busy caring for his clothes. Compared with this, two changes of clothes seem pretty carefree. No man who truly cares about dressing well would be caught dead wearing the same old day clothes for an evening event. Nonetheless, your best man should be able to act as the valet if a tight schedule means that you need to change in a hurry. It is also good to freshen up with a clean set of clothes, shoes, underwear, and a fresh boutonnière.

Evening dress is properly worn only after seven o'clock. However, the time "evening" begins may be interpreted more freely depending on what time of year and location. In summer, it begins a little later - and, in winter, a little earlier. Unless travelling some distance to an evening event, a man should only wear evening dress in the evening. Waiters, servants and catering staff are the only people traditionally permitted - or more exactly, forced - to wear evening dress in broad daylight, to help distinguish them from guests in daywear.

The Invitation

It is up to the couple to set the level of formality of the reception, and to give the guests impeccably clear guidance as to how they should dress. A formal wedding will usually be followed by a formal reception, which will be likewise informal if the wedding attire was informal. The suggested terms for use in your invitation include the following:

White tie (evening tailcoats)
Black tie (dinner jackets)
Informal (lounge suits and tie) [lounge suits are called "business suits" in American English]
Casual: definition impossible [anything less than a lounge suit and tie is casual attire]

The only one of the above where the bracketed explanation can be omitted without confusion is "black tie". There are other traditional terms, many of which are older than the above terms. If you do use them, their meaning should be clarified:

Full Evening Dress or Formal Dress
Dinner Dress (used to be called Semi-Dress in British English and is still called semi-formal dress in American English)
Informal Dress

The most staunchly traditionalist interpretation of "formal" means that you should wear true "full dress" with an evening tailcoat. However, over the years it has come to mean that guests are invited to wear either an evening tailcoat or a dinner jacket, depending on which is more convenient. The most traditional interpretation of "dinner dress" is that guests should wear dinner jackets. Likewise, the proper interpretation of "informal" is "not formal", or, in other words, lounge suits. Where you wish to give people a choice make this clear. For example:

Full Dress or Formal Dress: evening tailcoats preferred, otherwise dinner jackets
Dinner Dress: dinner jackets preferred, otherwise dark lounge suits and ties
Informal dress: dark lounge suits and ties preferred, otherwise smart casual attire

People these days regard anything more than underwear to be ultraformal, so it makes clarification of these terms vital. In days gone by, people universally understood what these terms meant, but today it is prudent to spell out what you mean. Some people call "smart casual attire", "semi-formal". Others will interpret "semi-dress" or "dinner attire" to mean anything from outright casual dress to lounge suits.

Mixing White Tie and Black Tie

You can safely ignore anyone who says that full dress and dinner dress cannot be worn together as you will find many older photographs, film footage, and illustrations of them being worn side by side:




These days, you still see dinner dress being worn side by side with dark lounge suits. Then as now, men who were unable to afford the proper attire turned up in the quick and convenient (but less than ideal) substitute.




However, where it states "black tie" or "white tie" specifically, it is best to take it at its word.

Avoid Creative Dress Codes

Above all, avoid bizarre "creative" dress codes such as "chic informal", "modern formal", "trendy dinner attire" etc unless you want to be showered with a barrage of last minute panic calls asking for an English translation. It is also rude to your guests to leave them in a quandary as to how to dress. You may consider it fun to force your guests to improvise on your abstract creative theme, but it will only render them anxious as to whether they will stick out like a sore thumb or offend you. Notice too that things like "smart casual", and "casual" are also vague and similarly force your guests to ad lib. By clearly articulating what the dress requirements are, it actually makes life easier for your guests to dress knowing they won't feel out of place.

Evening Wedding Ceremonies

Next, there is also the thorny issue of evening wedding ceremonies conducted in evening attire. These are an American oddity. If your ceremony is to be of a religious nature, then evening dress should strictly speaking be avoided, as this is associated with partying outrageously, drinking and dancing. That's why Dorian Gray prowled the diabolic London night-life in full dress. Dinner suits too are meant to be for dinner. To show up to a place of worship dressed to dine and party wildly is less than respectful. You might as well show up drunk with a bottle of champagne under your arm while munching an appetiser:




It is clearly more respectful to avoid this, and only get changed into evening attire for the reception afterwards. Only for a secular evening ceremony is evening dress really permissible.

 
Full Dress
The Dress Suit

The proper name for the attire worn with evening full dress is a dress suit. The suit consists of a type of tailcoat known as a "dress coat", and matching trousers. Few people care about the correct names of garments, and as a result generally call the coat a "tailcoat". However, just as there are many different types of suits, there are many different types of tailcoats. Morning coats, for example, are also tailcoats. This is what a dress suit looks like:




The dress coat differs from the morning coat in that the fronts are squarely cut away rather than horizontally. The coat is traditionally made from a plain or fancy dress coating, such as barathea or a material with a very indistinct stripe, fine herringbone, or similar extremely fine pattern. For summer wear it is actually also perfectly traditional to choose a lighter fresco type of weave or a mohair blend.

The colour is traditionally most commonly either black or a nearly black midnight blue. Less well know is the fact that very dark Oxford grey or plainer navy shades were actually traditionally considered perfectly correct. The facings of the coat are lined with ribbed silk, barathea silk, or satin but at times fancier silks such as moires have at times been more popular. On modern dress coats three buttons usually decorate each side of the fronts, with four holes and buttons at each cuff, which may be either plain bone/horn, or silk-covered. The lapels are mostly double breasted or pointed, but they may also be of the shawl or roll collar style, as in the following example:




Dress coats are traditionally made up so as to be closely fitted, especially around the waist. This is why these types of coats are called "body coats". They tend to particularly flatter those with an athletic figure. The only way to ensure that a dress coat sits closely around the waist is to ensure that it is bespoke. Otherwise, adding waist suppression to a ready to wear dress coat tends to render the coat imbalanced such that the fronts will gape and sag excessively, causing the wearer to constantly have to pull the fronts together.

This is how things should look when the entire reception and guests are in formal dress:





Dress Trousers

Likewise, trousers were traditionally made up to be close fitting, although the fashion in the mid-20th century was to make them rather looser and with baggy pleats. During most of the history of the dress coat, the trousers matched the coat in being made up so as to be body fitting. The famous dandy Beau Brummell, who is often accredited with the custom of men wearing uniform evening attire, wore his pantaloons (he pre-dated trousers) very tight with his evening dress coat.





Dress trousers need not be quite that absurdly tight, but more modern fashionable slim cut trousers harmonise better with the traditional aesthetic of the body-fitting dress coat than the rather baggy and pleated dress trousers that were the fashion from the 1930s-50s. In that sense the dress coat is in perfect harmony with the modern fashion for cleaner and closer cuts:




Note that full dress trousers usually have two stripes down the side. The trousers are often specially cut so that the side seam is placed a little further forwards than usual, making the stripes easier to see when the coat is worn.

As an aside note that this 1966 illustration shows the wearer with Chukka boots - dress boots like this were very popular then.

Dress Waistcoats

Since around the 1930s modern waistcoats have generally been made of pique or marcella and are commonly made up backless. Such cotton waistcoats were usually starched. It is perfectly fine today to choose a fancy weave of silk with a self pattern in it, especially as modern cloth design books from companies such as Holland & Sherry, Zegna and Scabal tend to offer these sorts of silk designs in their formal books.

Cotton backless waistcoats run cooler in summer or when dancing. However, before these came into vogue, full dress waistcoats were made with a full back and out of a stiff silk, often with patterns in them. The waistcoat may be single or double-breasted, V-shaped, U-shaped or semi-U shaped according to taste. It may have a plain bottom or double points, with shawl collar, or pointed lapels. The waistcoat may close with dress studs rather than mother of pearl buttons according to preference. Single-breasted waistcoats usually take three or four buttons and double breasted waistcoats are usually button two or three in configuration. Dress waistcoats are always low cut, irrespective of how many buttons they may have.

The following waistcoat has a button-four configuration with squared lapels and points at the bottom:




Squared lapels like this became popular mid-20th century and remain elegant today.

In the next example, the fancy cut of the waistcoat is the main feature of the dress suit: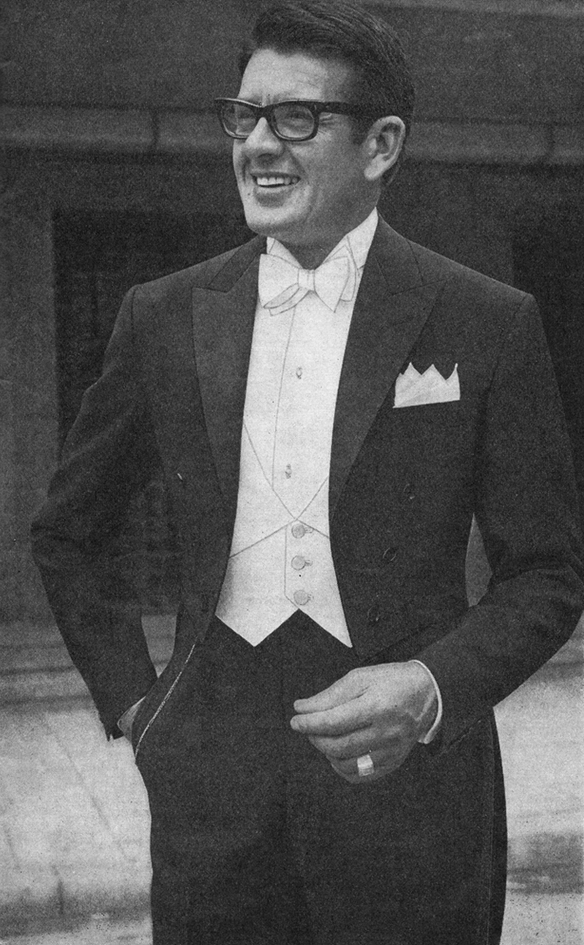 Here are several more dress waistcoat variants: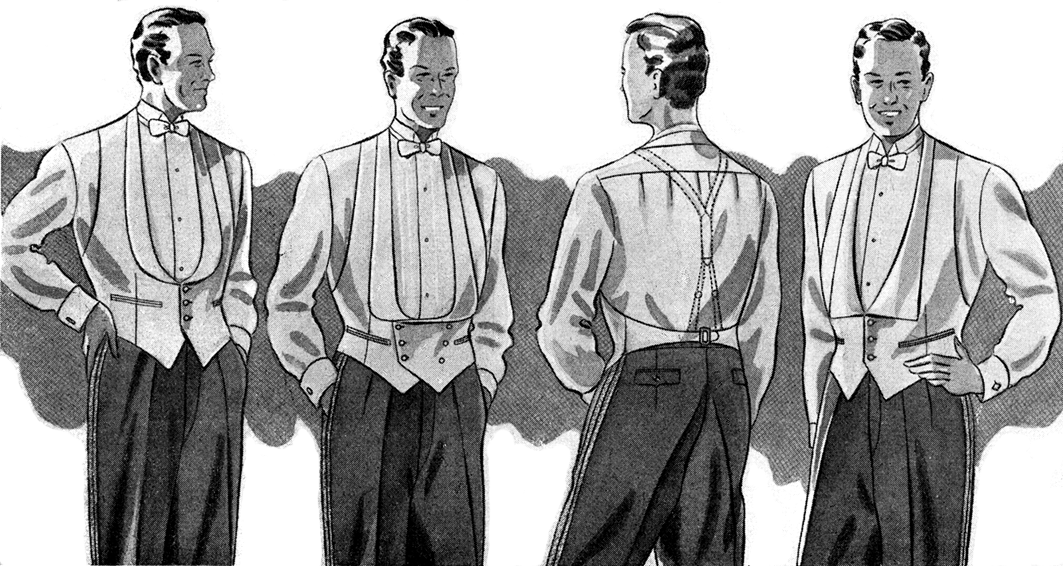 On the above far left is a semi-U shaped waistcoat with double points. Next, is a double breasted waistcoat with a U shaped front and double points. The third illustration from the left shows how the back can be either backless or have a standard full back. The far right is another view of a single breasted waistcoat with squared lapels, that became popular mid-20th century.

However, there are innumerable other possible variations: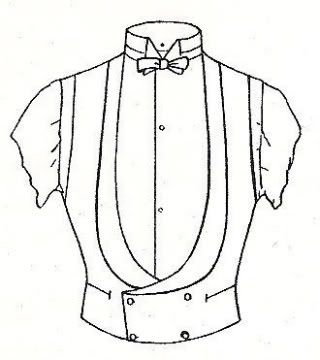 The mind numbingly boring cuts found on ready-to-wear waistcoats should be avoided at all cost. Creativity and individuality are absolutely essential!

Some dress waistcoats are made to fasten with waistcoat studs. The following set is for a double-breasted button-three dress waistcoat: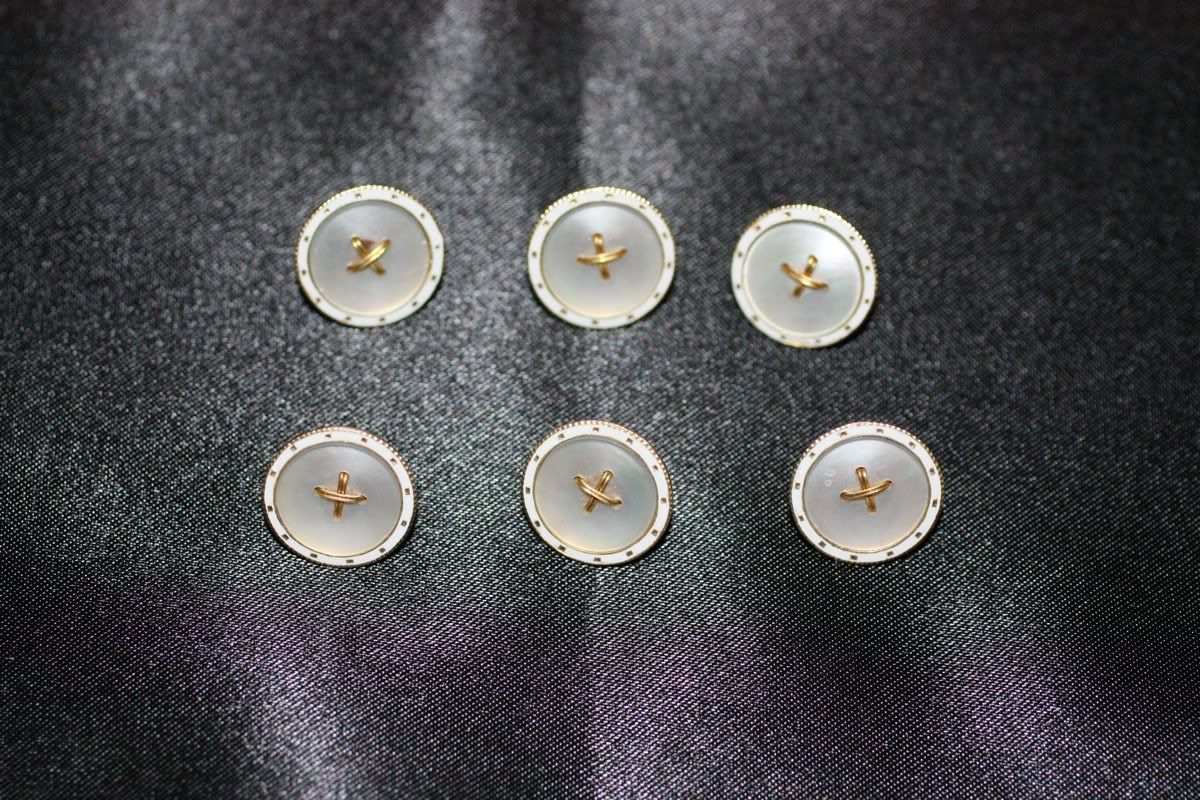 However, waistcoats may also close with mother of pearl buttons in the usual manner.

It is critical that a waistcoat be half an inch shorter than the fronts of the dress coat. A waistcoat that protrudes below the dress coat front openly advertises that it is either cheap rental attire, or else something carelessly cobbled together rather than being made to be worn with that particular coat.

The Dress Shirt and Tie

The dress shirt should be white, and have a stiff fronted bib. The material of the bib should be pique or marcella. It should have one or two stud holes with single or double stiff cuffs. The shirt takes one or two studs, although up to three are permissible, but certainly no more:




With full dress, less is more when it comes to shirt studs:




Notice too, the unusual rounded points on the bottom of the dress waistcoat.

The shirt has single cuffs that close with cufflinks. Sometimes, the cuffs are also made of pique or marcella. The collar is traditionally a stiff detachable stand up collar, either winged or imperial in style. However, since the 1950s some men have worn turndown collars and this is something even The Tailor & Cutter journal approved of back then. Shirtmakers will also rightly tell you that they can make you a stiffly fused attached stand-up collar that is just as crisp as a traditionally detachable collar, and there is nothing wrong with this.

The bow tie should be of pique, marcella or muslin, often matching the waistcoat. It should always be a self-tie bow tie, and never pre-tied.

Dress Shoes

The preferred shoes are patent leather pumps.




Pumps are historically the oldest type of shoe in a man's wardrobe, and originate some time in the 16th century. They look hardly noticeable and perfectly discrete and masculine when worn with evening dress. Some feel that a flat grosgrain (ribbed silk) bow also makes pumps more discreet, as on this example from Jason Amesbury: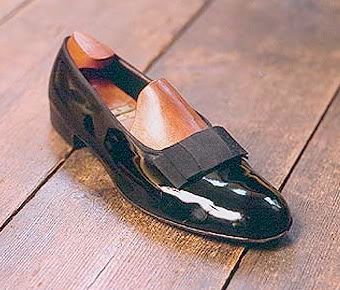 However, plain toed black patent leather Oxford shoes are also considered acceptable, for those who hold some immovable prejudice against wearing pumps. The following example comes from John Lobb:




Patent leather dress boots have also been popular in the past. The most modern type would be either patent Chukka boots or Chelsea boots, but these would have to be cut off a very sleek and elegant bespoke last to not look too out of place. Patent leather button boots are very old fashioned.

Jewellery

Jewellery on a man should be subtle. Small pearl shirt studs and cufflinks are elegant, and one of the few times when men classically wear pearls. Similarly, small diamonds are also traditional on studs and cufflinks.

Although the practice is rather dated and unnecessary today, fobs specially made for a dress coat may be worn:




These are of a metal matching the rest of the jewellery, and behind this is a piece of silk. They are all attached to a chain, usually anchored by another fob kept in the waistcoat pocket. As an aside, the configuration of silk on the revers of the above coat is known as a "half silk" - only half the lapel is faced with silk.

Gloves

Gloves should be white kid and perfectly fitting - preferably bespoke as ready to wear examples tend to fit like workman's gloves. If not worn, they should at least be carried. The hat should be a black top hat, which is often collapsible (called a chapeau claque in Europe).

Hose

Hose is traditionally black silk without decorations, but cashmere is another traditional alternative. Ribbing in the hose, as you can see from the example of Beau Brummell, is also a traditional option that adds surface interest. Alternatively, modern high quality fine mercerised cotton is permissible. An older, largely dated, way of wearing full dress was with breeches and silk hose, in which case pumps must be worn.

Overcoats

The overcoat is usually a solid black, dark grey or navy coloured Chesterfield or Raglan. A dressier option includes a Chesterfield with silk faced lapels or with collars and lapels of Astrakhan fur. Raglans are worn with evening dress because they are loose and do not disturb the clothes underneath:




Opera capes and Inverness cloaks are so old fashioned as to be period costume, and risk derisive comments about Count Dracula.

Creativity

There is the mistaken view that full dress is some sort of rigid uniform and that it is not possible to express an iota of individuality or creativity. Nothing could be further from the truth. Full dress has undergone tireless changes to fashion over the centuries like any other garment. The reason it has stayed alive is precisely because it remained fashionable and relevant. To maintain its meaning for a new generation, it must remain up-to-date and not be allowed to fossilise. Elegant creativity is therefore encouraged!

Here are some examples from the 1950s of creative ideas: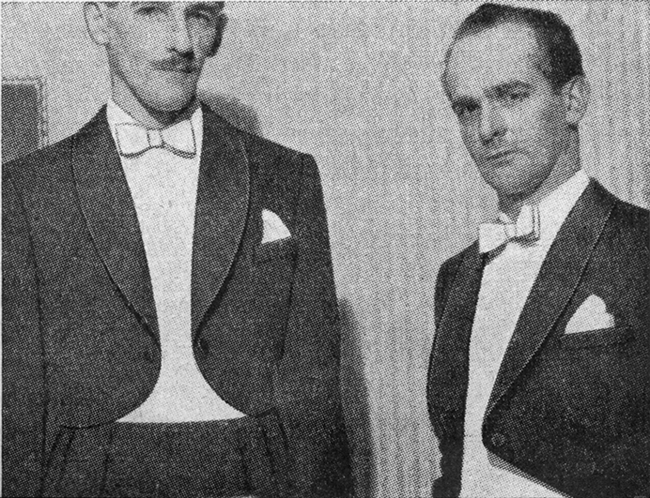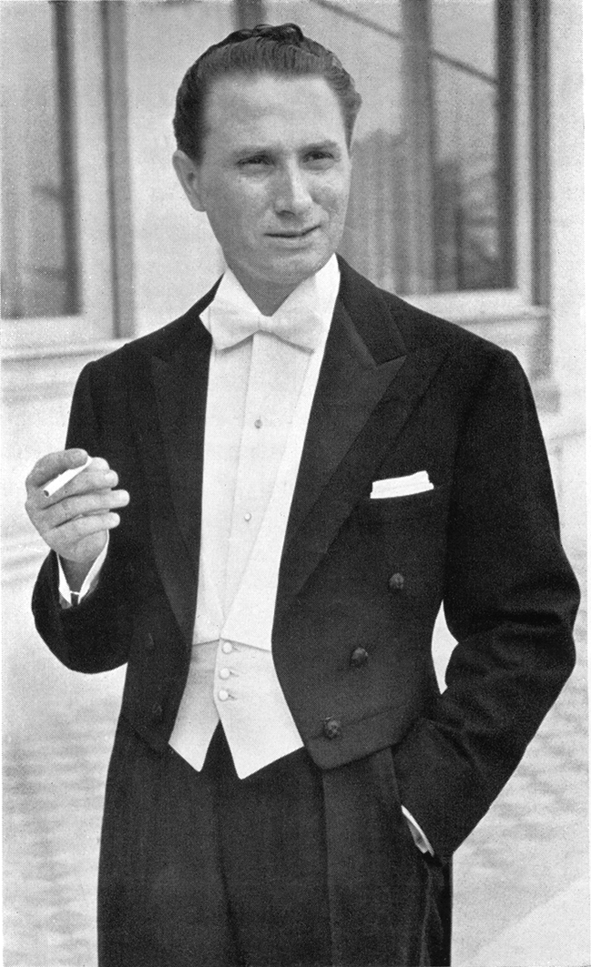 Here are more ideas from the 1960s:




The toastmaster of a ceremony used to traditionally wear a scarlet coloured dress coat (but black trousers) but there is no reason a bridegroom should not wear this in the evening today.
Dinner Dress
The usual garment for dinner dress is the dinner jacket. The matching trousers take a single stripe of silk down the side. A matching black waistcoat is also worn. The resulting suit is often called a dinner suit: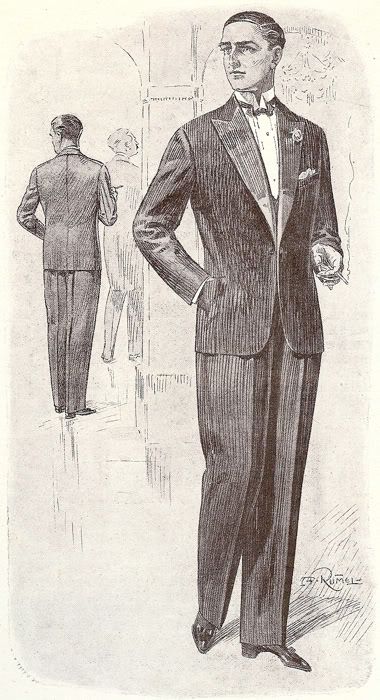 The dinner jacket was originally called the "dress lounge" because the cut is based on that of a lounge coat. After being exported from Britain, the Americans started to call it a "Tuxedo" as it was first worn by New York members of the Tuxedo Club. However, some Americans, especially on the East Coat still prefer to call it by its British name, the "dinner jacket", which helps to remind people that the garment is for wear at the dinner table rather than at any other time of the day.




Cloths suitable for a dinner jacket are the same as those for dress coats. The classic dinner jacket has a single button closure. The buttons are usually covered in silk. The closure may be with links like this, a feature rarely found on ready-made garments: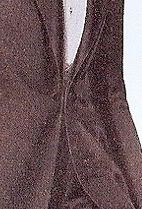 Dress Variant of Dinner Dress

The most formal variant of dinner dress consists of a classic single breasted, button-one dinner jacket worn with a waistcoat and a stiff detachable, stand up collar. If dinner dress is worn alongside, or in place of, full dress for balls, formal functions and events, then this is the form it should take. However, it may also be worn in its classical role as informal dinner dress at restaurants or at dinner in a private home.

Dressier modern dinner jackets should have pointed lapels (also know as double breasted or in America, "peaked" lapels) or shawl (roll) collar lapels.

Contrary to popular opinion, step lapels (also know as single breasted lapels, or in America, notched lapels) are neither "incorrect", nor "non-traditional". This example won a major tailoring prize in London, 1964: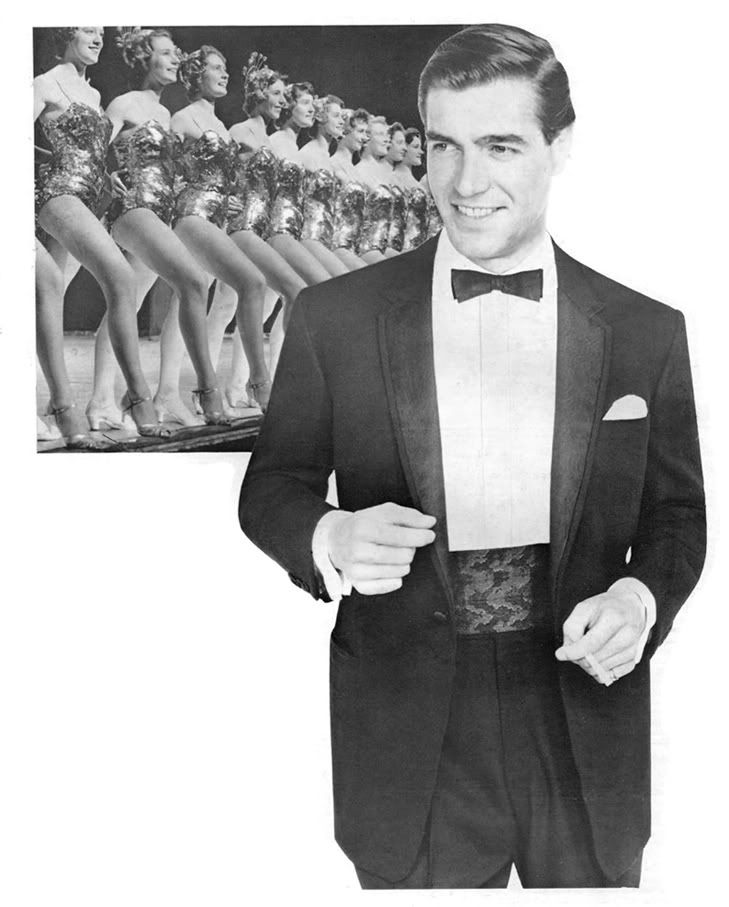 Some may feel that step lapels look too much like the revers of a business suit, likewise with the presence of more than one button to close the jacket. This is probably more a matter of personal preference, but the idea has taken hold in some circles that pointed lapels or roll collars are somehow more formal or proper.


As usual, a great deal of freedom is permitted in the cut of the waistcoat. The mark of a fine bespoke waistcoat is a mixture of fantasy and tastefulness, although simplicity and understatement too have their attraction. Here are a couple of ideas: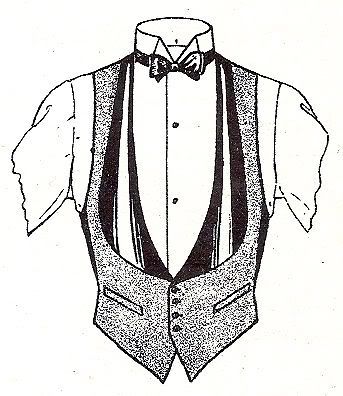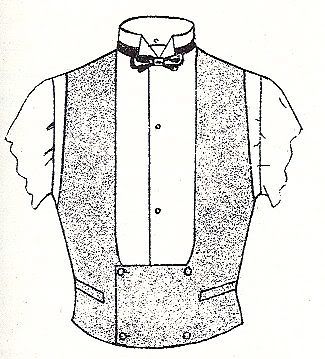 The example on the above left is cut of the same cloth as the dinner jacket but faced with the same silk as on the jacket.

Informal Dinner Dress

Other variants that lend greater informality to dinner dress include those worn without a waistcoat. This may be done by either wearing a cummerbund in its place, or by wearing a double-breasted dinner jacket. The double-breasted dinner jacket without a waistcoat is traditionally a button one model. A button one model also tends to show more shirt, and runs cooler.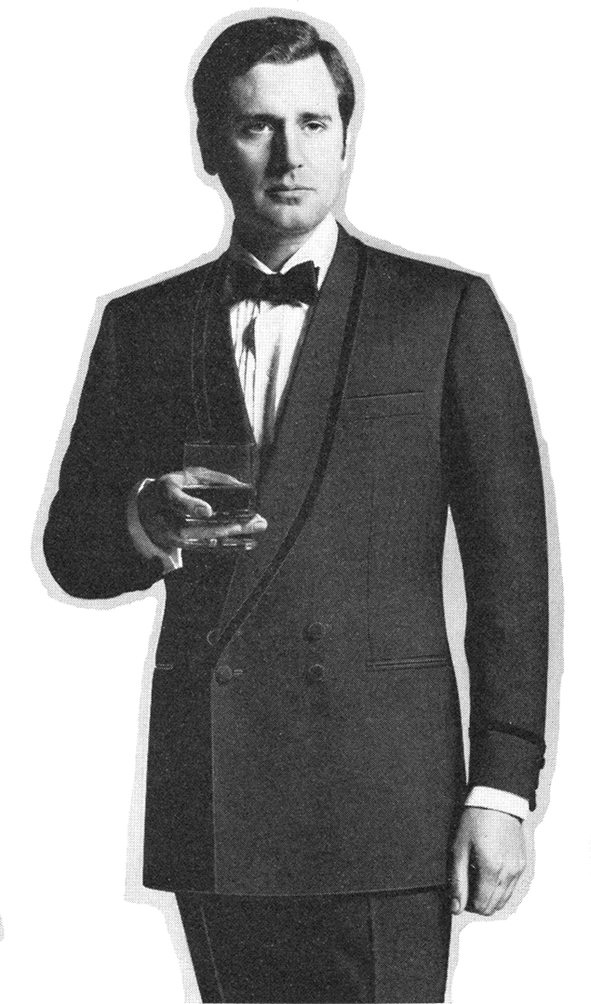 Originally, double-breasted dinner jackets (effectively a "dress reefer") were an American innovation but they are now worn everywhere. In hot summer weather, a white dinner jacket may be worn. The most iconic example of both a white and double breasted dinner jacket was worn by Humphrey Bogart in Casablanca:




Notice that it is a classical button one, show two jacket with a roll collar.

These more informal variants make them arguably less suitable for large, formal events, where, strictly speaking, full dress should be worn rather than informal dinner dress. Informal variants should be strictly avoided if dinner dress is worn alongside proper formal dress, or at larger more formal events. On the other hand, the dress variant of dinner dress can be worn as informal dinner dress.

That said, this distinction between formal and informal dinner dress is rather old fashion and for die hard traditionalists only.

Dinner Shirts

A white dinner shirt is traditionally always worn. In the dressier style worn with a single breasted dinner jacket with pointed lapel or roll collar a detachable stand up collar with a stiff fronted plain front should be worn. With the more informal style of dinner dress (such as with a double breasted dinner jacket without a waistcoat or white single breasted dinner jacket worn with a cummerbund) a turn down collar should be worn, and the shirt front may be pleated, or else made of pique or marcella. In both cases the shirt may take one or two studs - three at the very most.

Bow Tie

The one iron rule with black tie is that a black bow tie should always be worn. The tie may be of ribbed silk, barathea or satin and may match the facings on the lapels.

Shoes

Shoes with dinner dress may be either patent leather plain toed Oxfords, or, for more formal occasions, pumps. Socks are either black quality fine mercerised cotton or silk. They may be plain or ribbed but there should be no patterns or decorations.

Watches

Watches may be worn with informal dinner dress. However, these should be understated dress watches with white faces. Watch chains are not worn strung across the waistcoat with evening dress, although a pocket watch may be carried. James Bond wears clunky Rolex diver's watches with dinner dress today because the sponsors pay for him to promote the model, not because it is elegant. Do not copy him unless being paid to, and even then think twice: you don't want to loudly advertise the fact that you are making do with a sports watch because you are too cheap to buy a dress watch and a sports watch for different occasions! If a Rolex is what you want to sport then this is a better choice - the Cellini: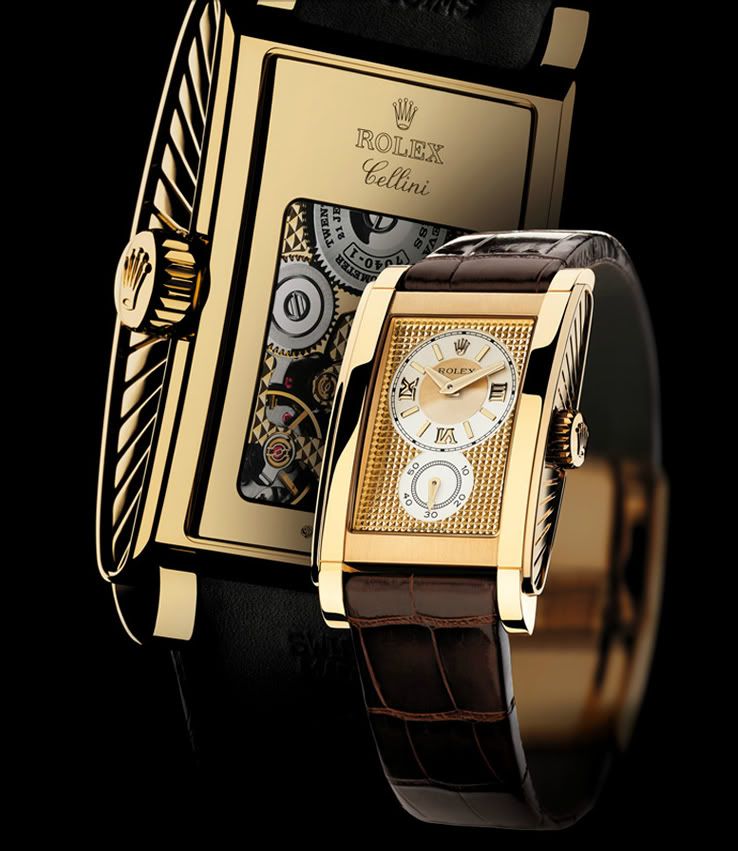 Accessories and Overcoat

If a hat is worn, it should be a black Homburg: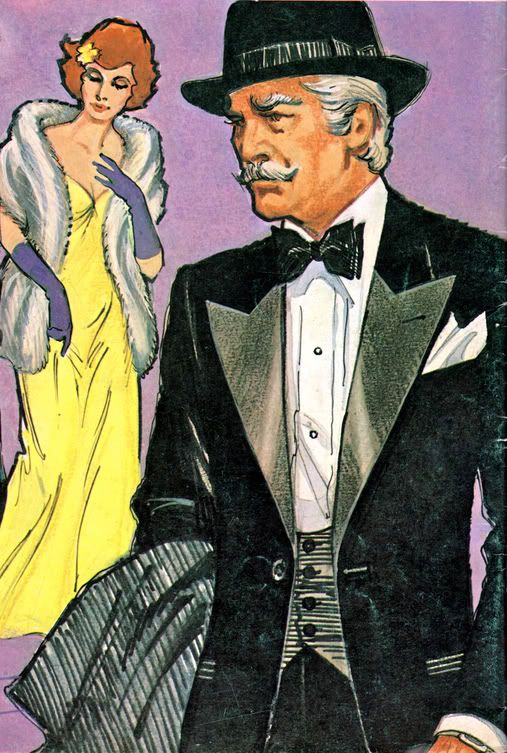 The gloves should be grey. The handkerchief should be white. A red carnation is the classical buttonhole. A black, dark grey or navy Chesterfield is the classical overcoat.

Tasteful Individuality vs Novelties to Avoid

Novelty forms of evening dress have become increasingly popular since the 1960s. Too many of these are only of curiosity value. For the most part, the better way to stand out from the crowd is with the excellence in fit, cut and taste of a bespoke dinner suit. It may initially be more expensive but you may get decades of wear out of it.

If individuality is desired, a great deal of freedom is traditionally permitted with the waistcoat, into which a great deal of tasteful fantasy can and should be infused. Waistcoats can also be made in white pique or marcella, black ribbed silk or black silk with subtle patterns. Another rarity is the double-breasted dinner jacket worn with either a matching black or a white pique waistcoat to enhance its dressiness.

Those who lack imagination fall into the pattern of repeating some dull clichés in a desperate bid to add novelty to dinner dress (and evening dress in general). One of the ugliest fads is to mix in variants of daywear such a four-in-hand tie, though admittedly it has become rather common. Unfortunately, it is traditional only for waiters to wear such a mishmash of day and evening wear like this. Busy novelties are often symptomatic of a dinner suit being a cheaper ready-to-wear garment, including so-called "designer" garments. Weird novelty "designs" are usually a way of detracting from the mediocrity of the fit and construction.

Another 1960-80s fashion was the tartan checked dinner jacket and this can be highly recommended - if you are entitled wear the clan tartan! Otherwise, you risk looking like a nouveau riche Russian oligarch trying too hard to advertise the fact he owns a Scottish castle. Yet other tiresome clichés include resorting to kitsch shock tactics by wearing cartoon print ties (or worse still omitting the tie altogether), animal skin, shocking or fluorescent pink dinner jackets, sandals, lipstick, make up, running shoes, jeans, shorts, pyjamas, nose rings, safety pins, track suit trousers or any other manner of tiresome novelty mixed together with elements of day and evening dress. However, all of this has been so done to death through the 1970s, 80s and 90s, that it makes it hard not to look like a geriatric rock star and burned out heroin addict trying to relive the glory days. If you do decide to go for this look make sure you accessorise correctly with diamond studded Rolex diver's watch, an absurdly expensive sports car, and a blond teenage model on your arm. Those couples who wish to avoid having their guests ruin their evening with this sort of costume display might like to stipulate clearly that they wish "classical black tie with dinner jackets and black bow ties" be worn.

Finally, the most bizarre variant of them all is the American fashion for wearing dinner dress for a daytime ceremony! The unfortunate "Tuxedo wedding" is something that the true American gentleman still eschews, though these are becoming a minority. Even their brides seem insightless, permitting their formal bridal gowns to be totally ruined by being mismatched to the bridegroom's bizarre attire. Sadly, due to the influence of Hollywood, this practice has become widespread in America and the disease appears to have spread somewhat internationally. Normally, only waiters, servants and catering staff wear evening dress in daylight. It is thought that Hollywood actors, who after years of struggling to pay the bills working as a waiter, continued to wear their waiter's "tux" in broad daylight on making it into the limelight. As a result, the practice is quite epidemic in America. For those outside of America, it is only recommended for those wishing to have a themed American styled costume wedding eg with "tuxedo", cowboy boots, star spangled Uncle Sam top hats, and "God Bless America" replacing the Lohengrin wedding march. Alternatively, it could be worn at a daytime costume wedding where everyone dresses up in servants' uniforms. As the bridal dress should match that of the groom's in formality, the bride should ideally be dressed like this:




However, you will find more on correct livery (uniforms for staff and servants) in this thread.

Americans who still believe that it is somehow a "tradition" to wear dinner suits ("tuxedoes") for a daytime wedding should take a careful look at this: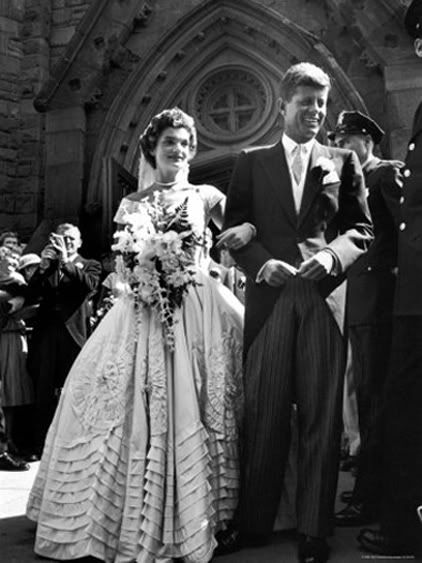 Finally, despite all of these caveats about exercising freedom, those who prefer a modern twist on things should be reassured that a skilled and imaginative bespoke tailor and cutter can still produce their own uniquely tasteful creative modern cut of dinner suit. Conservative and classical cuts are not for everyone, and you can be fully assured that elegant creativity is still possible. Since fashion "designers" only produce bizarre costumes designed to function as advertising for the brand, the only sure way to add a tasteful modern twist to a classic garment is to find a bespoke tailor who has enough imagination to be able to add an elegant modern touch without falling into the trap of tired clichés. Here are a couple of fine examples of elegant creativity: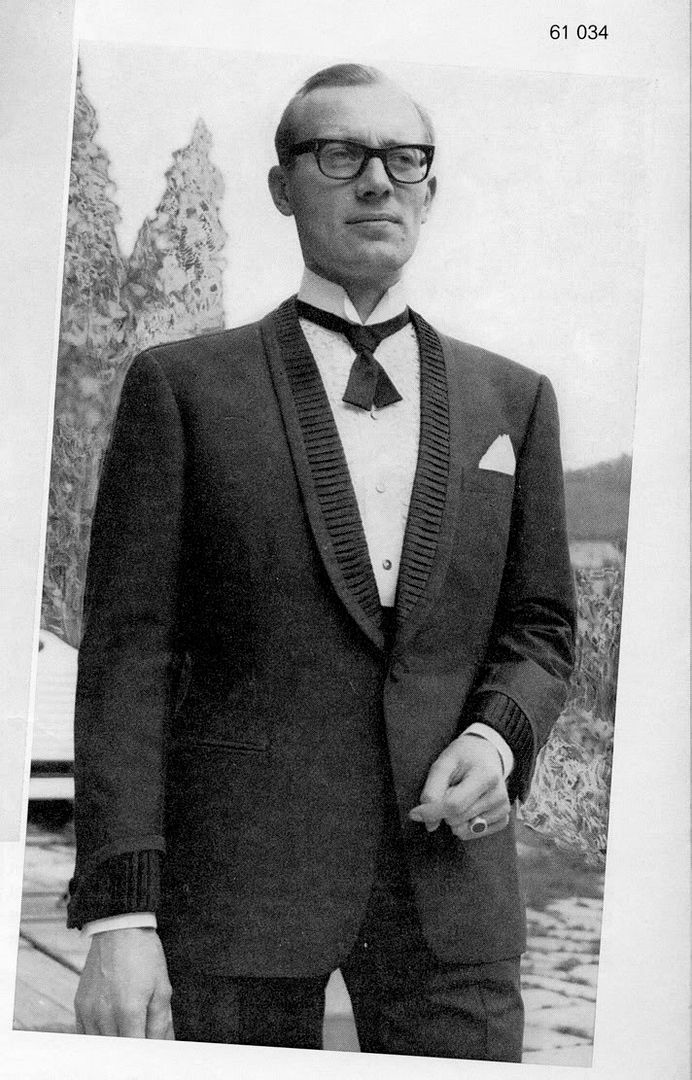 Bibliography

Devereaux: Etiquette for Men, London, 1929
Barney, S: Clothes and the Man, London, 1951
Croonborg: The Blue Book of Men's Tailoring, 1907
Lyon, Massey: Etiquette. London, 1927
Doyle, Robert: The Art of the Tailor, 2005
Thornton, JP: International System of Garment Cutting, London, 1911
Müller, M: Lehrbuch der Zuschneidelehre, Munich, 1925
Roetzel, Bernhard: Gentlemen
Whife (ed): The Modern Tailor Outfitter and Clothier, London, 1949