The winter approaches and it is time for those in the Northern Hemisphere to get their orders in for their overcoats.
One coat I have been wearing the past Southern Hemisphere winter is a Raglan overcoat. Whenever I wear mine, I get positive comments from random strangers, often several times in a day. Sometimes I wonder why. Maybe it looks classical enough to look familiar yet uncommon enough these days to look exotic.
The reason it is called a Raglan is because of the way the sleeves are cut with so-called "Raglan sleeves":
This gives the shoulder-line that rounded and slouchy look to it. Overall the coat is cut along easy lines and this helps to prevent it from being constrictive. It also stops it from disturbing the clothes worn underneath. For these reasons, you will find yourself grabbing for your trusty Raglan on coat winter days much more often than you expect and it can be worn for your daily commute to work as well as on weekends.
A very classical cut of Raglan overcoat would be something like this from The Tailor & Cutter, 1939: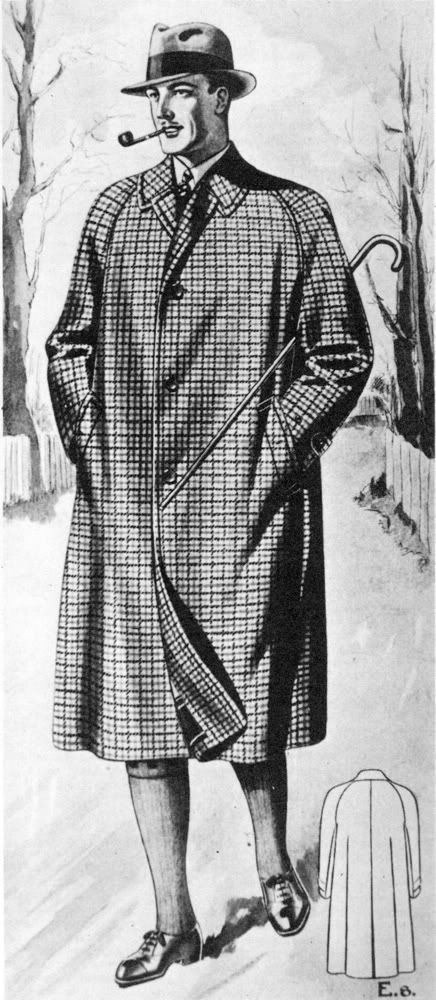 Here is another example from the 1960s in a very classical olive green colour: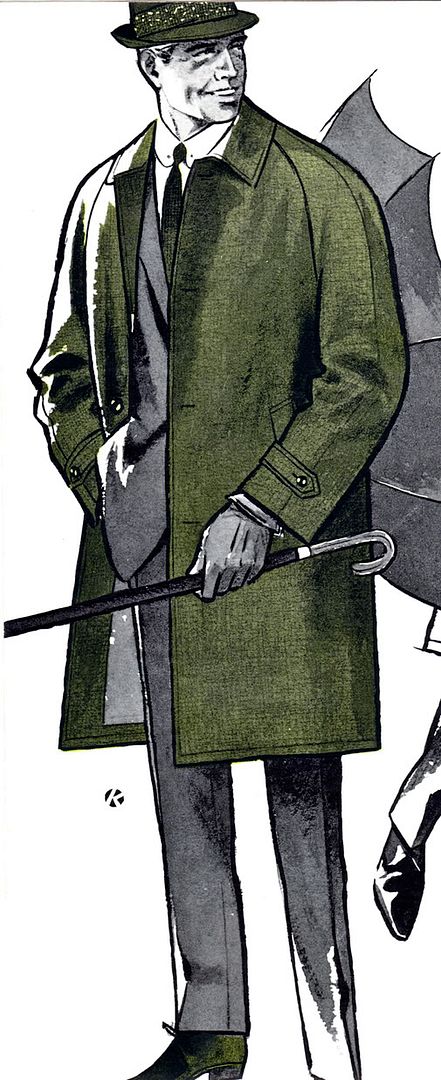 The style of collar here is known as a Prussian collar and can be done up to the top when it is cold. However, there is no absolutely perfectly archetypal Raglan and Raglan sleeves are found on all sorts of different types of overcoat, including the classic trenchcoat.
Here is one style of single breasted Raglan overcoat, with narrow Ulster styled lapels (in typical 1960s fashion):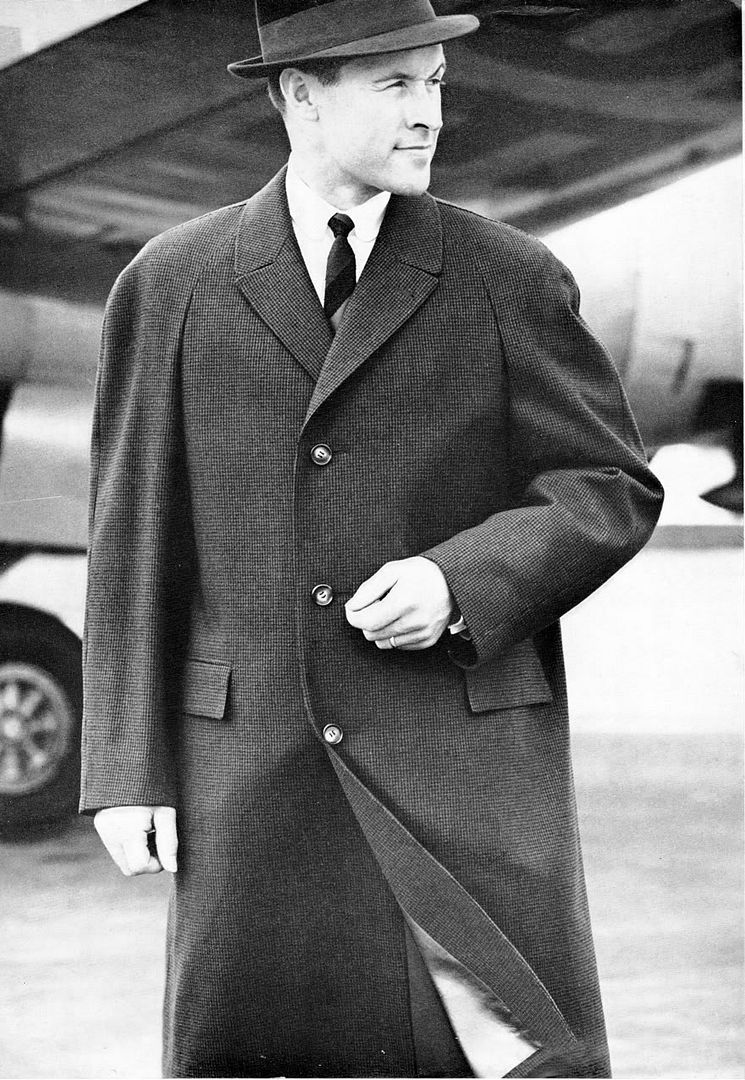 Skinny lapels like this are back in at the moment. In other times, wider lapelled versions in a more classical double breasted Ulster cut of this have been more popular: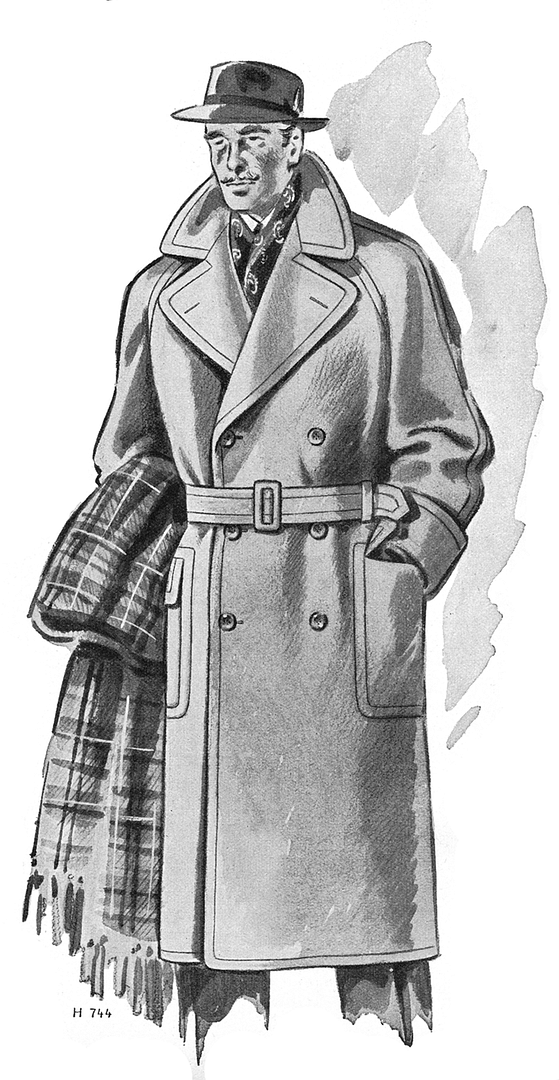 Note too the way it has a full belt. I personally find belts like this to be extremely useful on overcoats. It feels like something is missing when an overcoat lacks this. Here is another belted coat with Raglan sleeves and single breasted lapels:
This one looks exactly like mine, except my one has no belt buckle - a superfluous feature if you ask me. I just tie mine at the front.
Here is another collar style that is very nice in a coat made up in a classical khaki or fawn colour: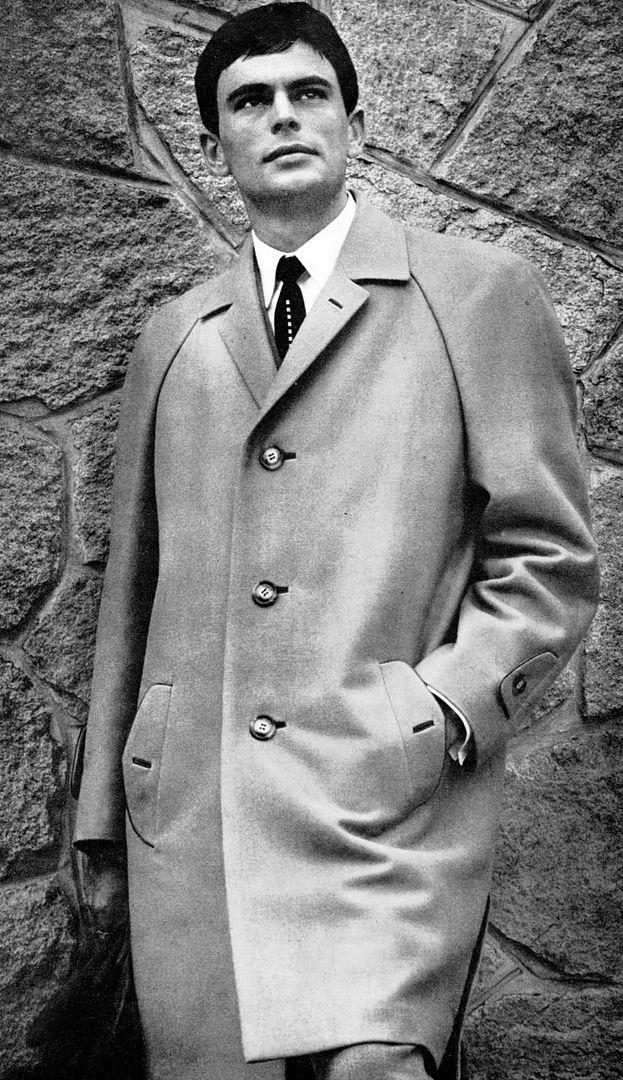 Note too that the 1960s fashion was towards a shorter coat, and this would be good on a spring-autumn topcoat that is a bit lighter. However, if you want to keep warm, then something a bit longer would be preferable.
As I say, you will find yourself wearing your Raglan much more often than you think. It is a good workhorse overcoat that you will come to love and trust. So if anything here catches your fancy, print it out and take it to your tailor.