Conventional wisdom among dress historians holds that the DB reefer (DB lounge coat) [1] is the child of the DB frock coat [2, 3, 4, 5], and we can see this parentage in hybrids like this [6], where the silk half-facings associated almost exclusively with the full-dress frock coat are applied to a 6x3 reefer coat. The conventional wisdom then holds that the DB frock coat is the child of an informal SB frock coat worn for riding [7], as can be seen in this DB hybrid of the two [8]. On the other hand, conventional wisdom also says that today's DB dress coat, a swallowtail cut not to close [9], is the child of the shadbelly closable DB swallowtail coat [10], as worn by Regency types like Mr. Darcy or Colonel Fitzwiliam [11]. The idea seems to be that DB is a dyadic genus of coats, a genus comprised of two fundamentally different species, with no common ancestors. There are the groin-hiding closable DB frock coat and DB reefer, which are ultimately descended from an SB frock coat. And then there are the groin-emphasizing shadbelly, dress coat, and DB frock cut not to close [12, 13]. These all draw attention to the groin and waist. Moreover, their species, says the conventional widsom, will go extinct as soon as people stop wearing dress coats. For nobody wears shadbellies or DB frock except as sports uniform or historical costume. So we'll be left with the groin-hiding species, specifically with the DB reefer, that doesn't realize that its grandfather is an SB closable coat, about the same as a cowboy's duster [14].
I want to challenge the conventional wisdom. I deny that there are two fundamentally different DB traditions or DB species, springing from two fundamentally different sources. I claim that there is one DB tradition with multiple sources, and that our reefer coat is much influenced by the shadbelly, by way of the short DB semi-morning coat and the forgotten DB morning coat. I also think that we'll understand our own DB reefers a lot better if we understand why the myth of the two opposing DB traditions arose, and why it is ultimately false.
First, some of the promised pictures. Lots are stolen from Sator. I hope he'll forgive me: The motive here is not steampunk. It is to help us better understand the architecture of coats that are still fashionable today, by looking at riding garments still worn today. This is dress history meant to help us better understand our contemporary fashions.
[1]
[2]
[3]
[4]
[5]
[6]
[7]
[8] Turn this one from an overcoat into an undercoat, shorten it, and you've got the full-dress Victorian frock coat.
http://commons.wikim...oat_c._1820.jpg
[9]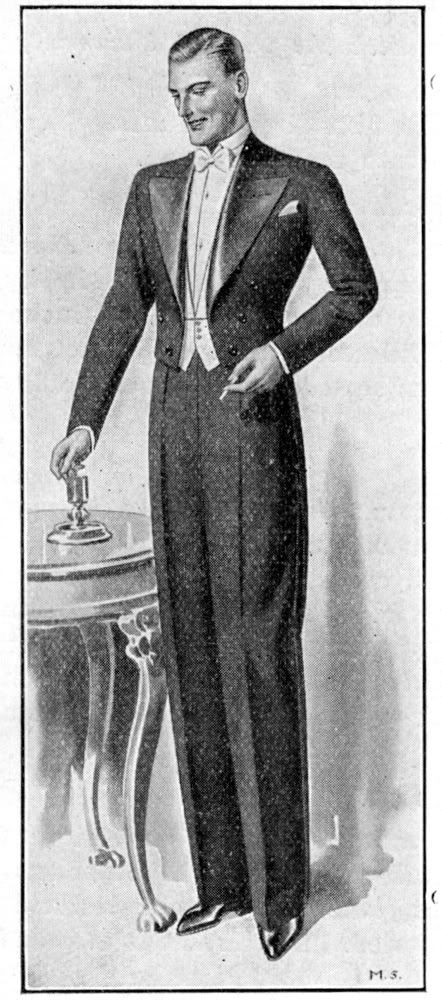 [10]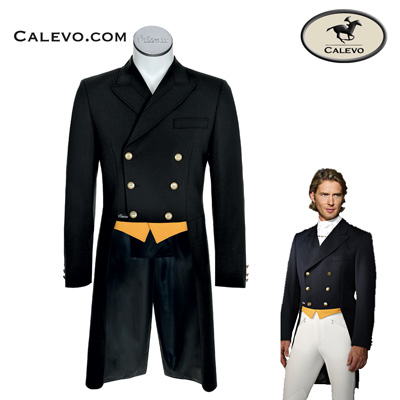 [11]
[12]
[13]
[14]
And here is the direction we'll travel:
Okay, so whence the myth of the two fundamentally opposed DB traditions? I think it comes from our obsession with the male groin. We see the groin-exposing DB coats, and mentally compare them with the groin-covering DB coats. And we think there's a fundamental difference: the one type of DB emphasizes the male sex organs, the other modestly hides it. Look at how the 6x3 or 8x4 reefer have the same groin-hiding effect as the closable DB frock coat [15, 16]. The groin-hiders, we think, are engaged in a totally different project than the groin-exposers.
But we should be careful, because button configuration is also important. Note that the most prominent button configuration for 20th and 21st century DB reefers is a Y-pattern or a V-pattern: 6x2 or 8x3 for the Y, 6x1 or 4x1 for the V. You will have to look hard to find a 19th-century DB closable frock with a V-pattern or a Y-pattern. Almost all were parallel lines || configuration: 6x3, 4x2, sometimes 8x4. (Y-pattern is a sort of compromise between V-pattern and parallel lines ||.) But V-pattern and Y-pattern shadbellies were quite common, as the paintings and images below will illustrate. So I think that today's Y-pattern 6x2 reefer owes something to the shadbelly, and the V-pattern 4x1 or 6x1 definitely owes a lot to it.
[15]
[16]
So I deny the myth. The images below support my case, I think. If we thought of button configuration as well as closed fronts, we'd see that Y-pattern reefer (e.g., 6x2)owes something to the shadbelly and the dress coat, and V-pattern reefer (e.g., 6x1 or 4x1) owes a good deal to them. We need to see that DB can be V-pattern, Y-pattern, or || pattern, and that all can look good. We ought to see DB as one great tradition, with multiple sources. DB has something for everyone, if only we makers, customers, and enthusiasts could find the nerve to break the mold of DB as "always a 6x2 reefer." If we only we had affordable ways of letting people see and experiment with || DB coats and V-pattern DB coats, as well as Y-pattern DB coats, I'll bet we would find that DB can be made to flatter all body types.
On to pictures. First, the shadbellies:
The Beau wearing a riding version Y-pattern meant for streetwear in 1805:
A V-pattern find of Sator's I've always liked:
Sator finds a 10x4 || in a painting that mixes classicism and Biedermeier: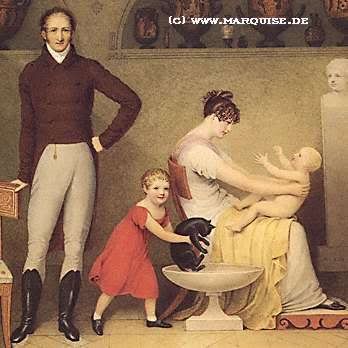 And another, 6x3 ||, from Sator of Strauss the Younger: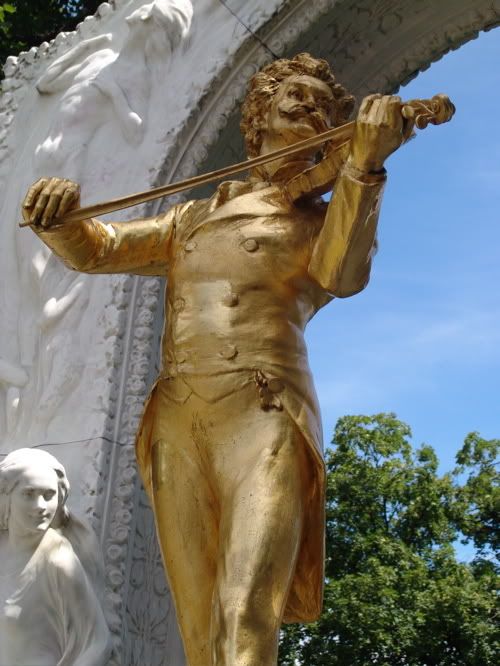 And yet another, a pronounced V-pattern, from Sator:
The Regency-era city version, || pattern, in an 1873 caricature by James Tissot:
The coat's cut-in takes many forms, from very little:
Though strictly speaking, that's not really a shadbelly. The cut-in is too small to make the coat really comfortable to ride while buttoned. It's a sibling of the shadbelly that was fashionable about 1800. It had some other name, according to Cunnington and Cunnington. The Prince Michael, or something.
Or a cut-in running well toward the back of the waist; this on a Y-pattern 10x3 shadbelly. Compare this to Prince Charles's 8x3 reefer, below:
West Point cadets wear them today, in army lapelless V-pattern, with full-dress (note the deep cut-in and very short tails):
http://janrutherford.../05/MG_3309.jpg
It's often thought that the shadbelly had disappeared for city dress by 1840 or even earlier. But in the plates below, you'll see counter-examples. And here's a lithograph of Henry Clay from 1852 that has him in a citified shadbelly:
http://www.senate.go...FryeandLith.htm
Okay, now let's look at how the shadbelly influenced today's dress coat:
Here is an early version of what we today call a dress coat (unclosable DB swallowtail) on Wellington:
It seems pretty clearly a variation on the Regency shadbelly, with high roll collar.
US President James Buchanan in what is pretty much exactly today's dress coat: the citified dressy brother of the shadbelly:
http://upload.wikime...ander_Healy.jpg
Note that from the light, he appears to be wearing it as daywear. Old-fashioned gents still did that in 1860. Note that Buchanan's successor Abe Lincoln, a generation younger, seems never to have worn a dress coat as daywear during his presidency.
US political economist James Buchanan, wearing today's dress coat. This a rental for evening wear:
http://www.econlib.o...anan/buchC1.jpg
And here's an extraordinarily useful plate from 1853 that compares the daywear dress coat, a country frock coat, and a riding shadbelly:
Now let's see whether the shadbelly may have influenced the reefer (DB lounge coat)
First, note that with the rise of the frock coat to daytime full-dress status by 1850, a riding coat with cutaway fronts called a Newmarket was citified, and adopted as half-dress. This is an 1847 version of the citified Newmarket in SB:
That coat is of course the father of our cutaway or morning coat.
Second, note that there were attempts around 1870 to combine the DB shadbelly's cut-in with the Newmarket coat's cutaway, and for sporty riding clothes at that:
Third, there's the DB-ization of the citified Newmarket. It seems to have come in in the 1840s as an option for city dress, being slightly more dramatic than the SB city Newmarket, and seems to have been popular until the 1890s, when city coats had to be long. It's sometimes called a DB "university coat" or DB "New York walking coat" or DB "British walker."

Here is a good history
of the evolution of morning coats, which pays particular attention to the riding Newmarket.
Extra-short DB frock coats were worn from the time of the feminine silhoouette with pinched waist of the 1830s-1840s until the 1870s: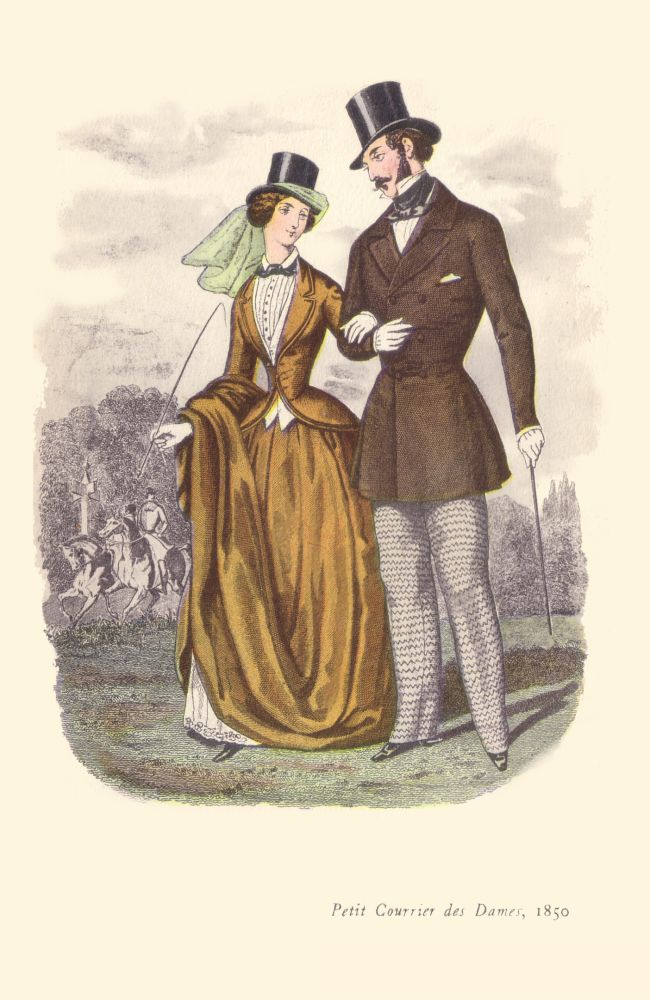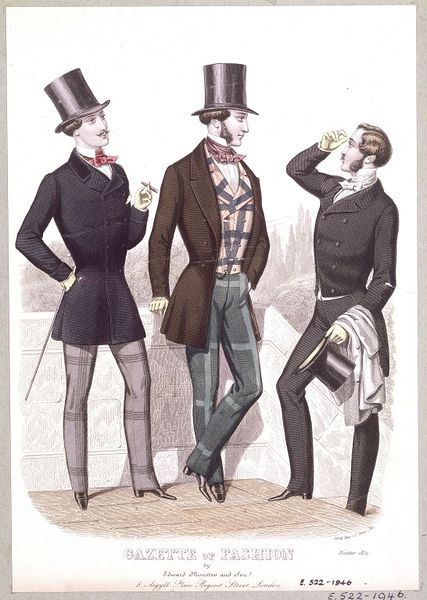 Note the shadbelly on the man on the right in the last plate.
The DB short cutaway or Newmarket inspired a DB cutaway reefer by Bailey & Weatherill in 1963, according to Sator:

Pity so few have tried it. With peak lapels with rounded points, that'd look great.
Then, there's the rare DB cutaway/morning coat of full-length. This takes the DB citified Newmarket and lengthens it. It seems to have been an 1890s alternative to the frock coat:
Also here:
http://upload.wikime...tember_1898.jpg
Then there is the classic reefer. Here in V-pattern 6x1:
Here in Y-pattern 8x3, distinctly echoing the black with gold buttons shadbelly above:
Here a cross between Y-pattern 6x2 and ||-pattern 6x3. The slightly offset top buttons make it a 6x2 that looks a lot like a 6x3:
Here in ||-pattern 6x3 and 8x4: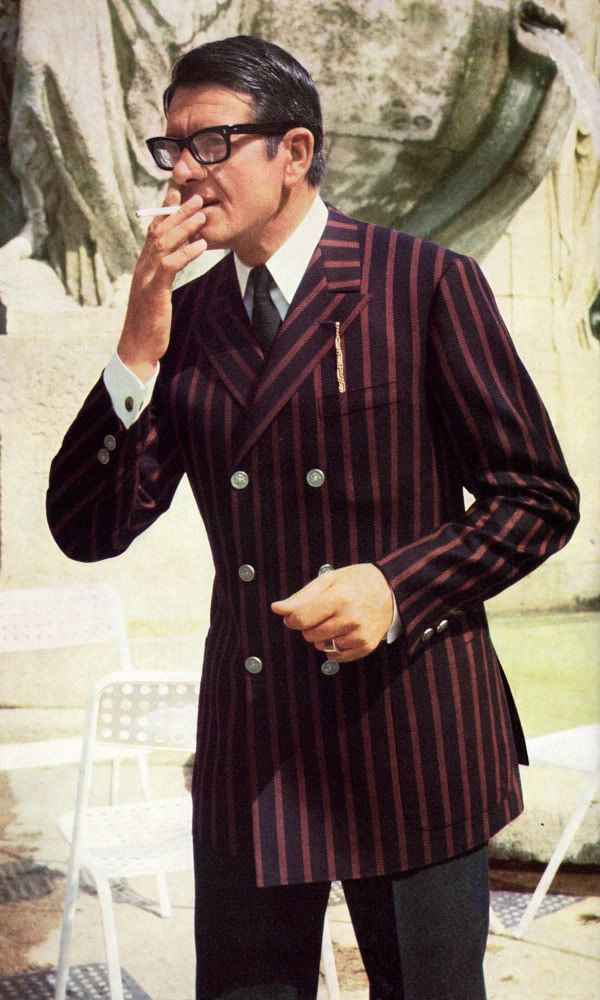 The last an 8x3, I know. It illustrates the 8x4 idea well enough.
Given all that, I find it hard to conclude that the shadbelly is not an ancestor of the reefer.
Edited by Testudo_Aubreii, 06 May 2013 - 12:22 PM.