One of the few independent cloth traditional Huddersfield based cloth merchants left includes Dugdale Bros. As you can see from this 1935
Tailor & Cutter
advertisement, they have been around for quite a while: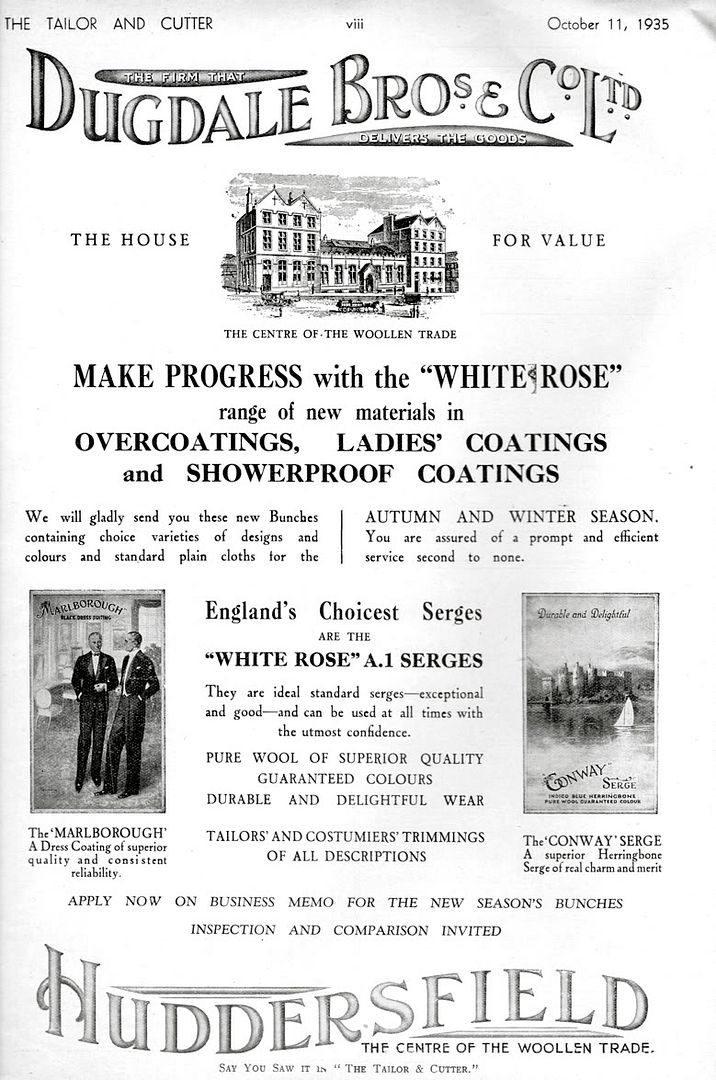 Interestingly enough, they have just relaunched the original
White Rose range of cloths
in a modernised 11 Oz weight with recreations of original sporting designs.
The Huddersfield company was originally founded in 1896 by Henry Percy and Frederick Herbert Dugdale. The current owner has been in the textile industry for three generations, after having started out in the company in the 1960s before eventually buying the business from the Dugdales.
The Dugdale Bros name is not widely known or marketed outside of England, where amongst tailors it is still regarded as a provincial merchant. However, in an increasingly internationalised market increasingly devoid of all regional character, it is precisely this "cottage boutique" character that makes them of interest to us today.
Over the coming days and weeks, I will one by one review the different books of cloth they have on offer. As you will probably know, Dugdale also sell a variety of tailors trimmings. In particular, I will be shortly reviewing all the different canvassing offered by Dugdale. So do keep an eye out for the reviews and discussions.