I think it is pretty much the world's worst kept secret that my favourite books of cloths are the two volumes of the Lear, Browne and Dunsford range of Pederson & Becker heavy weight worsteds.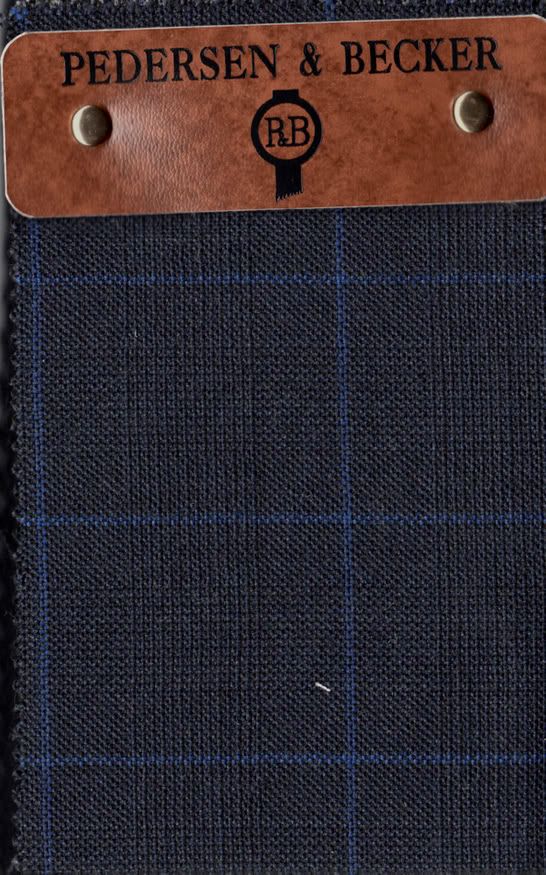 By now I am sure you all know of the virtues of more traditional tailoring weights of cloths. Poulin for example advise that one use nothing lighter than 14 Oz. These days most cloth merchants offer suiting that is only less than that weight.
These more full bodied cloths are easier to work with. They don't slip around like a slimy eel on the cutting room table like light weight super cloths do. They take to being stretched and fulled with the iron, so they can be shaped much as potter might shape clay. They are easier to fit, because they drape cleanly and crisply over the subject. And the finished garment looks clean, crisp, structured and immaculately ceaseless. Modern lightweight cloths - yes, 13 Oz cloths were regarded as lightweight as recently as the 1970s - look like wrinkled and soft pyjamas, by comparison. The ceaseless finish of the garment has the effect of making the wearer look slimmer and taller. Trousers take on an amazingly steep vertical drop that makes the legs look much longer. One stands out amongst a crowd of people wearing rather droopy, and rumpled looking garments. This sort of "soft" look is promoted as looking nonchalant but usually it just looks sloppy and tired.
Not to be forgotten is the fact that heavier cloths demand heavier canvassing, and that in return means more structure and shape. The sort of ultra light canvassing that is routinely used these days means that all modern coats are in some way soft, unstructured, and heavily compromised garments. Proper structure helps to eliminate the sloppy drape and replace it with a crisply starched look. It is even probable that the old fashioned practice of extensive shaping of the canvas with multiple cuts was made possible by the heavier canvas materials that were once used.
Naturally, some object vigorously to heavy weight cloth saying that the modern soft coat of light cloths is more comfortable. In the searing heat of summer that is certainly true. However, at any other time it is remarkable how little one notices the extra weight. However, there are some who eternally run warm even in their birthday suits and complain of the cloth running too hot no matter what they wear. Others, such as me, find even 23 Oz weights to be nothing all that remarkable. There is enormous individual variation. Whatever the case, it still remains important to use the fullest bodied cloth that can be tolerated in the climate it was intended for. Also the character of the weave and finish can be just as important as the weight. A light woollen cloth with a pronounced nap will always run warmer than a tightly woven worsted that is substantially heavier. Tightly woven cloths can sometimes have a metallic feel to them - they feel cold to the touch on a cool day, and can fail miserably in keeping the wearer warm even when the cloth weight is quite high.
The P&B Universal books generally start at 15 Oz or so. Admittedly there are one or two lighter cloths in the range of 12-13 Oz, but these are by far and away minor exceptions. The weave is nice and tight but for the most part the average twill or plain weave in there is not that extremely tightly woven. Nor is the finish the smoothest and finest I have seen. However, the designs are all classic, and despite a tendency for seam edges to fray somewhat (perhaps suggestive of a looser weave setting), they have plenty of body to compensate and make up beautifully.
So here without further ado are a selection of some of my favourite designs in the P&B Universal books.
Moderately wide rope stripes - either pink or lavender on a navy background: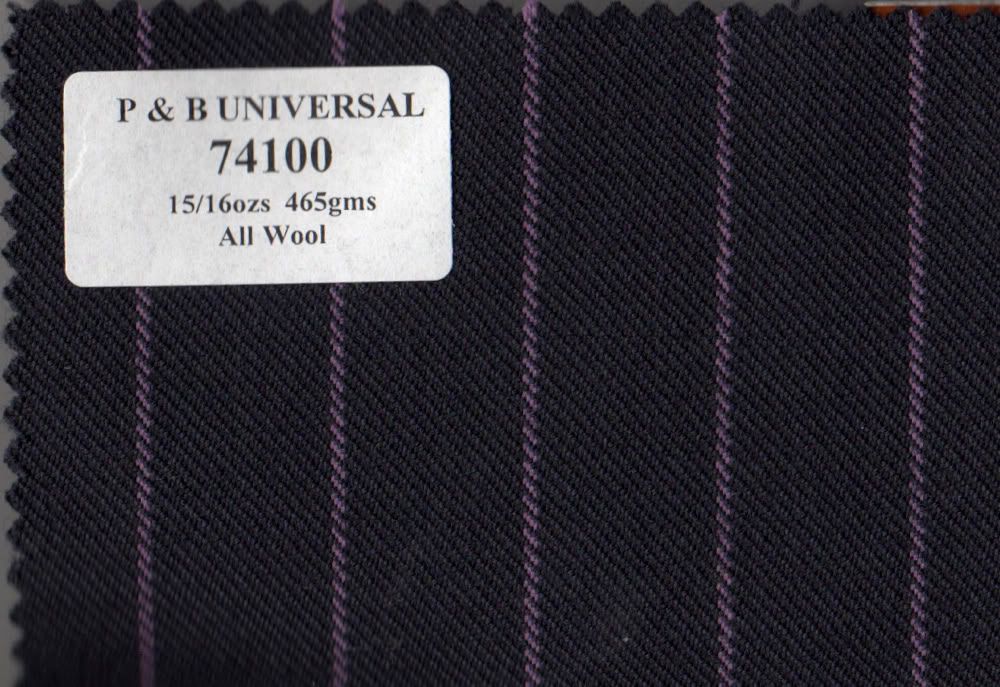 An unusual deep and rich aubergine colour, that looks at first glance like navy:
A nice soft grey: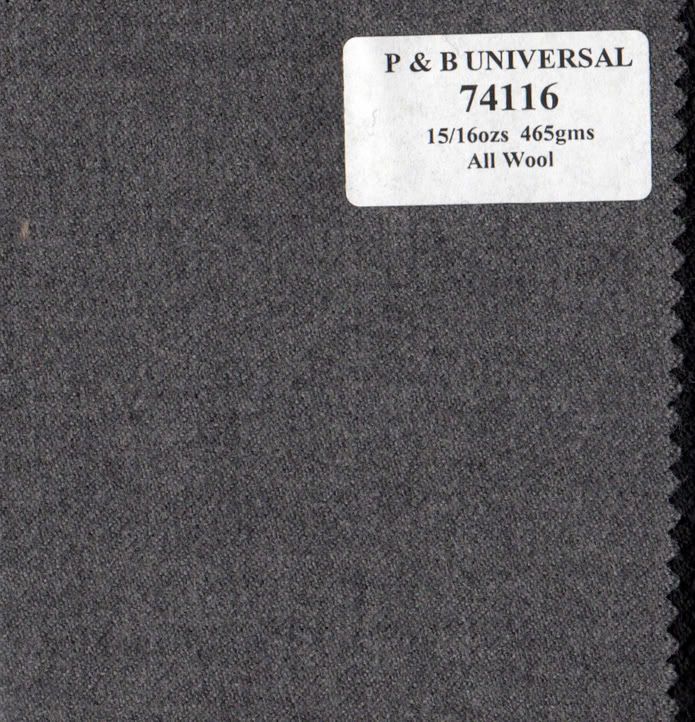 Fancy stripes. Unusual but highly tasteful: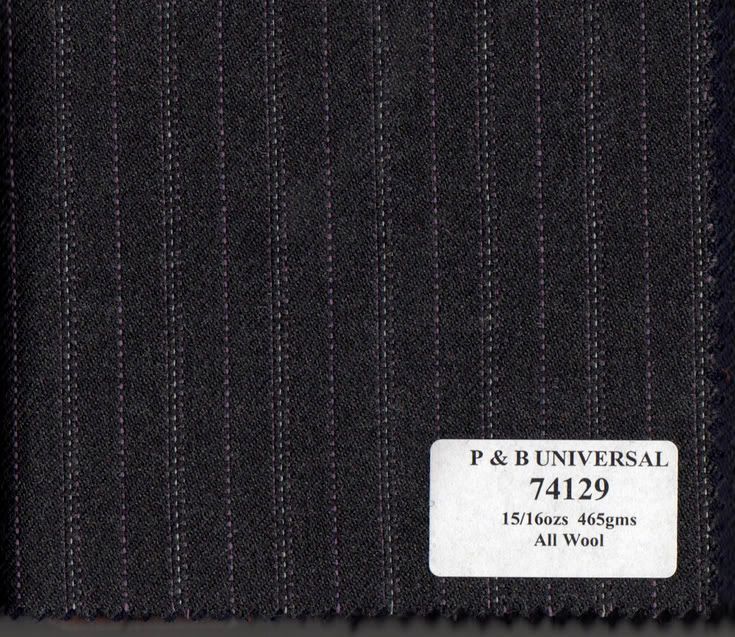 Another soft grey, but in a heavier weight: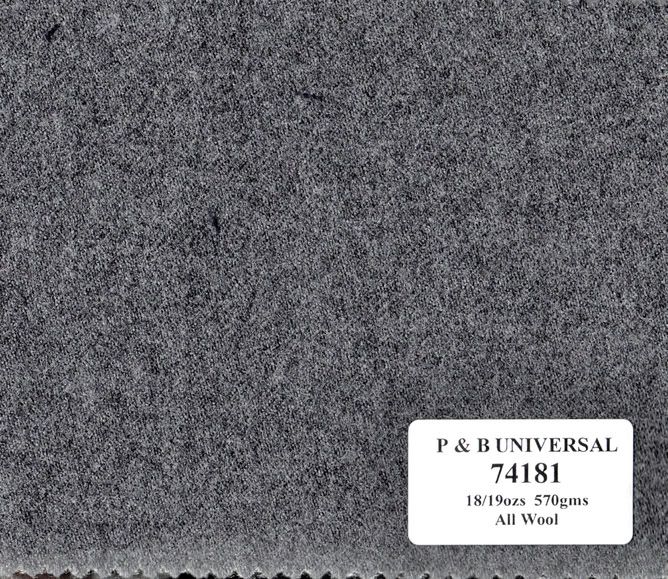 A genuine heavy weight charcoal grey twill: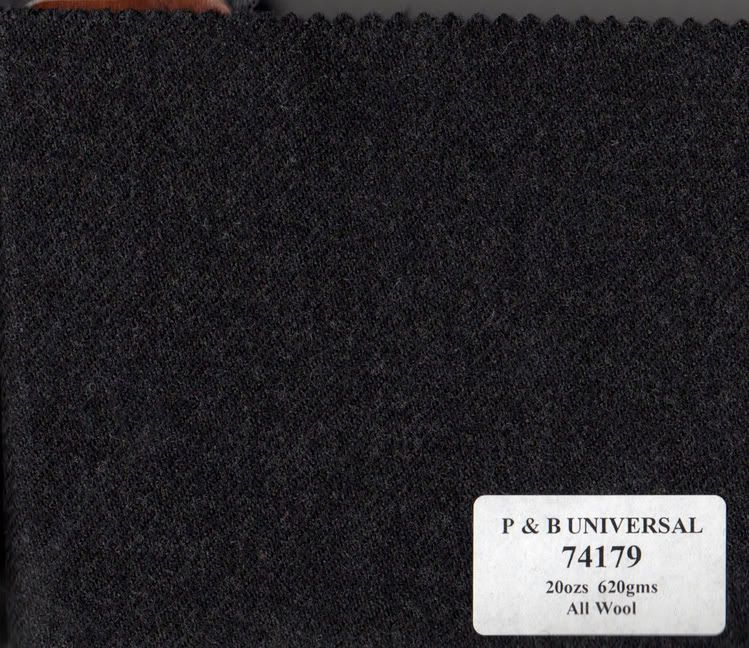 The weightiest cloth in the book in classic plain navy: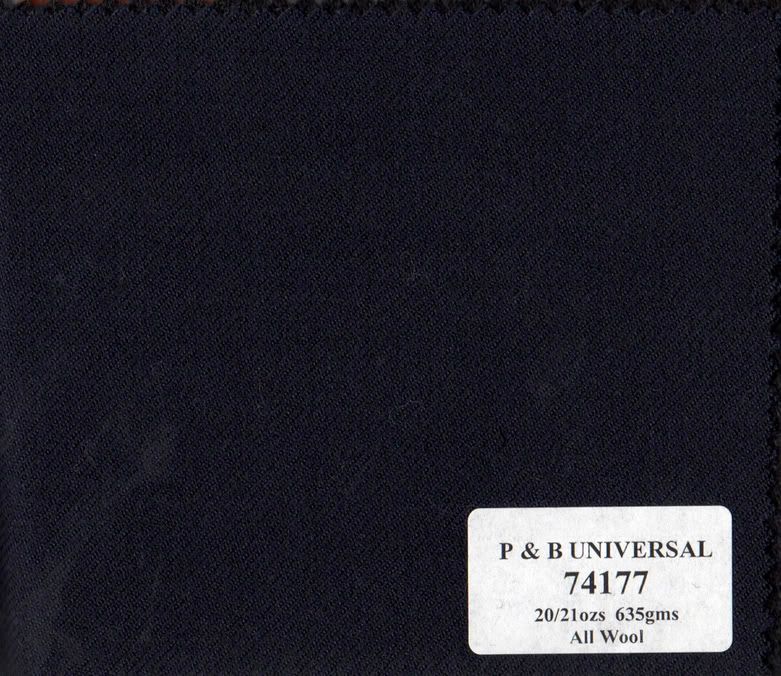 A heavy narrow herringbone weave:
A medium to dark grey medium width herringbone weave: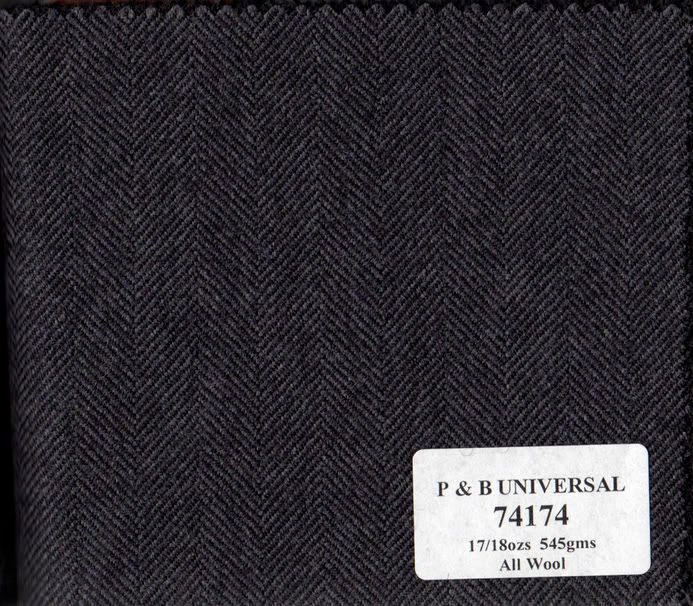 Midnight blue for a clean formal look:
A real heavyweight barathea (I think) for the ultimate in crisp formality: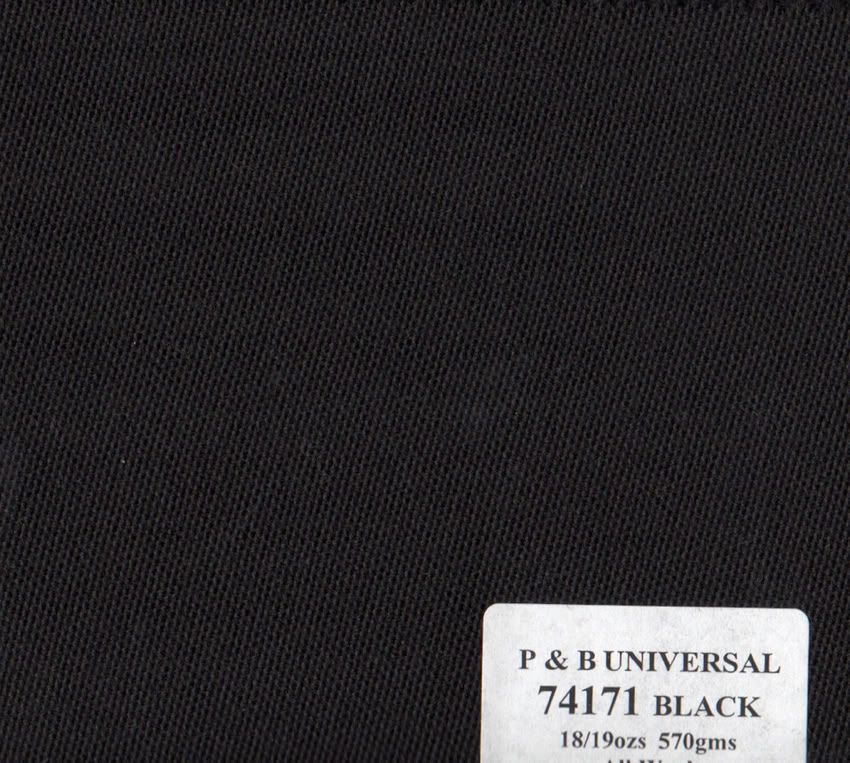 A classic looking grey rope stripe: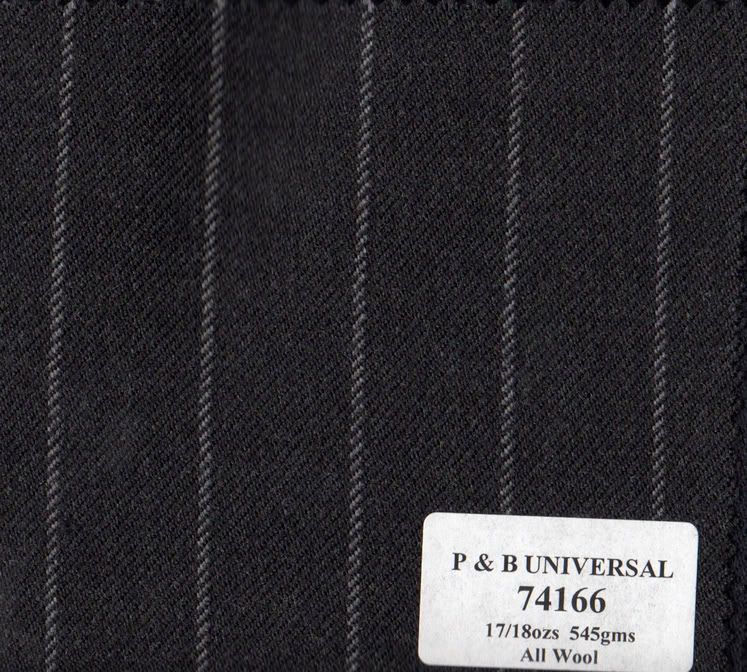 A navy pin dot: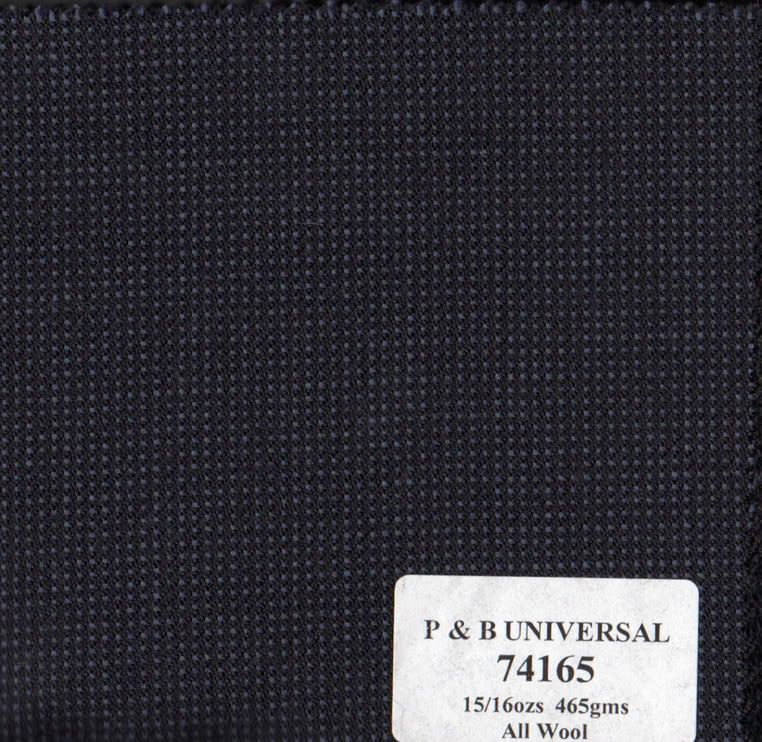 A gorgeous blood red pinstripe on a dark grey background: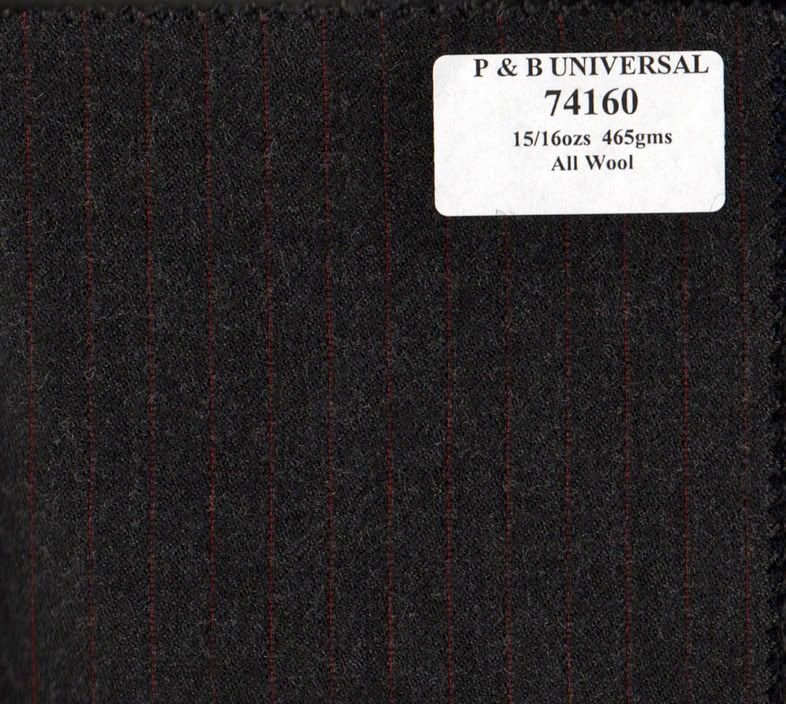 A few of the nicest striped dress trousering you will see. Guaranteed to make your legs look longer: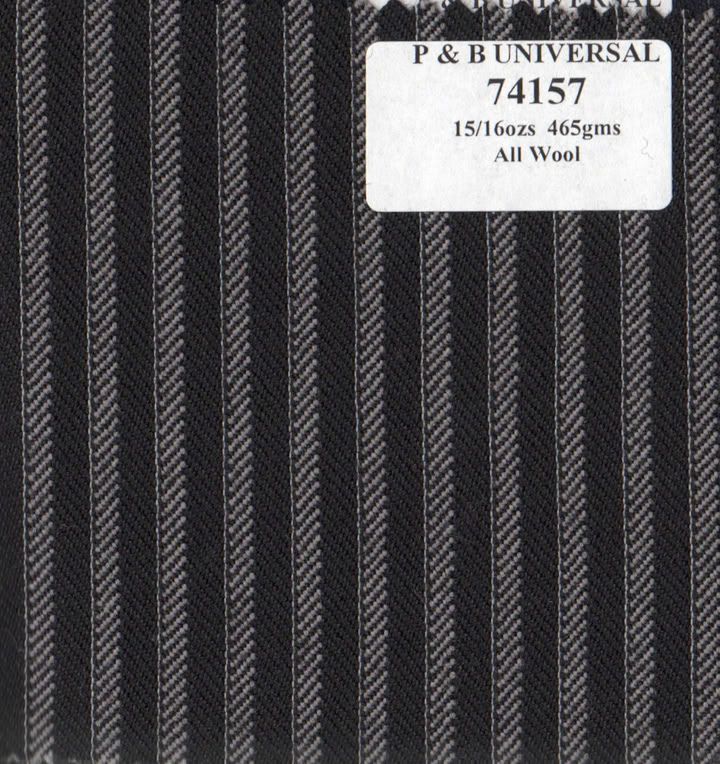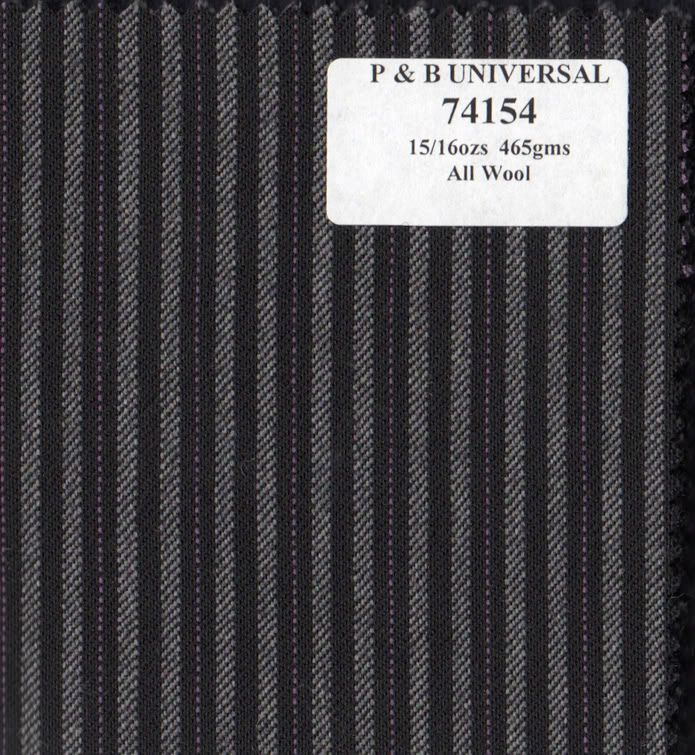 A few POW checks: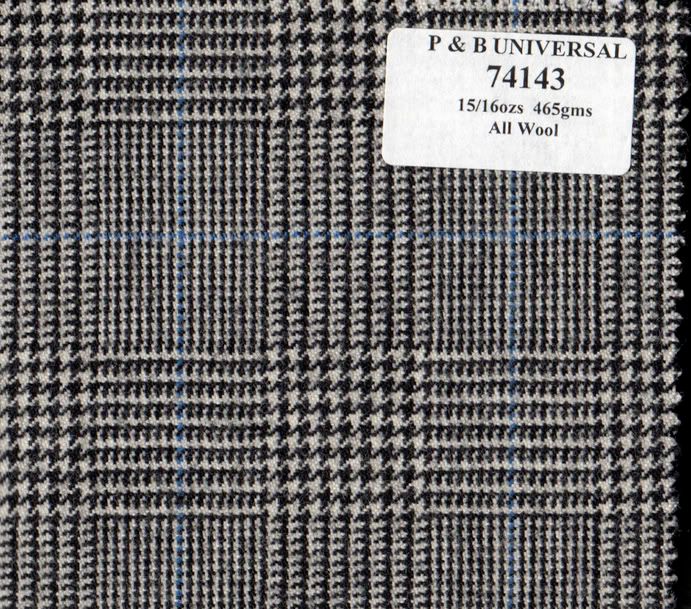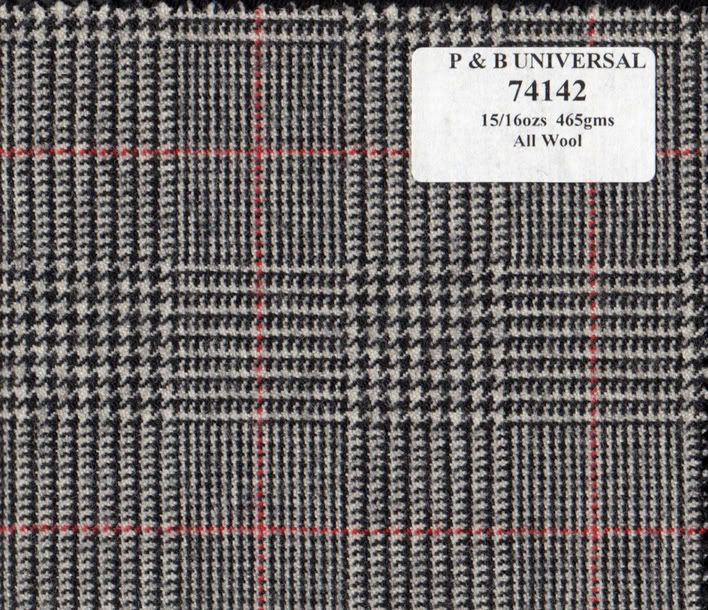 I only wish there would be another volume.
Those tempted should contact Harrison's of Edinburgh.
http://www.lbd-harri.../lbd_about.html
Contact:
post@lbd-harrisons.com
I always find Penny to be very helpful and friendly.