The Rundschau System for Cutting a Body Coat Sloper (Der Zuschnitt XVI ca.1959)
First, the
Rundschau
measurement chart: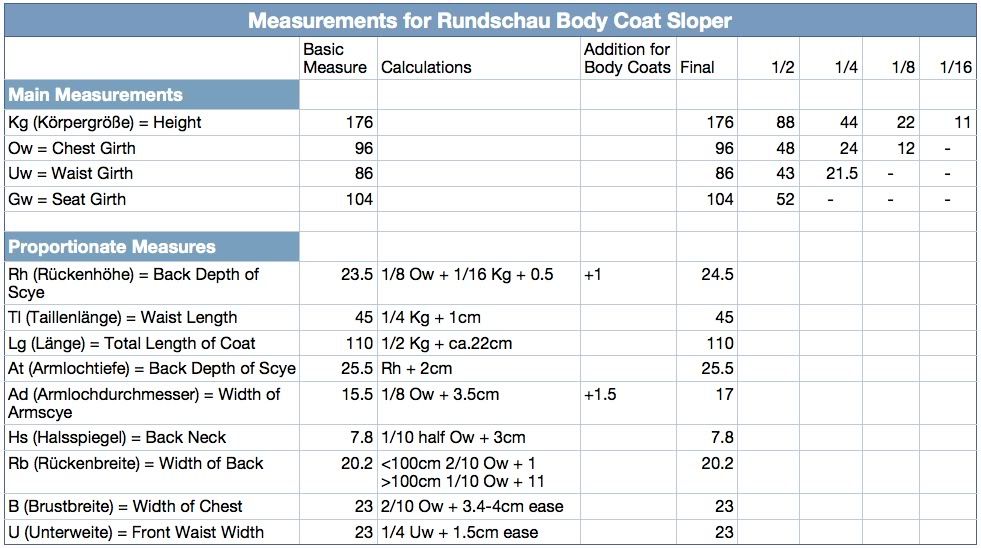 The example they use is a morning coat (ein Cut in German), but the main difference between body coats lies mostly in the style of the skirt. The resulting pattern can be used as the sloper upon which to base other styles of body coat eg dress coat, frock coat, or mess jacket. Cutlänge means "length of the morning coat", but I have translated it simply as "total length of coat". The morning coat is worn as part of
formal morning dress
: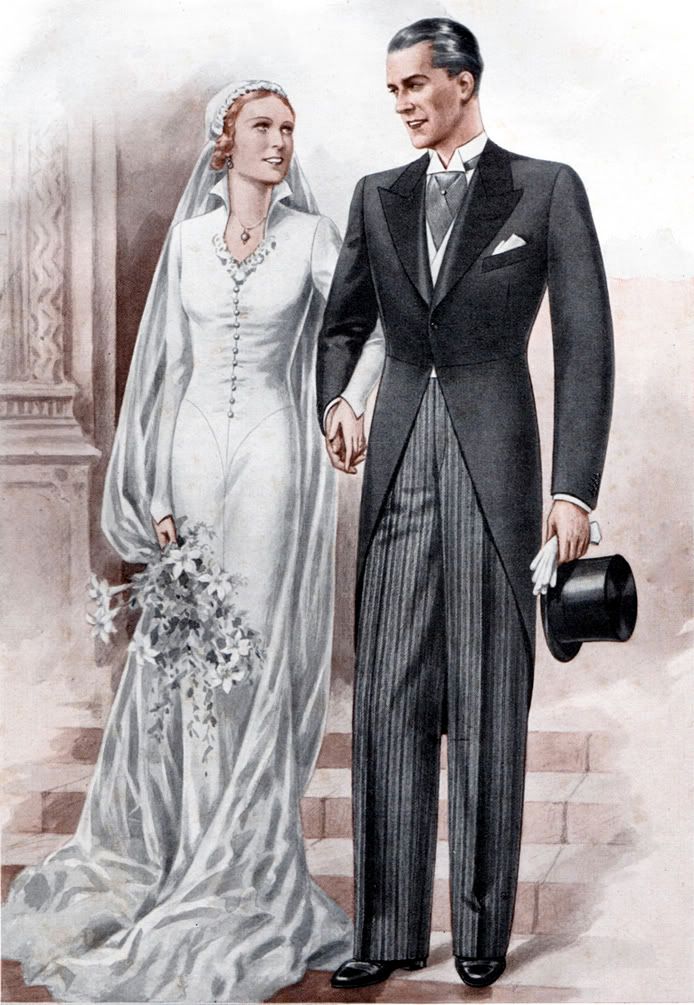 The Foundations
W/b/L Start square here
W-b Back neck = 7.8cm
h-H Displace upwards by 2.5cm
W-H Draw in neck seam
W-Rh Back depth of scye + 1cm = 24.5cm (addition to the straight line of the line of the armscye depth)
W-T Length of waist
W-L Full length of coat = 110cm
Join Rh, T, L
T-T1 Centre of back normally 2cm
L-L1 Centre of back normally 2cm
W/T1/L1 Draw in centre back seam
R-Rb Back width = 20.2cm
Rb-At Calculated armscye diameter = 17cm (ease of 1.5cm for the extra panel under the arm)
At-B Chest width = 23cm
Rb- Square vertically upwards to find point
b
At- Square vertically upwards and downwards to find
Hü
Hü-U Front width of waist = 23cm
b-a1 Depth of back shoulder seam = 2cm
H-a1 Draw line of construction
a1-a2 Width = 2.5cm
H-a2 Draw in shoulder seam
a1-s Back armscye seam height = 1/2 shoulder seam height (Rb-a1) minus 1cm
a2-s Draw in curve of armscye
R-r Side seam = 1/2 Rb minus 1cm
T1-T2 Side seam = back neck minus 1cm
T2/r/s Draw line of construction
m1- = the middle of s-r
m1-m2 displace by 2cm for curve of seam
s/m2/r/T2 neatly draw in the side seam
L1-L2 Lower width of skirt = back neck (Hs) minus 1cm
T2-L2 Draw construction line
T2- = Displace by 3/4cm seam width. Gradually draw in the skirt seam edge.
T2/L2 Add 2.5cm for the skirt pleats
T1/L1 add 2.5cm for the centre vent
At-Ad Depth of armscye = displace upwards by 25.5cm
e- = the half of At-B
f- = the half of Hü-U
e-e1 For a more crooked neckpoint displace backwards by 1/2cm
f-e1 Construction line for the neckpoint
f-e1 Place square on this construction line and with point Ad form a construction line passing horizontally forwards to find point H1
H1-H2 Depth of gorge seam = back neck = 7.8cm
H2- Draw construction line with square
H2-H3 Width of gorge seam = back neck + 2cm
H1/H3 Draw in curve of gorge seam
H3/B/U Draw in centre front
Ad-A1 Height of shoulder seam = 3.5 cm
H1-A1 Draw construction line
H1-A2 Width from the back panel (H-a2) is carried over minus 1cm
At-c Construction point = ca.6cm, construction line to A2
s-S Armscye = displace 2cm
Rb-a Armscye = displace ca.5cm
A2/S Neatly draw in the armscye
U1-U Construction line for waist = 1/2 waist + 7.5cm ease for seams and comfort
Seams and Darts
U-T1 Shortfall or excess according to measure. In this instance it is given as ca. 8.5cm. The excess is taken out at the side seam, and the two side body seams.
r-r1 = displace by 1cm
T3-r Draw construction line according to diagram
s- Side seam = open by 0.5cm. Complete by drawing in
S
Rb-r2 Side body seam = displace by 3cm
r2- Square upwards
t- Waist suppression = 1cm each side, 2cm in total. Draft in side body seams as per diagram
At-r3 Underarm seam = displace by 3cm
r3- Square downwards
t1- Waist suppression = 1.5cm. Draw seams as per diagram.
f-t2 Waist dart = displace by ca. 6cm. Dart is on an angle.
The figure of the value of 8.5cm of waist suppression is arrive at in this way:
T2-T3 Side seam suppression = 3.5cm
t- Side body suppression = 2cm
t1- Side body suppression = 1.5cm
t2- Waist dart suppression = 1.5cm
TOTAL WAIST SUPPRESSION = 8.5cm
U- Centre of square
U-u Waist seam = displace down by 2.5cm
u-t1 Draw in waist seam
T3- Waist seam = add 3/4cm and gradually draw in
The Completed Upper Sections and Skirt
U- Buttoning point = ca. 5cm higher. Here a 1.5cm allowance has been added to the front edge, leading gradually down to point
u
H1-h1 Lapel break line = 2cm. Draw in line of bridle and revers according to diagram
B- Chest pocket = displace down by 3cm. Draw construction line to At. Length and size to taste.
At-F Sleeve pitch marks = 1/4 Ad minus 3/4cm
The Skirt
T3- = add 3/4cm seam allowance, square vertically down
T3-G Depth of seat = 1/8th height
G-G1 Width of seat = 2.5cm
T3-G1 Construction line is extended downward
T3-L3 Length from back T2-L2 + 1cm
G1 = displace run of curve backwards by 1.5-2cm for the back edge of skirt
L3- Square forwards of this point
U-u1 Upper skirt width = displaced back by 3cm
L3-L4 Lower skirt width = 1/2 of the upper skirt width
u1-L4 draw in construction line
u2- waist seam is opened up by 1-1.5cm
T3-u3 go upwards 7.5cm
u2-u3 = draw waistseam of skirt as per diagram
u2-L3 skirt front edge as shown
t- Add 1cm dart to completed waist seam
T3-L3 add 2.5cm for back pleats
u2/L3 allow for ca. 2.5cm inlay
All seams have been allowed for with a 3/4cm seam allowance.
The centre back seam, neck seam, waist darts, front edge and skirt edge at the back as well as the pleats represent completed seams.
A system that is a variation on the above draft from Kurt Czujewicz from
Das Schneiderhandwerk
can be found here.
A discussion on making up morning coats (and to some extent on body coats in general) from Whife and Dellafera (The Tailor & Cutter)
can be found here.