Wedding Attire Part II


Informal Daytime Wedding Dress

In part II of this series, we will look at informal men's daywear for a wedding.
The level of formality of the bride's dress sets the tone for how the bridegroom should dress. If the bride chooses to wear an informal dress for a "quiet wedding", then the groom should match it by wearing informal attire. An informal dress would be an elegant and fashionable frock the bride could easily wear to another social occasion as a guest, or even to work. The dress will have no train or bustle and the bride usually dispenses with a veil.
The first thing that must be clarified is the meaning of the term "informal". It means "not formal", although in the modern world where anything more than underwear is consider ultraformal Court Dress, some of what strictly constitutes "informal dress" might appear to some as astoundingly dressy. However, to appreciate that what we are about to discuss is not formal compared with true formal daywear the reader should first read
http://www.cutterand...p?showtopic=96'
class='bbc_url' title='' rel='nofollow'>here.
Compared to that, what is to follow really is informal.
The classical informal men's garment that stands on an equal level of formality to a woman's informal, but still elegant, fashion dress is the lounge suit.
The Single-Breasted Lounge Suit
The "lounge suit" is the proper name for this garment. Most people care little for the proper names of garments and may merely refer to it just as a "suit", although there are actually numerous different types of suits. This is an archetypal dressier city lounge suit: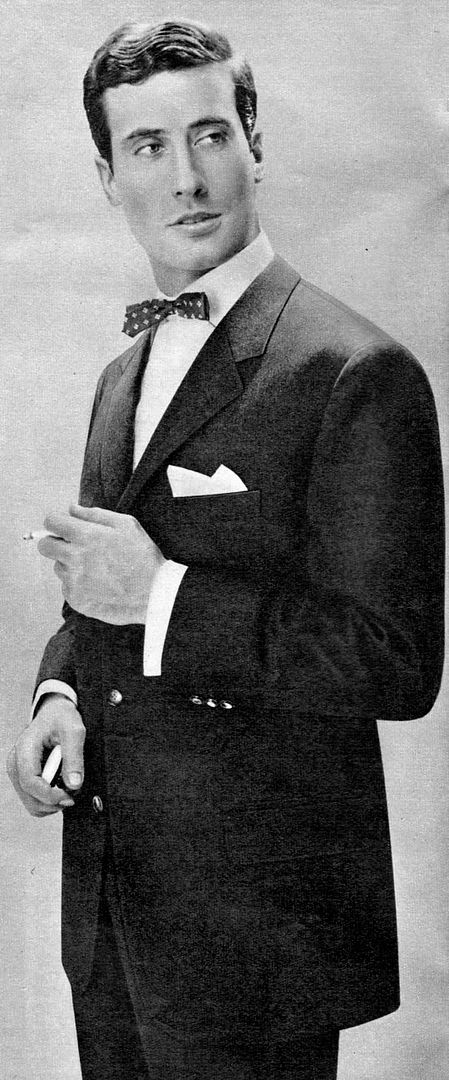 The most classical style for a lounge suit features a coat with step lapels (also known as single breasted lapels or in American English, notched lapels), and button-two or three closure. This is how the above coat is styled. The pockets may be jetted (besom in American English) or flapped as in this case. Classically there is a matching waistcoat and trousers.
The classic colour for a city lounge suit is some shade of dark grey or dark blue. The most classical colour for a bridegroom, in a tradition that comes from the eighteenth century, is some shade of blue. In the recent past, light blue was fashionable, but a darker shade of blue is more modern and suits a wider range of complexions. A medium shade of navy, lighter than a dark navy or midnight looks warmer and more festive, as really dark shades of blue and grey look like to black to most people.
Pinstripes were said to derive from the ledger lines of accountant's books. Conservative plain cream stripes (on a navy or grey background) are more associated with business and banking than festive occasions. These should be avoided because they risk sending off the wrong message saying that the bride is marrying a rich banker! However, there is no reason fancy stripes, either with a fancier design of stripes or in brighter colours (red, lavender, or purple stripes) cannot be chosen without eliciting a snigger.
Other variations that may be seen with the single-breasted lounge include pointed lapels (also known as double breasted lapels), in which case it may sometimes be made up with only one button, although button-two or three pointed lapel coats are also seen. The lounge classically either has a single vent at the back or else none at all. One or the other has been going in and out of fashion since the 1860s. Ventless lounges tend to look neater and dressier, but this is a matter of taste and fashion. Double vents are a variation that are quite popular at the moment.
One unfortunate modern fashion is to omit the waistcoat. Although this has the disadvantage of making the attire much more casual, it does make it better suited for a casual outdoor weddings in scorching summer heat. However, it should be born in mind that a dashing bespoke waistcoat in elegant, imaginative cuts and contrasting lighter colours still lends a great deal of interest to the suit, and if made up in a summer fabrics (linen, cotton, tropical wool, fresco or mohair) need not add too much to the warmth of the suit. Nice summer colours for a waistcoat include natural, cream, white, lavender, biscuit, or buff.
If the lounge coat (and often the waistcoat) is black, the trousers should be of a striped or checked black-and-white cashmere design to avoid the funereal appearance of the all black mourning suit. Charcoal and Oxford grey lounge coats that are close to black may also be worn in this way instead of black to help alleviate the harshness of wearing excessive amounts of black. A lighter coloured waistcoat such as those worn with morning dress may also be chosen to further avoid any hint of appearing funereal. You can even add braiding to a lounge coat to make it more formal: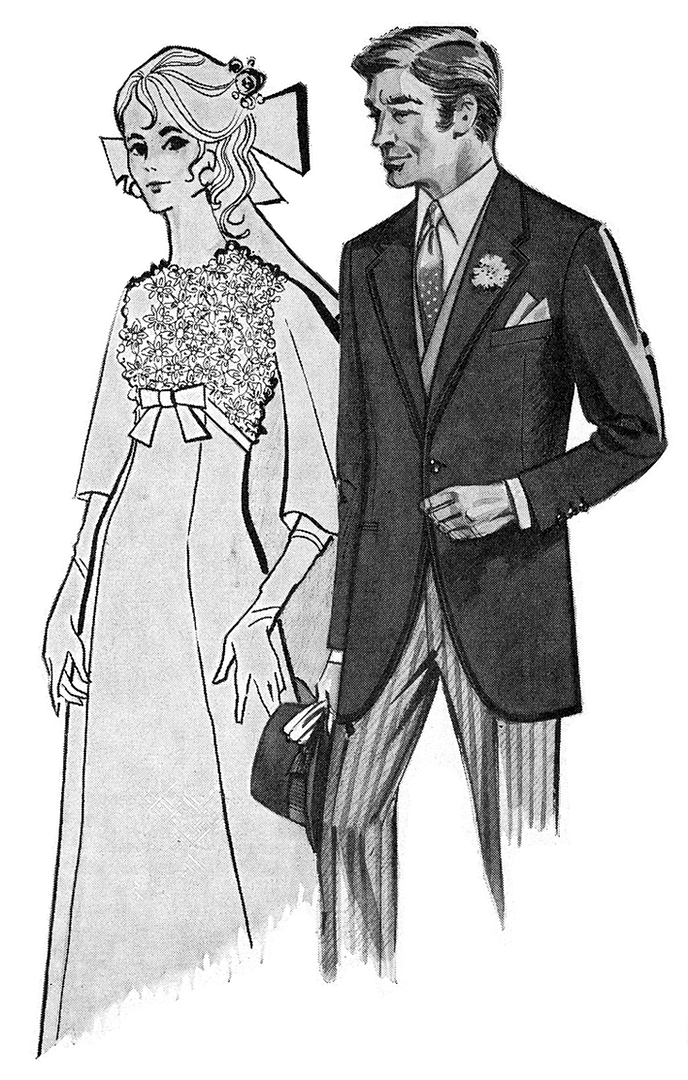 The lounge in this situation can also be made up to have a single button pointed lapel configuration like a morning coat to smarten it up, but this is totally optional: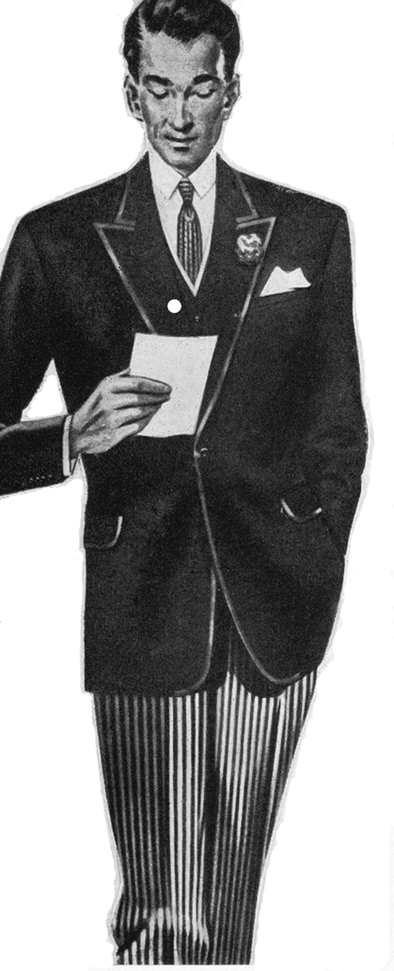 Black lounge suits (black from head to toe) have become "trendy" today, and wearers today do not seem in the least bit concerned that they look like they are dressed more appropriately for a funeral than a wedding. Some justify the all black mourning suit by saying that it is just the thing when another bachelor is to "kick the bucket". More seriously, black is a colour that suits few complexions, especially so in the stronger light of day, as it can cause the wearer's face to look pale and pasty. Charles Dickens describes the villain Uriah Heap, who dressed in Victorian all-black, as having a "cadaverous" look to his face – a typical effect of excessive amounts of black worn by the wrong complexion. The avoidance of black through the choice of the right shade of dark blues and dark greys can help to restore life and colour back to the wearer's face.
Casual Lounge Suits for Beach and Country
Gentlemen originally only ever wore lounge suits as holiday attire at beach or country resorts. Perhaps because of that casual lounge suits in their original role as beachwear can still look totally modern and stylish today.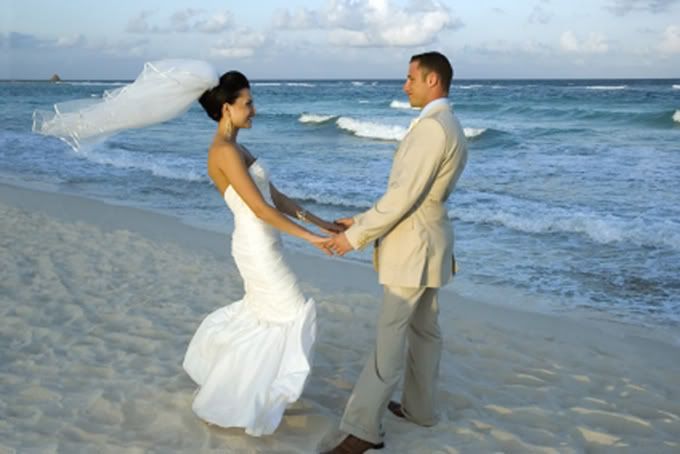 For a casual beach wedding in the tropics a lounge can be made up in linen, cotton or fresco, often with a reduced amount of lining to help the coat run cool. Classical colours include cream, khaki, light grey and blues – the last being the colour most traditionally associated with weddings.
Checks and plaids are also classical for casual lounge suits. Traditionally, such designs were found on tweeds for casual country wear, but today, many checks are woven as worsteds, woollens and frescos in a great variety of designs. However, it would have to be a very casual country wedding indeed before a groom would dress done to this degree. Formal morning dress can certainly still be worn at country weddings.
The Double Breasted "Reefer" Coat
Another variant of the lounge coat is the double-breasted reefer jacket. This is the traditional tailor's term for this type of coat:

In modern British English, it is occasionally referred to as a double-breasted lounge coat. However, it is traditionally regarded to be a different garment with different roots to the single-breasted lounge coat.
A reefer is a type of ship. The reefer coat thus has nautical origins, and a similar style is still worn by naval officers with official guilt buttons:
You can still wear the reefer jacket in a nautical context for a casual summer beach wedding. The traditional colour of trousers to wear in this case is still cream or white with matching coloured shoes (the sailor's cap is naturally totally optional).
Reefer coats tend to come in and out of fashion. They have buttons to close, as well as decorative "show" buttons. A reefer that closes with two buttons but which has a vertical row of three show buttons (six buttons in all) is called a "button two, show three" coat.
Here is a 1959 London fashion plate showing a couple of different casual button one (show one, 1x1) reefers in the same picture: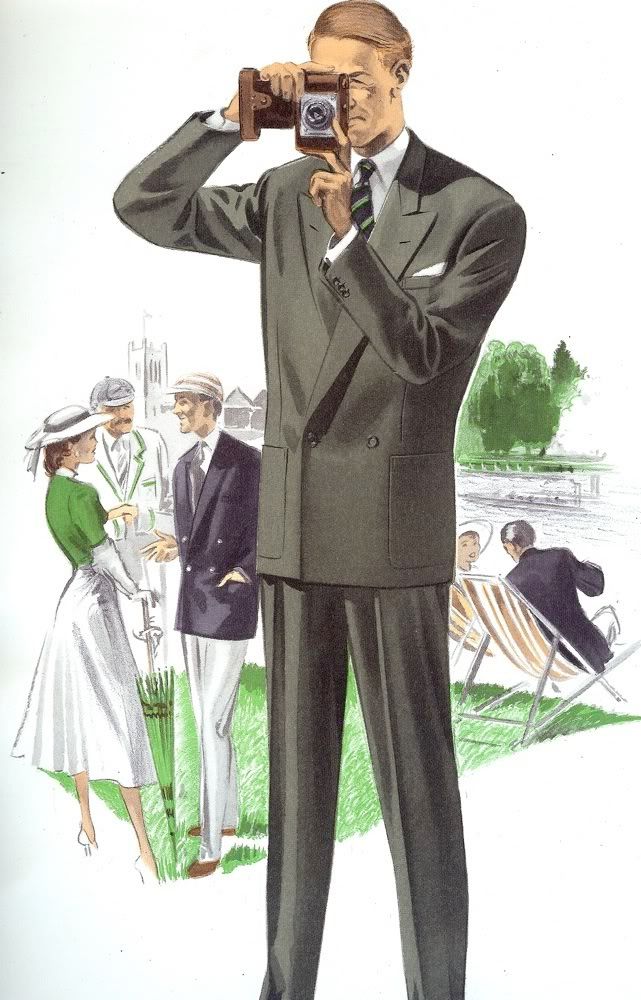 The casualness of the suit is emphasised by the social context, patch side pockets, and the olive green colour. The reefer in the background is worn in its classical nautical style with white trousers.
The button placement and amount of overlap has to be carefully tailored to the wearer's physique, making them a little less suited to ready to wear, and this likely explains their decreased popularity in our ready to wear age. Enthusiasts, on the other hand, feel that the greater interest created by the show buttons, overlapping fronts, and pointed lapels make them more elegant. Detractors call them showy. However, they only hold greater interest compared to a lounge coat worn without a waistcoat. The lounge coat, by nature of being single breasted, shows more of a beautifully and imaginatively cut waistcoat. A reefer with matching waistcoat can still look elegant today: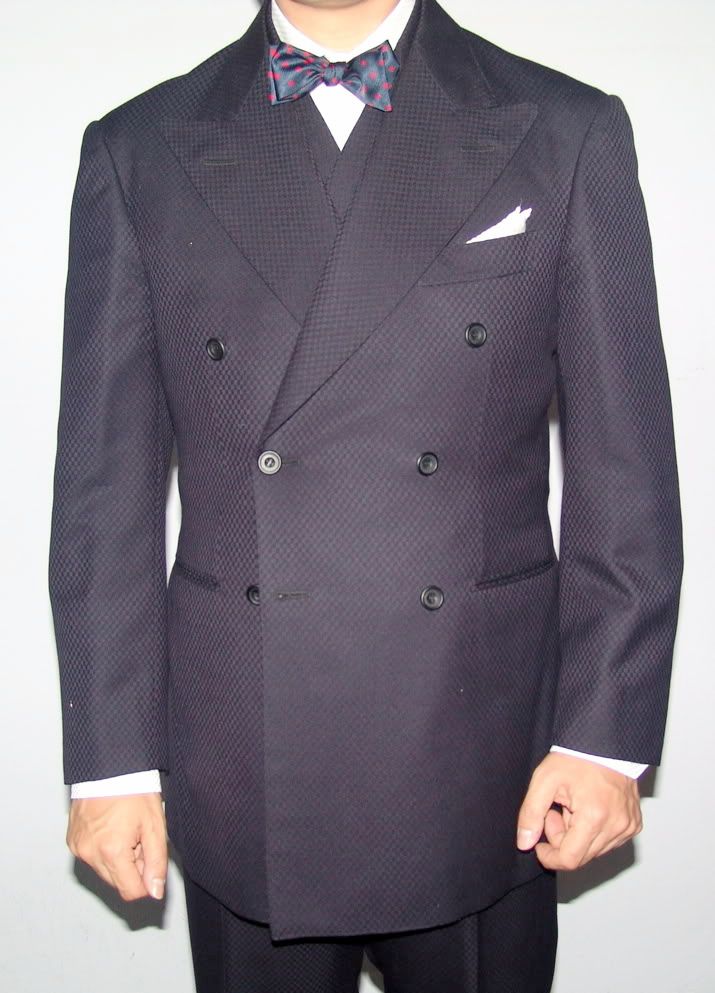 This example has a button two, show three (2x3) configuration.
However, reefers look messy when worn with the buttons undone, and so you never get to see as much of the waistcoat as you would on a lounge coat, which may be worn open provided a waistcoat is worn underneath.
For a more detailed style guide on different styling possibilities on a double breasted reefer coat
see this thread.
Shirt and Ties
A great deal of variety is permissible with lounges and reefers. Those who wish to smarten up their attire may still adhere to the tradition of the stiffly starched detachable collar, which were once always worn with a city lounge suit. However, this is not by any means necessary. Shirts today are usually made up with attached collars. White shirts, pale blue shirts, or at least understated shirts in cloths with subtle understated stripes tend to be dressier and are best worn with a city lounge. White is the dressiest option of them all. Self-pattern white shirtings are also elegant. Shirts may be made up with contrasting white attached collars in the manner of a detachable collar shirt. Winged collars are no longer worn with lounges or reefers today. Designs with more complicated patterns, and richer colours are better suited to more casual lounges.
Understated ties (matched with subdued shirts) in subtle colours are often the mark of a more sophisticated dresser. Ties and shirts in quite loud designs are commonly mixed today but these all too often clash. The fewer the number of patterns and colours are mixed the dressier the overall appearance will be. Monochromes work with a minimum number of patterns (stripes or checks) work best with city lounges, but a with a casual lounge suit, a greater variety of interesting colours and patterns may be mixed.
Ties should always be worn. They can be a four in hand style of tie or a bow tie. Bow ties may be worn with both a city lounge as well as with a casual lounge suit.
Shoes
Black calf skin Oxford shoes, either plain cap toed or punch caps with just a row of punching across the toe cap, are the dressiest option with a city styled lounge suit.
With a casual lounge suit, a great deal of variety is traditionally permitted. Brown (either calf or suede) or wine coloured shoes may be worn – either Oxford or derbies, with or without brogueing. Monk straps are another alternative. Various types of boots such as elastic sided boots may also be worn. Two toned co-respondent shoes (spectator shoes in American English) should be avoided for pain of death by grooms - doubly so for those who are even remotely superstitious about anything that might bring bad karma. The name comes from divorce cases, the "co-respondent" being the man with whom the wife was having an affair!
Socks
Should match the colour of the trousers with a city lounge suit or else they should be black. Otherwise, with a casual lounge suit, a matching or complementary colour of interest may be chosen.
Headwear
Is entirely optional, and has largely fallen out of fashion today.
A fedora hat is the most typical hat worn with a city lounge, but would probably look a little odd at a wedding today. A homburg hat is a little more formal, and is a better alternative. It used to be popular to wear a bowler (Coke) hat, which is a riding hat, and is in keeping with the informal and sportier character of the lounge suits. Bowler hats were particularly popular in combination with the black lounge and dress trousers. The next example was worn by Lieutenant-Commander Percy Silberston RNVR for his wedding in 1954, the bowler hat is worn with houndstooth dress trousers and Chinese embroidered waistcoat:

The Tailor & Cutter
journal at the time described this quirky outfit as being "unorthodox", but today you cannot deny that he has a certain individuality and charm rarely seen these days. It nicely illustrates how hats give character to an outfit and helps finish it off.
A finely woven panama hat looks elegant in hot weather with either a lighter coloured summer suit for city or country, and gives the wearer a bit of shade from the sun for summer outdoor weddings.
When going inside a church or when taking the oath of marriage, hats must be removed. The best man should carry the hat for the bridegroom.
Gloves
Are also for the fanatical dress completionist, who likes the way they give the attire a sense of completion. When not worn, they can also just be carried. They are hardly considered de rigeur these days and in hot weather are entirely unnecessary. You may be outdressing the bride if she is not wearing dress gloves. If worn, the usual colours include white, pale yellow, biscuit, or shades of grey suede. Black should be avoided.
Boutonnière
A small white flower should be chosen. The flower stem must always be passed through the button hole of the lapel. Better coats also have a boutonnière loop behind them so as to hold the flower secure.
If a flower (or worse still a ridiculous bouquet complete with stems, leaves etc) is pinned onto the coat, it is a dead give away that the coat is a cheap rental garment, where the coat has a sham lapel buttonhole that will not permit a flower to be passed through it. If you can help it, never let anyone pin one of these monstrosities onto you!
Handkerchief
A coat with a chest pocket should be finished with a white handkerchief of linen.
Watch
The choice is watch is quite personal. To complete a dressier outfit, a dressier and more formal watch complements the attire better. A dress watch classically has a clean design and white face, and Roman numerals like this:
It should have a black leather strap to match the shoes (and belt if one is worn in place of braces). The colour of the metal should match that of the cufflinks. The choice of white metal (rhodium, stainless steel, white gold or platinum), yellow gold or rose gold is entirely personal.
However, a dressy looking watch with a minimum of complications such as a petite seconde, or a moon calender can still look elegant: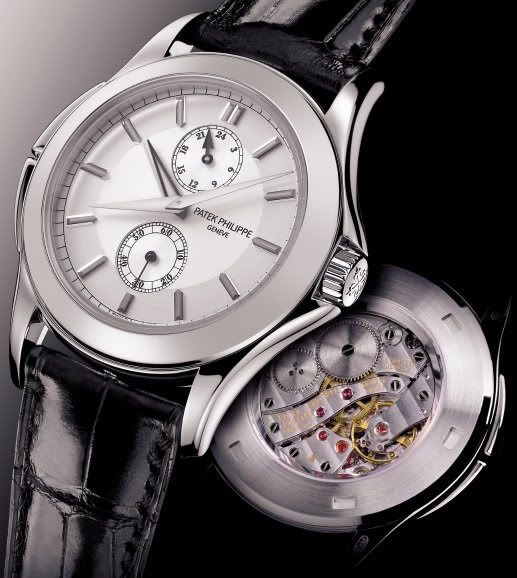 For a Romantic touch, where a waistcoat is worn, a pocket watch and chain may also be worn. A high quality heirloom piece would be ideal:
If there is no waistcoat, only a wristwatch is worn.
For a casual suit, a wider range of styles may be chosen including sports watches such as diver's watches and chronographs. If it has a leather strap, this should match the colour of the shoes (and belt).
A more modern sporty design: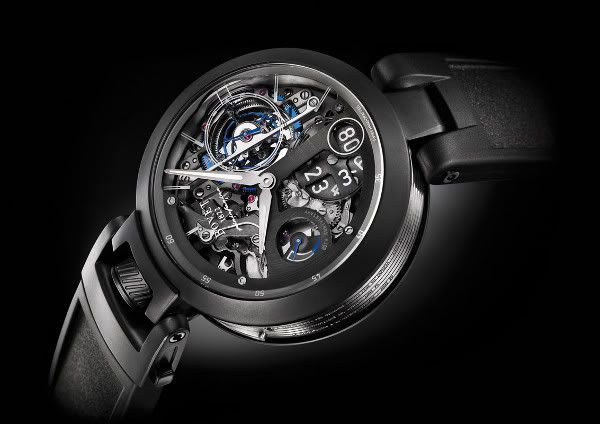 A vintage 1940s chronograph: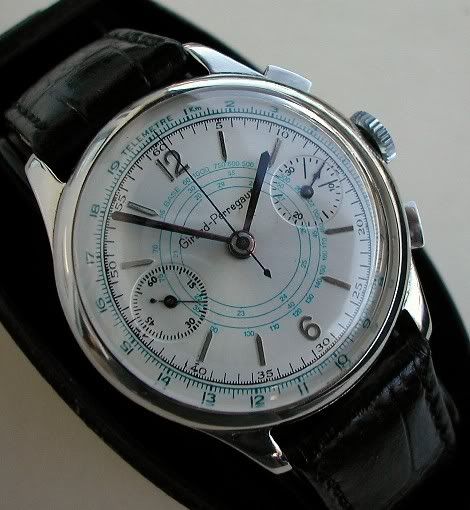 In the next part we will go through
evening dress
.
Bibliography
Cunnington and Lucas: Costume for Births, Marriages & Deaths. London, 1971
Devereaux: Etiquette for Men, London, 1929
Barney, S: Clothes and the Man, London, 1951
Lyon, Massey: Etiquette. London, 1927
Storey, Nicholas: History of Men's Fashion, Barnsley, 2008
Whife (ed): The Modern Tailor Outfitter and Clothier, London, 1949