Wedding Attire Part IV
Livery
Livery is an old-fashioned word meaning attire or uniform worn by servants or particular class of trade including page boy, waiter, butler, coachman or chauffeur. In the old days, the household's servants were dressed in appropriate uniforms according to their job and rank. The term livery is rather outdated today, but it still embraces uniforms worn by chauffeurs, waiters, and all hired staff attending at a wedding function. The importance of correct livery is underlined by the fact that at every function, such as at a wedding reception, it remains imperative to avoid the following embarrassing scenario:
The cartoon comes to us from
Punch
, February, 1891, and it remains a problem to this day. If this happens, and it is caused by the catering staff dressing too much like the guests, the blame for it should be laid squarely at the feet of both the hosts as well as any professional catering service they may have hired. It makes it all the more imperative to ensure that catering staff are dressed so as to clearly distinguish them from guests, with every effort being made to spare them the embarrassment of being ordered to fetch a fork or drink. The only way this can be done is if some effort is made to coordinate the dress of the staff and guests in advance. The trouble is that many who run catering services pay far less attention to these matters than they did in the past - with disastrous consequences. Caterers could learn a thing or two from the old fashioned dress principles governing correct livery. Not only that but it adds greatly to the sense of elegant formality and the atmosphere of the event.
This article is for both those who hire catering services as well as those who may professionally run such services, along with any other hired staff who attend at weddings.
Deliberately Outdated Dress
This is still done today, albeit in a roundabout way. A commonly seen type of livery today is to dress staff in forms of dinner dress/black tie that have largely gone out of fashion. This is a good example:
If worn during the day, this may work. However, things go in cycles and it may only be a matter of time before the white mess jacket for summer dinner dress may become fashionable again:
If any guest does show up dressed that way, it would cause him great embarrassment if the staff were to dress that way too. Likewise, the formal military dress uniforms for social occasions sometimes consists of a mess jacket like this and it would be a disaster to have such a guest mistaken for staff.
The same thing should be said of the Nehru or mandarin collar jacket:
In parts of the world, such as India, this style of jacket remains popular and this may cause someone who has (correctly) worn a form of national dress to a formal event, humiliation and insult. It is also called a Mandarin collar and often the Chinese also claim this style for themselves. The style become fleetingly fashionable in the 1960s, when deviations from conservative evening attire started to become popular. The use of the Nehru/mandarin collar jacket as a form of livery therefore has potentially undesirable racist overtones and should be strictly avoided.
However, the following example of evening attire by Brioni from the 1960/70s looks sufficiently unfashionable today to be worn as livery:
Deliberately Incorrect Dress
One of the classic ways to mark out catering staff or servants' attire as being livery was to have them wear grossly incorrect combinations of formal attire. Here is a typical example:
The butler is handing the master his hat and umbrella. He is dressed in an evening dress coat (squarely cut away fronts) in broad daylight matched with striped formal daywear trousers. This mishmash of day and evening attire is classic livery.
Unfortunately, today many guests can be counted to show up dressed in a similar hodgepodge of day and evening dress, which are traditionally reserved for the staff. This makes it important to make extra effort to dress the staff in attire that is all the more distinctive. Here is one extraordinary example of a dress coat (evening tailcoat) being worn by a groom in broad daylight, with the characteristic collage of elements of day and evening dress fit for a butler: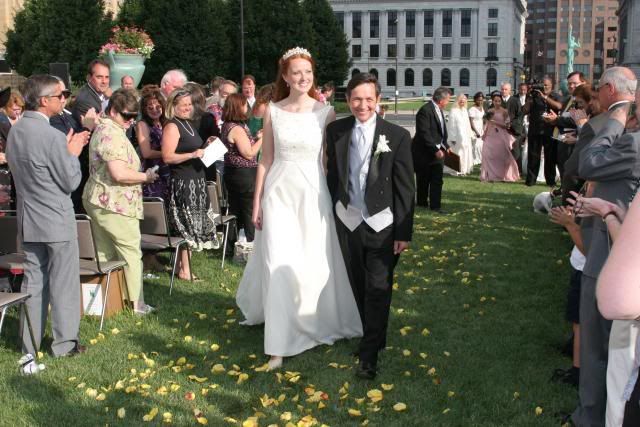 The wearer has gone to utterly remarkable lengths to wear a dress coat made with unorthodox single breasted (step lapels or in American English "notched") lapels instead of double breasted (pointed or peaked) lapels, and the waistcoat protrudes out a proverbial mile below the foreparts of the coat.
Although this is a rather extreme example (American), on recovering from shock, one realises that this makes the task of distinguishing guest and staff on the basis of the traditional correctness of the attire an extremely difficult task. The voracity with which modern guests show for dressing in traditional servant's livery appears to show no bounds. Only in the past could one assume that the guests, being proper gentlemen, could always be counted to dress correctly, and would hence be automatically differentiated from deliberately incorrectly dressed staff.
Greater Formality of Dress
It is quite traditional for livery to be a notch or two up in formality to that of the guests. One way this was done was to have servants wear a type of faux court dress. This remains one of the best ways to make the catering staff distinct from the guests, as the velvet coats can be of bright colours that are entirely distinct from the dress of guests. This also lends the staff attire a very formal sense of occasion. It is a pity it is not seen more often these days:
The above servant's dress coat is ideal for both day and evening formal events. Here are a couple of other alternatives:
The example on the above left is more formal and the one on the right more informal.
The only situation in which staff should wear black tie (including unfashionable variants of it) is for a daytime event in which the guests are dressed informally or in outright casual dress. Otherwise, if the guests are in formal morning dress the staff will be underdressed. For an evening event in formal dress or dinner dress, it is completely unacceptable to have the staff in black tie of any form.
Traditional Livery for Specific Occupations
Although a lot of this has become outdated today, some examples of traditional livery for specific occupations are included.
Footman's Coatee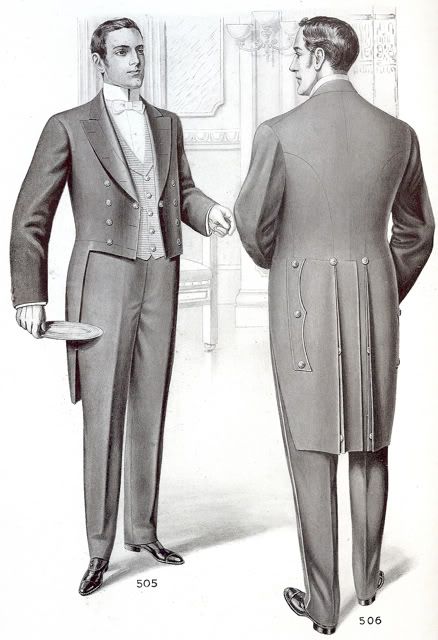 The footman was a servant who attended the door or on coaches as guests arrived. The coat has guilt buttons. There is a sword flap on the skirt. One 1925 German text describes this as being worn by a serving staff or servants in general, and it's function may have altered due to changing social circumstances. As the 20th century progresses ever fewer texts discuss livery, and it is difficult to get an accurate historic account. Nonetheless, since recreation for the stage is not what we are here about, it seems reasonable to recommend it today as an
option
for a staff member who greets guests at the door, and who directs an event.
Coachman's Frock
The coachman was the driver of horses that pulled a carriage. He wears a type of riding frock coat. This is the ideal dress that the coachman would wear if the bride and/or groom were to arrive and depart a church in formal dress. If you do run a business where you drive a coach at weddings, this is the traditional attire you would wear. Your dress would add a lot of atmosphere and a sense of occasion, and you may find an increase in business.
The Groom's Frock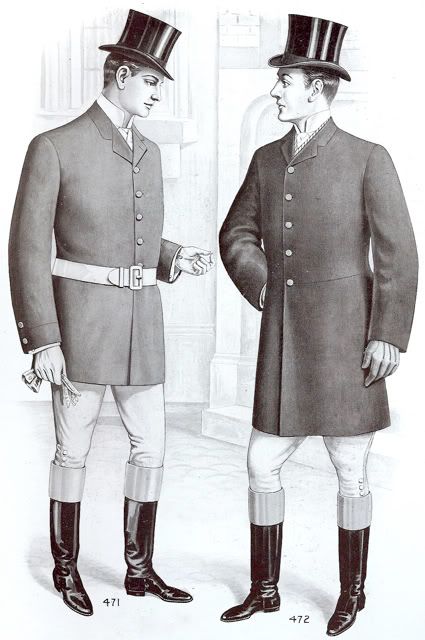 The groom's job was to take care of the horses, and his uniform differed somewhat from the coachman's. The groom is shown on the left and the coachman on the right of the above illustration. Both wear hunting boots with a tan collar.
Chauffeur's Uniforms
This is something that will be more familiar. Those who do chauffeur clients around at weddings should really invest in good bespoke uniforms. Although expensive, compared to the expense of the sort of cars that are driven by professional chauffeurs, it is meagre and a sound business investment.


Likewise, it would be fairly expensive to have body coats like the coachman and groom's coats made up by a bespoke tailor today. Tailors comfortable with making up unusual body coats are also becoming fewer. However, compared with the expense of maintaining a fine coach and horse suitable for a wedding, the costs are not that absurd when one considers it a business investment. In the past, livery was often bespoke and there is no reason things should be any different today. The sense of professionalism a finely made bespoke garment adds is simply incalculable and will give you an edge over your competitors.
Bibliography
Die Zuschneidekunst Herrenkleidung IV Ed, Fachzeitung der Schneidemeister; Hannover, 1931
Grafton Fashions from London, Spring and Summer, London 1939
Doyle, Robert: The Art of the Tailor, Sartorial Press Publications, Stratford, Ontario; 2005. ISBN 0-9683039-2-7
Müller, Franz Xavier: Lehrbuch der Zuschneidekunst, Münchener Buchgewerbehaus M. Müller & Sohn, München, Neunte Auflage, 1925
Shannon, Brent: The Cut of His Coat. Men, Dress, and Consumer Culture in Britain, 1860-1914. Ohio University Press, 2006
Miscellaneous fashion plates published by Jno J Mitchell, New York 1905-08