Here is how you post images on the forum.
1. Find an Image Host
There are a number of image hosting services available on the internet. A couple of popular examples are Imageshack and Photobucket:
http://photobucket.com
http://imageshack.us
I recommend Photobucket.
You will need to sign up for membership, and then upload your images to the hosting service.
2. Link to the Images
When posting images you copy and paste the image with the correct "IMG" code.
The important bit is that you have the correct "IMG" tags at both the start and end of the URL for the image.
This is what you need at the start:
This is what you need at the end:

Notice the extra forward slash ("/") at the end.
Then you need the URL of the image in between two IMG codes. The end result looks like this:
The bit from "
http
" through to "
.jpg
" is the URL.
In summary it goes like this:
http...etc...etc...jpg

In your Photoshop account you will find a link with these IMG tags already added for you. You can just copy and paste this ready made link.
Imageshack
If you use Imageshack you will be presented with these option:
Obviously, you will choose the Forums "IMG" option. Copy and paste it into your post. It will look like this:
However, you can also choose the Thumbnail size option if you want. In this case choose the option that says "Forums". Copy and paste the link to the thumbnail into your thread and it will look like this:
If you click on the thumbnail it will enlarge to full size.
Photobucket
If you use the service from Photobucket, you will not have the thumbnail option (except where you pay for the premium subscription). Instead, you move your cursor over the image you want to post. This will cause the following menu to appear: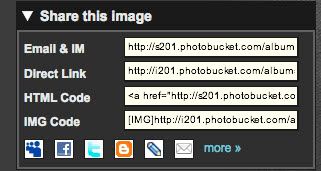 Again, the option that you should choose will be the one that says IMG Code. Copy and paste this into your post.
Make sure your picture has been trimmed down to the appropriate size or you have automatic resizing enabled. Also ensure that the image is in a format that the image hosting service accepts. JPG formats are universally accepted, so if in doubt save your picture as a JPG file.