On the internet today there are a number of men's clothing fora that have invented numerous Eternal Rules of Permanent Style that have no historical basis to support the claims that strict Rules exist which are very ancient, hallowed, and traditional. Most of these Rules are in fact probably scarcely older than the internet, or represent personal preferences which have been elevated to the Mythological Status of Eternal Rules.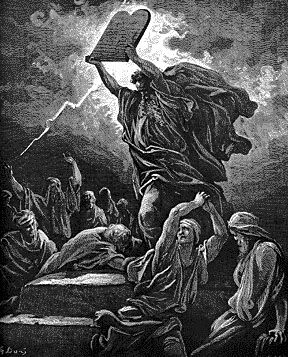 Let's go through and bust a few of them today.
1. Gentlemen Never Wear Black Lounge Suits
No published sources back this claim up as being an "Eternal Rule for Gentlemen". I have gone through countless older guides to dressing, but none mention any such a Rule. Black lounge suits were popular at the start of the 20th century but the all-black look goes out of fashion mid-century, perhaps a result of its association with fascism, but also due to its association with the stuffy formalism of the Victorian era, although the black jacket with striped trousers remained popular mid-century.
From
Minister's Gazette of Fashion
, August, London, 1914: "A black vicuña lounge cut shorter and closer fitting":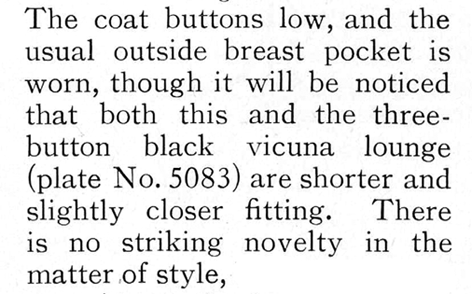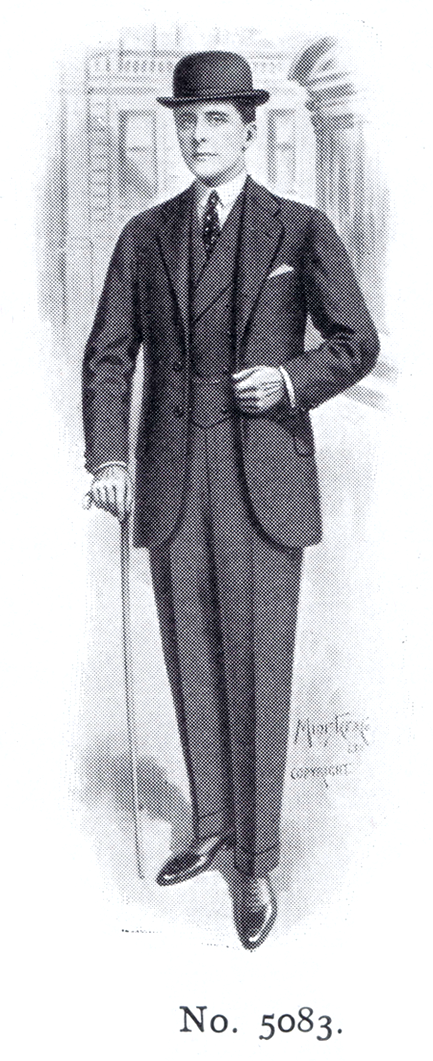 I draw your attention to the remark "there is no striking novelty in the matter of style..." suggesting that there was nothing unusual or novel about a black lounge suit.
Today, the all-black look has lost enough of its former social and political stigma that it has now swung back in to become all the rage - just like in the Victorian era. The colour of suits is something dictated more by fashion than by Permanent Rules of Dress. Of course, black remains problematic in that it washes many complexions out, and can look a bit lifeless or funereal when everyone turns out dressed in the same dreary black. Still, that's quite a different matter to proclaiming it a Violation of the Eternal Rules of Permanent Style. The ubiquity of ugly-as-sin black and ill fitting fused suits is enough that I wish such an Eternal Rule of Permanent Style did exist - but that is wishful thinking! Then again a well cut and made black suit can look very nice worn by the right person.
More on this subject:
http://www.cutterand...hp?showtopic=84
2. Gentlemen Always Show 1/2" of Shirt Cuff
That is, when the coat is worn, the coat sleeves should be short enough to allow precisely 1/2" of shirt cuff to show. Again, most tailoring books published over the last couple of centuries mention nothing of this. One American author in the 1950s suggested showing 1/4" of sleeve, but most say that how much shirt sleeve shows - or whether it shows at all - is entirely a matter of personal taste. Fashion seems to play a role here because in the 1960s, when coats and trouser hems became shorter so too did coat sleeves. Yet this photo is from the 1960s - the tailor won top prize in a competition for this suit: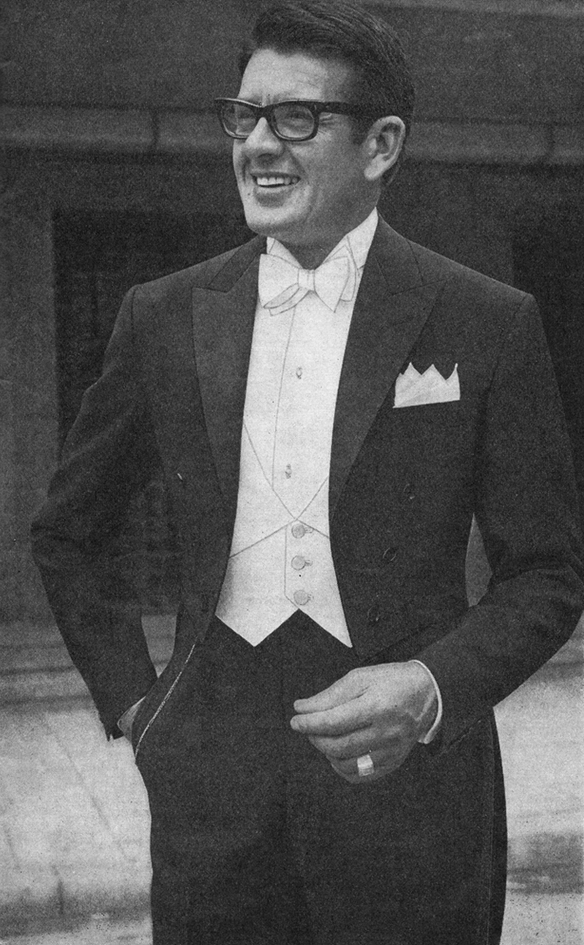 3. Gentlemen Never Wear Dinner Jackets with Single Breasted/Step Lapels (Notched Lapels in American English)
Dinner jackets have been made with SB revers for almost as long as the garment has been worn. Whether single breasted dinner jackets take roll collars, DB or SB lapels is dictated more by fashion. However, some feel that an SB dinner jacket with DB lapels looks dressier and less like a regular lounge jacket for daywear. This is entirely a matter of personal taste - there is no evidence that this was ever considered an Eternal Rule of Permanent Style. In any case, nobody bothered to warn James Bond: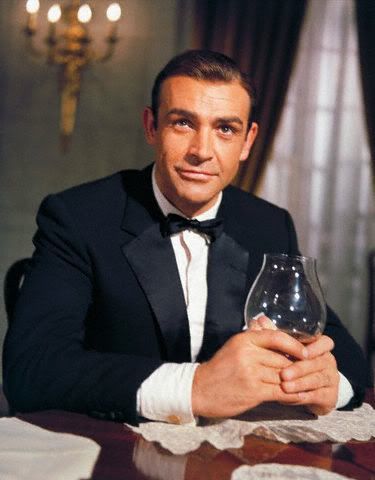 More on this subject:
http://www.cutterand...p?showtopic=143
4. No Brown in Town
Brown has been a colour that has come into fashion for city coats worn as business or formal wear on and off over the last couple of centuries. It has never been as persistently fashionable as blues, greys or at times, black, but I have never come across a publication from the last two centuries that expressly stated a Rule forbidding it. Brown, like black, doesn't suit as wide a range of complexions as blue or grey.
This comes from Bacharach, New York, 1955: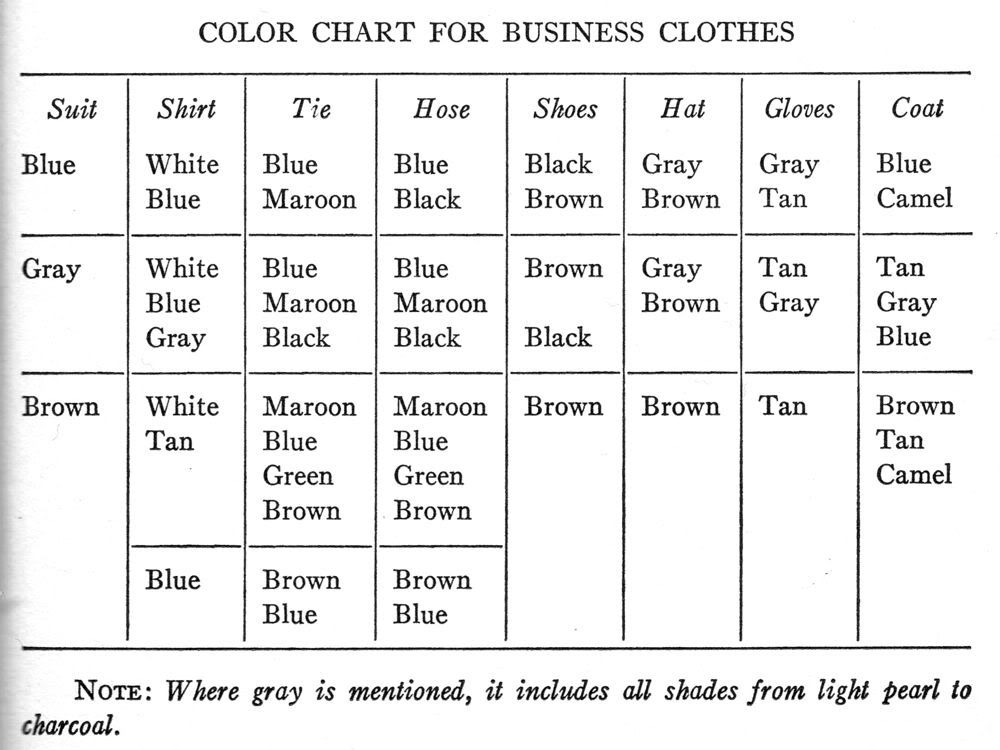 5. No Brown After Six
Again, I've never seen this one formally in print. In the 19th century, brown coats were sometimes worn in the evening eg to the opera. The following plate comes from the April 1st, 1830 edition of
The Gentleman's Magazine of Fashion
with a caption saying "Morning and Evening Dresses":
Accompanying text:
At a ball given by a dashing Countess, the greater part of the gentlemen wore brown or blue coats...

However, through much of the 20th century black was a much more fashionable colour for evening dress, but this has become less widespread today. It is difficult to assert that a mid-20th century fashion somehow has more validity as a Permanent Style Rule than either a 19th or 21st century fashion.
6. Gentlemen Always Leave the Bottom Waistcoat Button Undone
It is claimed that this tradition dates back to Edward VII, who grew too fat to do up the bottom button. This too is a myth. Edward VII was an obsessively fastidious dresser who could afford to get Henry Poole to make up a whole new wardrobe if he could no longer fit his old clothes. Waistcoats with bottom show buttons that could not be done up pre-date Edward VII. Edward Sexton says that this fashion of undoing the bottom waistcoat button was relevant to when brace trousers with a very high rise were fashionable enabling waistcoats to be cut a bit longer, but since today the rise on belt trousers is always lower it is harder to cut the waistcoat long enough to be able to readily wear with the bottom button undone without the belt showing or the waistcoat looking too long. This is clearly something that is dictated more by fashion than by the Eternal Rules of Permanent Style.
7. Gentlemen Never Wear Double-Breasted Coats with Single Breasted Revers
Again, this is a matter of taste and preference. There are plenty of 19th century fashion plates showing DB coats with SB revers and they have come in and out of fashion ever since. They were last seen in the 1980s, and may be due to reappear soon. Perhaps you could argue that gentlemen never wear things that are out of fashion. Here Bernhard Weatherill looks quite smart wearing just this type of coat (complete with cloth covered buttons - iGents avert your eyes!):

Hardy Amies even had a pet peeve about how single breasted coats should never take DB revers:
Yet, SB dinner jackets and morning coats often have DB lapels!
8. Gentlemen Prefer Grey Suits: Navy Lounge Suits Risk Looking Fast or Outré
I really don't know where this one comes from. I can't find any references suggesting that this was considered a steadfast Eternal Rule of Permanent Style anywhere. Here are a couple of typical mid-century dress guides:
http://www.cutterand...p?showtopic=776
http://www.cutterand...indpost&p=19304
As with other texts I have looked at there is nothing to say that greys are more conservative, formal or proper than blues. If they didn't have a problem with navy in the 1950s, I can't understand the Angst over it being "too fast, too outré" in this day and age. Beau Brummell used to wear a dark blue dress coat in town.