Here is something unusual that I picked on eBay.de:
It is a piece of vintage haircloth from an old German maker often advertised in vintage issues of die Schneidermeister and Rundschau.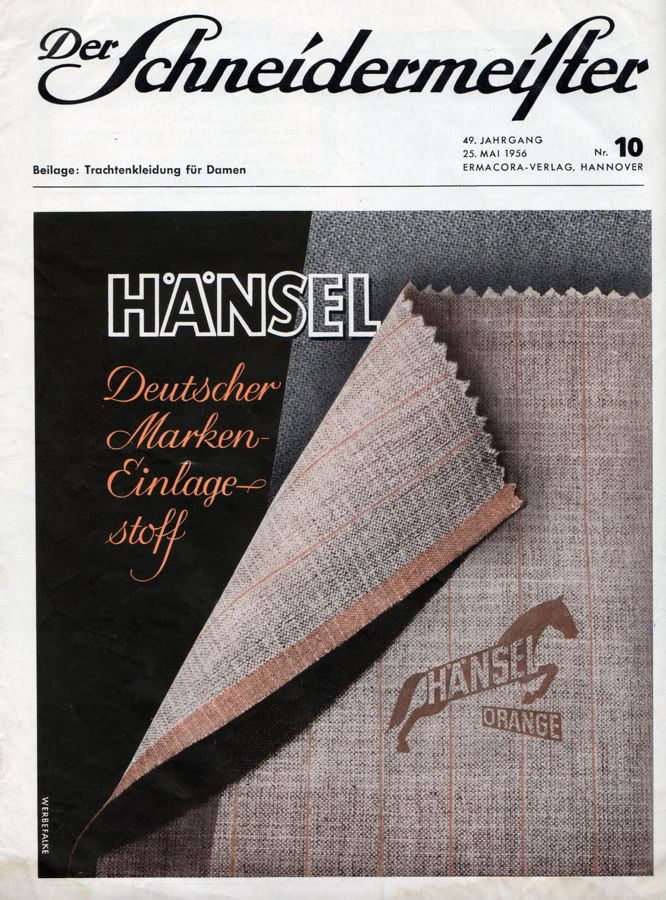 I wanted to see what it was like, and whether it might be much stouter and springier than modern haircloth. I must say it wasn't the revelation I had been secretly hoping for. For a start, vintage haircloth is much scratchier and less tightly woven than modern versions. It made me realise why it is that some texts such as Cabrera instruct you to place a layer of domette over the chest piece to avoid a stray strand of hair scratching the wearer. This isn't necessary on modern haircloth. There are a couple of examples of haircloth in the books I have from Richard James Weldon that are both much smoother, more tightly woven and springier than this vintage Hänsel stuff. The Fachrosshaar from Orag that I have is also much smoother, although also significantly lighter.
Interestingly, I came across a defense of haircloth in the 1927 edition of die Zuschneidekunst that says that some older tailors were prejudiced against haircloth because of experiences with stray strands scratching the wearer, but that modern weaving technology had overcome these problems. Since 1927 weaving technology has obviously progressed even further.
While it is interesting to see what vintage haircloth is like, I am not sure I am in a big hurry to use this piece of haircloth in a coat.