Anyone who knows fine cloth will know of Harrisons-LBD. Judging by old
Tailor and Cutter
ads, George Harrisons and Lear-Browne-Dunsford seem to have originally been separate companies.
Harrisons of Edinburgh
was founded in 1863 by Sir George Harrison who began his career as an apprentice with an Edinburgh tailor. Lear-Brown-Dunsford has been in business since 1895, and sells both cloths as well as tailorís trimmings and accessories. The business is now solely owned by the fourth generation of the Dunsford family. Porter and Harding were founded in 1947 and are included today under the Harrisons-LBD umbrella, after being acquired by Lear-Browne-Dunsford in 1993. The Harrisons-LBD group remains independent like Dugdale. Here are some vintage ads from 1949 and 1950: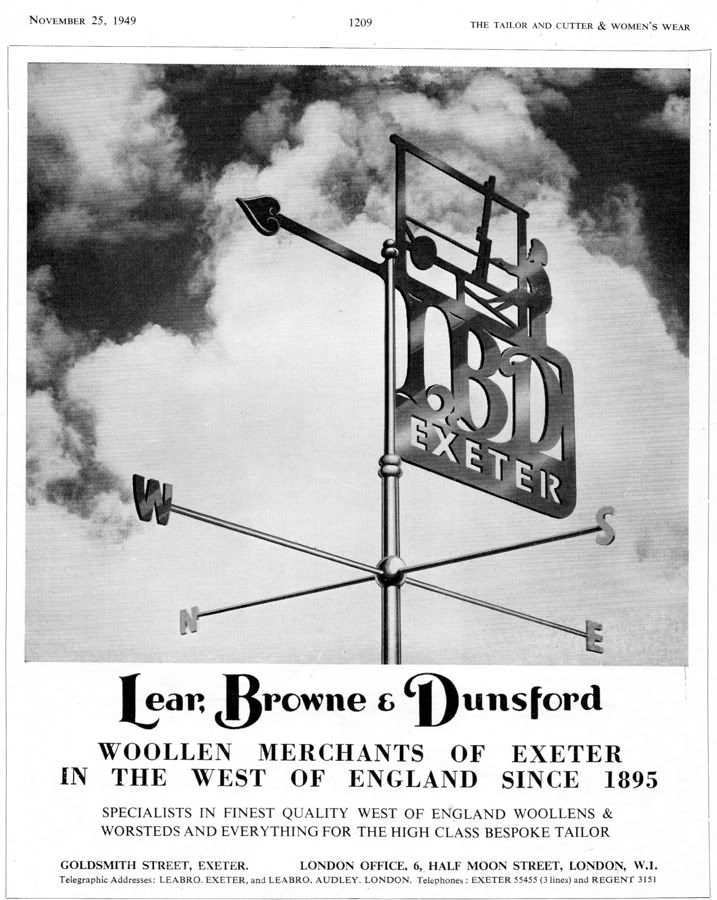 What I have seen of the collective offerings from the group have been exceptional. I don't think I have seen a book from Harrisons I don't like. The lining collection from LBD is one of the loveliest you will ever see - something overdue for review.
What is more the service from Harrisons is excellent. Penny at Harrisons is always helpful and friendly. Service is lightening fast. In fact, I just noticed this post from Jeffreyd today:
http://tuttofattoama...-merchants.html
Watch out too for a review of the Harrison's overcoating book soon. There is something of real character in everything they do. I hope to showcase a great deal more of what they have to offer.
Current contact details are as follows:
http://www.lbd-harri...com/index2.html
LBD House
Waterbridge Court
Matford Park Road
Exeter EX2 8ED
England
Tel: 00 44 (0)-1392 822 510
Fax: 00 44 (0)-1392 823 270
Email: post@lbd-harrisons.com